How to Get Yourself Back On The Guest List After Divorce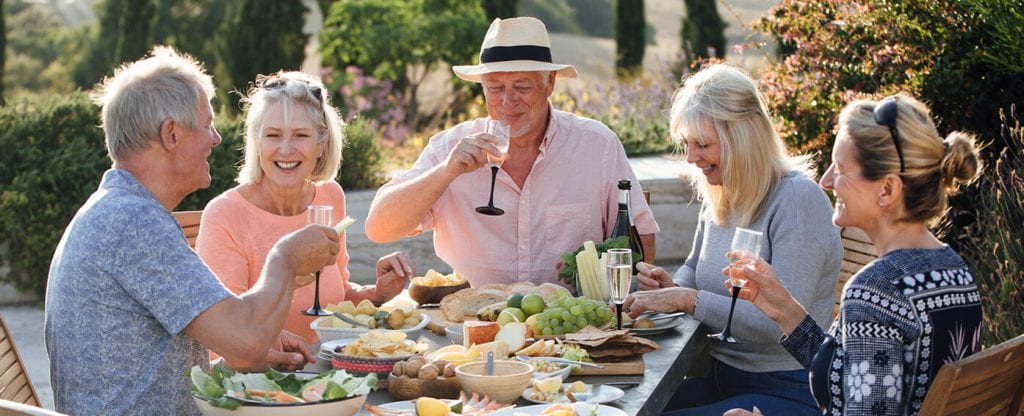 Here is something I find surprising as a divorced/single woman: I am not on the guest list for lots of events. Specifically, many parties and outings get labeled as couples' events, so I am excluded. Such a designation makes no sense to me. In my experience with these occasions, except for brief hellos and good-byes, the women talk to the women and the men talk to the men. So why can't I be included?
In my own case, 25 years post-divorce, I really don't think any of my friends see me as a threat to their marriage. I am always dressed in multiple warm layers as opposed to décolleté dresses, so there is no whiff of femme fatale about me. Additionally, my divorce is so far in the past that I have no need to bash men or marriage. My topics of conversation are books, movies, current events, travel, and the like, so I fit right in with the rest of the gang.
The problem as I see it is this: My married friends don't stop to think about this topic. Therefore, it is up to me to bring it up. I need to inform them that I wish to be included. To gather courage in doing this, remember this fact: people don't know what you need unless you tell them. With this clear rationale in mind, plainly state your case using these tips:
Choose your most approachable friend

Choose a benign time to bring up the topic, NOT right before or right after someone has had a party, but instead, at a time when there is no party on the horizon.

In the same manner that you would tell your friend other confidences, tell her this fact: "Since I have been single, I have been off the guest list for parties and events. I am sure everyone thinks I would be uncomfortable in such settings but that simply is not the case."

Then ask her to put the word out to your mutual friends.

Remember back in grade school when you did Show 'N Tell? Well, after telling your friends that you would fit in, boost your message by showing them! Here's how…
Let's Party!
Recently, three couples came to my house for dinner on a Saturday night. I chose a prepare-ahead menu so I could be with my guests in the living room as opposed to being with my pots and pans in the kitchen. We schmoozed over appetizers and cocktails for an hour and then we moved to the dining room for the main course. It was perfectly obvious that the table held an odd number of place settings and equally obvious that it worked just fine. We all had a lovely evening.
Not up to hosting a dinner? No problem! Just invite two or three couples over on a Sunday afternoon for wine and appetizers and then visit your local Costco for already-prepared nibbles.
Let's Go Out for Dinner!
Restaurant outings can be a bit trickier. Lots of men have a macho need to pay for me as a single woman. If I want to dine with couples regularly, I can't let this happen! Here are strategies to try:
First, of course, state outright that it is your intention to have separate checks and give this explicit reason, "Why on earth would you want me around if it means you need to pay for three people to eat and drink instead of just two? I want to dine with you guys regularly so please allow me to pay my own way."

When you order your meal, be sure to tell your waiter that you want a separate check.


Waiters often forget, as do very gallant men, so be prepared. If you are going to pay by credit card have it readily at hand, not buried somewhere deep inside your purse. Whip it out as quickly as does your male friend.

This idea is huge: Even if you prefer paying by credit card, always have cash available in various denominations. Men may still refuse your credit card but cash is a bit more enticing. Let's pretend your portion of the bill plus tax and tip is $40. If you pull out a twenty-dollar bill and two tens, most likely he will pluck all or some of those bills from your hand. If not, pass the twenty to him insisting that he at least put it toward the tip.

Trust me, this man/this couple is on a learning curve with you. Things will be easier the next time. I once had dinner with two couples. One had dined with me before, the other had not. The practiced couple excitedly explained to the other couple that I would pay my own way and why.

For the die-hard macho man who just cannot let you pay, the next time you dine together, find out the restaurant in advance, go to the grocery store and buy yourself a gift card to that restaurant and mention it when it is time to order. Gift cards feel like free money to everyone so he will probably use it to help pay the bill.

Once you have taught your friends how this all works, it is easy to extrapolate from restaurant dining to other outings like movies, theater, and sporting events.
Using these tips, exclusion will be a thing of the past. But please remember this: the give and take of social situations is the same for you as a single person as it was when you were part of a couple. If someone invites you to a party at their home or to an outing, you need to repay the kindness and invite them in return. Through this methodology, congratulations will be in order – you will be back on the guest list once again!
//= get_template_directory_uri() ?> //= get_template_directory_uri() ?> //= get_template_directory_uri() ?> //= get_template_directory_uri() ?> //= get_template_directory_uri() ?> //= get_template_directory_uri() ?>
©2011-2023 Worthy, Inc. All rights reserved.
Worthy, Inc. operates from 25 West 45th St., 2nd Floor, New York, NY 10036