Learning to Let Go of Toxic Relationships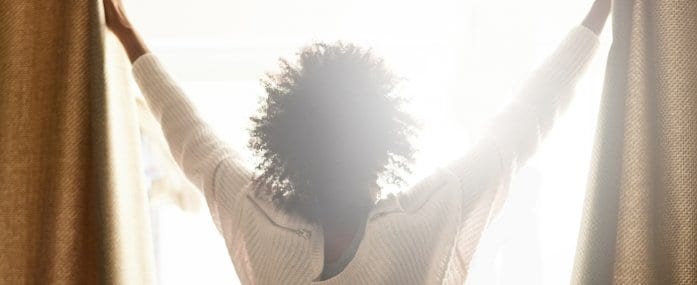 If I am being honest, I knew I should let my ex go well before my daughter was born. There were signs but I just did not want to believe that he wouldn't be a part of my fairytale ending. I loved him so much. I believed in him more than I had ever believed in any man outside of my father and my brothers. The Universe kept trying to tell me that he wasn't meant for me but I held on anyway. You will find that if you keep ignoring all the gentle and subtle signs, the Universe will smack you in the face with it!
The Universe loves me so much that it literally ripped away a relationship that was extremely toxic for me. I could no longer choose to accept less than I was worth because that relationship imploded until there was nothing left to do but grow from it. Today, I am so glad that the Universe had my back the way it did but back then, I was devastated! I even tried to get that old thang back…even though that old thang had a new kid, stepkid, and girlfriend just one month after we ended. I was so convinced that it should be mine…that happy ending should have been mine. I told myself that this was just another test I had to endure to get to happy. What the hell was I thinking?
Listen to Desirae talk about single motherhood on our podcast, Divorce & Other Things You Can Handle:
It wasn't until I did some real work on myself and my healing that I was able to see how toxic that situation was for me. That relationship made me feel worthless. I changed things about myself and how I lived my life just to please him. I alienated myself from family and friends to be available to him. My life revolved around him and his mood. So what was I to do now that he was gone…heal! That's the short answer but it took so much for me to get there. I had to first get past the sadness and the anger before I could say, "I am healed. I love you. I forgive you. I'm sorry. Thank you."
When someone you love hurts you, it's hard to reconcile that. It's the ultimate betrayal but until you can truly forgive and let go of that pain, the person will always have a power over you. They can make you cry. They can make you angry. They can make you sad. All without ever giving you a second thought. It's YOU that needs to forgive and let go. You love them because some of us are hurting and can only speak that language. They need just as much love, maybe more. You don't forgive them for them, you do it for yourself. You're not excusing toxic behavior, you're lifting it from your spirit and removing it from your experience. You're not apologizing because you're wrong, you're apologizing because you realize you made choices and decisions that put you where you are today. You're thanking them for removing themselves from your life because deep down they too realized, they were not for you. Forgiving them does NOT mean you have to let them back into your life.
It wasn't until I did some real work on myself and my healing that I was able to see how toxic that situation was for me.
It has been almost two years since I broke up with my ex and it still takes my breath away at times. I just cried two weeks ago when a meditation session asked me to send love to someone that I consider "difficult" to love. It is a harder situation to forgive and move on from because we share a child. He's not in my daughter's life currently but I see some of that same pain I felt in my daughter's eyes now. Some days are harder than others. I have to actively forgive him on a daily basis. "I am healed. I love you. I forgive you. I'm sorry. Thank you." Every day. When my natural instinct is to be pissed off, I have to remind myself to love and forgive instead. I take a breath. I meditate to clear my mind. I feel better when I make that choice for myself.
Depending on how deep a relationship was for you, it could take years to fully let go and that's okay. Intimate relationships enable us to make soul ties that are harder to break than most people realize. As long as you choose to forgive and love despite the pain and betrayal, letting go will get easier. Be patient and have a little faith in your heart's ability to love and let go.
//= get_template_directory_uri() ?> //= get_template_directory_uri() ?> //= get_template_directory_uri() ?> //= get_template_directory_uri() ?> //= get_template_directory_uri() ?> //= get_template_directory_uri() ?>
©2011-2023 Worthy, Inc. All rights reserved.
Worthy, Inc. operates from 25 West 45th St., 2nd Floor, New York, NY 10036