Why So Many Couples Break Up During The Holidays?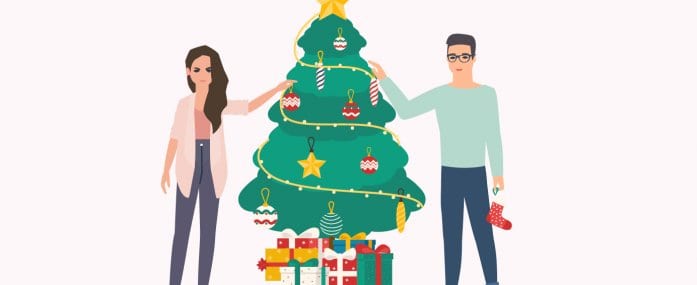 In between cuffing season and divorce month, otherwise known as January for the happy or unsuspecting married folk, comes another relationship trope called the turkey drop or turkey dump. Yep, just when you thought you were safe because your significant other agreed to have Thanksgiving dinner with your parents, or you snagged an invitation to your boyfriend's dear Aunt Sally's Christmas dinner or Bubbe's Chanukah party and have begun dreaming about channel settings and a honeymoon cruise down the English Channel, you may want to consider holding up for a moment and brace yourself instead because there's a fair chance shit could get real and soon. As too many singles can attest, the time for holiday cheer can quickly become the time for holiday misery as the period immediately following Halloween to a couple of weeks before Christmas (dates vary depending on who you talk to) is also considered prime break up season. If you're one of the ones who's gone through a breakup during this time of year or are worried you will, you're not alone.
The reasons couples break up around the holidays:
Expectations. Whether you're dating someone new, in a long-term relationship, or are somewhere in between, you and the person you're dating may have conflicting ideas about your current status and future. Invitations to parties and family gatherings often cause couples to either get cold feet about moving forward or, quite the opposite, get carried away. Both can be damaging if you and your love interest are not communicating well about what it is you expect from each other and the relationship considering the amount of time you've spent together. The differences can be eye-opening, especially if you don't like what you see.
Logistics. You may be great together in your hood. But throw in a three-day cross-country trip together to the west coast, an overnight at your mom's house sleeping together in a twin bed back in your childhood bedroom, or, worse still, being separated for the evening because of the "impropriety" of it all, and the landscape may start looking a hell of a lot different. At this point, the likelihood you'll begin grinding on each other's nerves, if for no other reason than you're sleep deprived, is high. As we all know, tensions can escalate fast.
Expense. Holiday expenses often equal pressure, even when you're not in a relationship. Tack on additional travel costs, gifts, and other incidentals to the usual price of running your relationship (yes, there's an "operational" cost to relationships), and you may find yourself in over your head and questioning, "Is my current situation worth it?" It isn't always, at least for one of the people involved, so that person ends up bailing.
Priorities. Where will you spend the holidays? Separately? Together? With your friends? Your family? His? Some combination of the above? If applicable, will you bring each other's kids into the mix? The plans you choose to make (or break) and with whom can speak volumes as to the depth of your relationship. Sometimes people don't like where they wind up in the pecking order.
What can you do to make a holiday breakup easier?
Be honest with your partner. If you're not feeling it anymore, don't put off the inevitable. It's not fair to your partner or you. If you look for a reason, there will always be one why you shouldn't break up today. Yes, breaking up is painful. But so is staying in a situation where you and your significant other aren't getting the love and attention you each deserve.
Don't make promises you can't keep or have no intention of keeping. Giving someone false hope is nothing short of cruel. No one wants to feel like they're being strung along while in a relationship or after it's over. Make sure you're not deluding yourself either. Engaging in a fantasy relationship can be equally harmful to your healing, not to mention your partner's, especially if you continue to drag them into it.
Think before you act. What's worse than dumping someone? Being indecisive about it. If you're not sure about whether you should break up, think about what it will be like to live without this person in your life, at least in the way you have been. It's not fair to your partner or to you to cycle back and forth because you're not ready to or sure about ending things for good. Make a decision and stick with it.
Keep it real. Did you break up because of an isolated incident or because the holidays brought a lot of underlying problems to a head? The answer to this question is critical in determining whether you should stay or go. When you're honest with yourself, you can better see the relationship for what it was and the place it should hold in your life going forward. Not every relationship is meant to last. Though it may not feel like it, acknowledging that reality is probably the most valuable gift you can give, and receive, this holiday season.
//= get_template_directory_uri() ?> //= get_template_directory_uri() ?> //= get_template_directory_uri() ?> //= get_template_directory_uri() ?> //= get_template_directory_uri() ?> //= get_template_directory_uri() ?>
©2011-2023 Worthy, Inc. All rights reserved.
Worthy, Inc. operates from 25 West 45th St., 2nd Floor, New York, NY 10036