6 Experts Discuss Midlife Reinvention at Worthy Women Thrive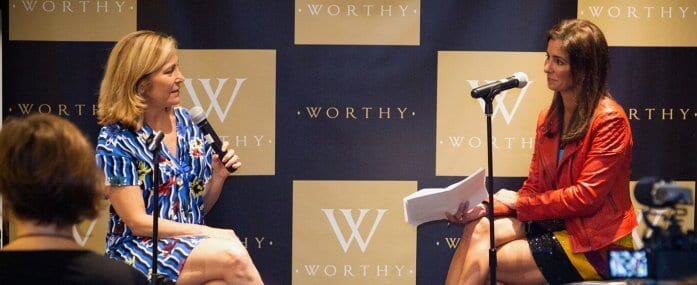 Rebuilding after divorce takes a village. The problem is women don't always know which villagers are the ones who can help them and help them most, especially if they have never been through the divorce process before. But what if women had the chance to meet a few key villagers in one room at one time? Last week, Worthy provided just such an opportunity at its first-ever Worthy Women Thrive empowerment summit.
At the event, five panelists came together to discuss divorce-related topics ranging from finance and entrepreneurship to wellness and dating. Moderated by radio host, Kelly Collis, who divorced her first husband and is now happily married, panelists included Lesley Jane Seymour, former More magazine editor in chief and CoveyClub founder, Vikki Ziegler, matrimonial lawyer, TV personality, entrepreneur, and relationship expert, Mariam Adams, financial advisor at Merrill Lynch, Jennifer Giamo, personal trainer and founder of Trainers in Transit, and Jeannie Ralston, founder of NextTribe.
Although all panelists possess a store of knowledge and expertise in their respective fields, they could likewise relate on a personal level to the struggles encountered by middle-aged women struggling to reinvent themselves personally and professionally following a divorce, even if they were not divorced themselves. Seymour, who is married, discussed how she coped with becoming an empty nester sooner than she expected when her younger child decided to attend boarding school the same year her eldest began college. Recalling how she cried for three weeks straight, Seymour described making the conscious decision to "leave loneliness behind" and devote her life to her other varied interests. Today, just shy of completing a graduate degree in sustainability at Columbia University, Seymour divides her time between her studies and the growth of CoveyClub, an online magazine she founded after More magazine closed its doors.
Ziegler, too, is no stranger to issues facing divorced women. A child of divorce herself who was also once divorced, Ziegler endeared herself to the audience by telling stories from her childhood, including how as a young girl she negotiated her parents' divorce, coming up with a 50/50 custody schedule that was unheard of at the time. Ziegler, who said she "loves divorce," devotes as much time to dissolving marriages as she does to strengthening them. Author of The Pre-Marital Planner: Your Complete Legal Guide to a Perfect Marriage and The Pre-Marital Planner to Stay Happily Married, Ziegler likes to ask her clients before they marry, whether they are marrying for the first time or beyond that, the following question: "Are you planning for a divorce when you're happy?" Most people, according to Ziegler, say they are not but perhaps should be or, rather, make efforts to build a stronger marriage. To the woman thinking about getting a divorce, Ziegler advised that she find the right group of experts while remembering to love herself. There is, Ziegler said, "life after divorce." Happily married to her second husband and mom to a three-year-old daughter, Ziegler can attest to this statement firsthand.
To underscore how important finances are during the divorce process and long after the dust settles, Adams emphasized how women are more "financially formidable" than ever before and encouraged women to talk about financial matters openly, even if they feel uncomfortable. Citing a study which found that 61 percent of women would rather talk about their own death than money, Adam noted how critical it is for women to grow their portfolios via strong financial planning and strategy. Adams went on to provide the mostly female audience with a few basic points for getting started, which included becoming more knowledgeable about their income (and how they can increase it) as well as their expenses, assets, and liabilities. Too many women, according to Adams, including 64 percent of women recently surveyed by Worthy, do not realize their diamond ring is also a financial asset they can sell. To facilitate gaining control of their finances, Adams further suggested that the women keep detailed records and get real with themselves about their financial picture.
After going through a divorce that left her mentally and physically drained, Giamo recalled how she laid in bed for months, "did zero" for her health, and how much of a toll this behavior took on her body and mind. She detailed the importance of taking just a few steps, even if it was to walk her dog. It is for this reason that today Giamo takes steps to meet with her clients where they are and help them take their first steps toward a new post-divorce life. For the woman who doesn't like to exercise or is intimidated by a strenuous workout regime, Giamo recommended finding a physical activity she considers fun. As for getting to the "other side" after a divorce, Giamo cautioned that women would not "just get there." Healing, she said, takes time. And steps, the first step being to stand up. Earlier this year, Giamo partnered with Worthy to create Fresh Start Fitness, a five-step free wellness program to get divorcing or divorced women back on their feet, literally.
Each of the above behaviors and strategies is, of course, better when implemented in the company of others, which is what the organization NextTribe is all about and the message Ralston wants every divorcing and divorced woman to hear. According to Ralston, no woman ever needs to feel isolated or alone during a divorce or after. Experiencing a life change herself when her son left for college, Ralston created NextTribe to provide the face-to-face contact women often find they lack during transitional periods, divorce included. Founded in Austin, the organization is working currently on setting up "tribes" in communities around the country. Divorce, Ralston emphasized, is a life change like any other, one that with the right support network can lead any woman to a new, exciting next chapter in her life.
//= get_template_directory_uri() ?> //= get_template_directory_uri() ?> //= get_template_directory_uri() ?> //= get_template_directory_uri() ?> //= get_template_directory_uri() ?> //= get_template_directory_uri() ?>
©2011-2023 Worthy, Inc. All rights reserved.
Worthy, Inc. operates from 45 W 45th St, 4th Floor New York, NY 10036