The Holidays, Grief and My Great-Grandma's Recipe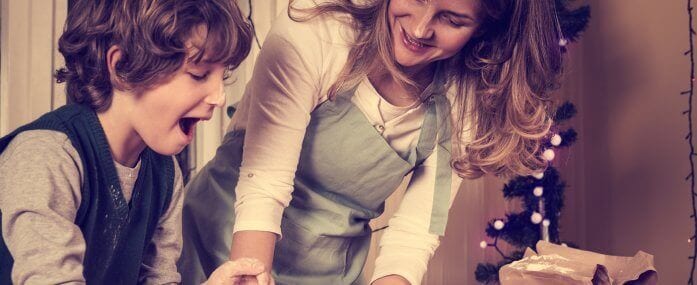 Around Christmas time, I'll buy cans of evaporated milk. It's the only time of year that they're on the grocery list. I need them for my great-grandmother's kringlar recipe.
When I was a little girl, my grandmother told me how my great-grandmother brought the recipe with her from Norway in 1905. How she traveled across the ocean, entered at Ellis Island, and settled in upstate Washington. Genealogical research in my twenties revealed that she'd only been 19 years old. My grandma passed the recipe onto my mother, who in turn would someday pass it onto me.
My mom never had the chance. During their divorce, my father illicitly made copies of all her recipes. Including the precious kringlar recipe. I remember the first Christmas after their divorce, when he smirked and pulled out the copy.
Something in his actions made me uncomfortable, though I couldn't have told you why. Now I can see that what he did deprived my mother of the opportunity to teach me how to bake and knot the bread herself. He claimed he had a "right" to the tradition because they'd been married so long. Now I view it as an act of entitlement, and one that hurt my mother when she found out. Passing on family traditions post-divorce should always be based on respect, and not with the intention of hurting an ex.
While I share the bread and family stories with my son every holiday, it's bittersweet. My mother and grandmother passed away before he was born, so stories and pictures are all he knows of them. And I only have the recipe because my father stole it.
"In passing on holiday traditions to our children we give them a sense of belonging, anticipation and love."
After divorce, so many of us wonder how to carry on holiday traditions. We may not feel much like lighting a menorah, putting up a tree or setting out the mkeka. It's hard to force ourselves to go through the motions for our kid's sake, but somewhere in the midst of pushing myself to bake cookies and put up a Christmas tree that first year I felt my mother's presence.
She loved the holiday season. Christmas decorations went up the day after Thanksgiving, carols played nonstop, we had new Christmas pajamas every year and always decorated gingerbread houses. And now that I have a son, I do it all, too.
Yes, I do it for him. But also for myself. To remind myself that, while I've lost most of my family, they're still with me.
When I left my ex-husband, I was scared. Scared of the unknown, scared of what a divorce would cost me, scared of starting a new life. My great-grandmother, stepping on a boat at age 19, could probably relate. Some days I told myself "if she could do it, so can I." Of all the things the women in my family gave me, their strength and grit have served me best.
In passing on holiday traditions to our children we give them a sense of belonging, anticipation and love. For those of us who've lost loved ones, while the holidays may be hard they also give us a time to remember and cherish the good.
This year, when I look down at my son covered in flour and pouring too much vanilla into the mixing bowl I'll be reminded that all my family's struggles have brought me to this moment of pure and utter sweetness. I may not like how I have the kringlar recipe, but I can focus on that or I can focus on my mother's love. In this instance, I'll pick the sweet over the bitter. While singing Christmas carols.
//= get_template_directory_uri() ?> //= get_template_directory_uri() ?> //= get_template_directory_uri() ?> //= get_template_directory_uri() ?> //= get_template_directory_uri() ?> //= get_template_directory_uri() ?>
©2011-2023 Worthy, Inc. All rights reserved.
Worthy, Inc. operates from 25 West 45th St., 2nd Floor, New York, NY 10036