Grandmother's Ring Buys Horse for Granddaughter: Worthy Client Reviews
It's not every day a Jewish mother hears "Instead of a Bat Mitzvah party, I want a horse," but for Karen, this request from her daughter, Emma, was actually the push she needed to sell her mother's ring.
Karen and her daughter, Emma, have always been animal lovers. Karen grew up with a horse and Emma has always expressed interest in riding horses just as her mother once did. Apprehensive about potential riding injuries, Karen put it off for a while, but she eventually felt comfortable enough to enroll her daughter in riding classes. Soon enough, even Karen was back in the saddle. But although they were finally riding, they didn't have a horse of their own- yet.
Then came the infamous quote that started it all. Emma said to her mother, "instead of a Bat Mitzvah party, I want a horse." Trying to keep a grasp on both major desires, Karen listed every way she could think of to make this happen, but none of them felt right. Then, Emma had a game-changing idea of her own: Emma was to inherit a ring from her mother that was originally from her late grandmother, and she could use the money from selling that ring to buy the horse.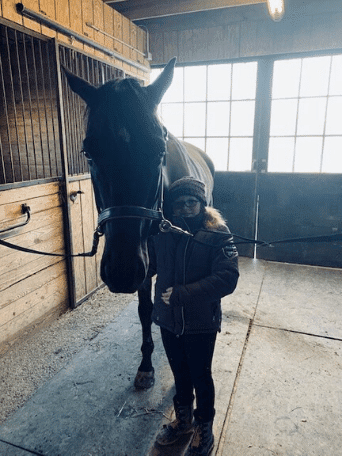 Karen was reluctant at first because the ring was such a sentimental heirloom, but she knew that her mother would be watching over them and she would be happy they were using the money from the ring to purchase something they would truly enjoy.
Unfortunately, selling a ring, especially in NYC, for its true value is no easy task. Karen and Emma drove from jeweler to jeweler and even took it to GIA- the gold standard for diamond grading- to learn exactly what quality of diamond they had. Karen was skeptical that anyone could get her the amount that she knew it was worth. She had been lowballed time after time, and as a woman in sales herself, she knew how salesmen would be. Little did she know her luck was about to turn around. While leaving GIA with her new grading report and nobody to sell to, she got a call from Worthy.
Worthy is an online auction marketplace for jewelry where a group of exclusive buyers can bid on diamonds, driving up the price and getting the seller the highest amount for their piece. Worthy kept in constant communication every step of the way, from the ring cleaning to the live auction. The entire process went exactly like it was supposed to, and Karen walked away with enough money to pay for the horse and all of the startup costs.
Every day Karen and Emma ride their new horse, Zuko– short for Danny Zuko. (You know, from Grease). Emma is getting better and better over time and she hopes to soon event with Zuko. She would love to do jumping in particular. They are happier than ever, with one chapter closed and a new one open. In Karen's own words, "Worthy made my little girl's dream come true."
//= get_template_directory_uri() ?> //= get_template_directory_uri() ?> //= get_template_directory_uri() ?> //= get_template_directory_uri() ?> //= get_template_directory_uri() ?> //= get_template_directory_uri() ?>
©2011-2023 Worthy, Inc. All rights reserved.
Worthy, Inc. operates from 25 West 45th St., 2nd Floor, New York, NY 10036