Moments From a Kickass Day
Many writers equate launching a book to giving birth, and having catapulted The Kickass Single Mom into the world last week (plus, having had two actual, human babies of my own), I get it.
While my agent, publicists, and other team members are waiting on pins and needles for sales numbers to roll in, I can say absolutely that this book launch was a raging success. We have secured more than 140 media hits, including big guys like The Doctors, O, the Oprah Magazine, Inc., Forbes, Yahoo!Finance, Time, Parents and Money magazines, and on and on. Hundreds and hundreds of single moms have reached out with the loveliest words of support and encouragement, social shares and reviews and one even created a Kickass Single Mom Book Instagram account to help get the word out! Immediately on Oct. 17 launch day the book became a No. 1 Amazon bestseller, and the New York Post named it to its short 'Must Read' list.
The overall message embraced by both strangers and my very closest friends and family is this: The world is long overdue for a message that flips the script on what it means to be a single mom, and give women permission to go out into the world and kick some major ass no matter what her family looks like. Readers get it. The media gets it. Everyone just gets it.
Launch day started at 7 a.m. with a radio tour, hanging out with single mom Jenny McCarthy to record her radio show, a live interviews at Reuters and Cheddar on the New York Stock Exchange floor — all while trotting around Manhattan in the #kickasssinglemom signature hot pink wrap dress I special ordered for the day. If that sounds princessy, I don't give a shit. I loved every minute.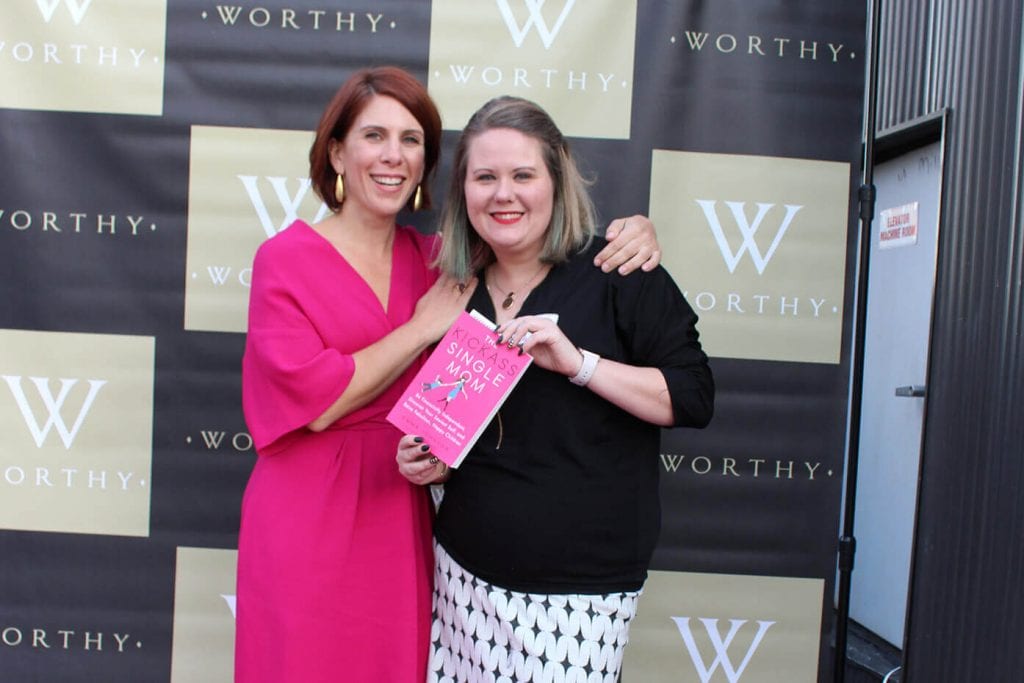 A highlight of the day was relaxing in the sumptuous lounge of the Royalton Hotel with Janelle Johnson and her friend Andrea, who won Worthy's Kickass Single Mom Sweepstakes, which included a paid trip to New York City, cash for child care back home (because, hello! Worthy gets it!), an invite to our party, and hangout with me. Turns out that all three of us were from within a 150-mile radius in the Midwest, and it felt so good to connect with some of my blog readers who were also home folk. While we sipped pricey drinks (their Old Fashioneds were served with a second glass domed over the cocktails, which ensconced hickory smoke that served as an expensive wow-factor that may or may not have enhanced the flavor) and talked about their army careers, kids, and of course men and sex, I was so grateful to spend time talking with smart, driven women who are changing the world by leading incredible lives.
Which brings me to the summit of the birthing of The Kickass Single Mom: That evening my very lovely friends at Worthy hosted a gorgeous party on their office's amazing rooftop terrace, for which the backdrop is literally the Empire State Building, which was lit up in a classic white that beautiful fall evening. Judy Herbst, Worthy head of partnerships and PR who has become a personal friend, coordinated the mums, rosé, cupcakes, and carpet in hot pink to match The Kickass Single Mom's cover. All 90 guests received a signed copy of the book (Judy made sure to order magenta Sharpies), and the staff welcomed guests in their loft offices by asking them to create nametags that read, 'I am kickass!' Because let's face it: Everyone is kickass in their own way. Worthy has been such an incredible partner in launching The Kickass Single Mom because they get that women are more than ready to kick full ass in the world, in their families and in their personal lives.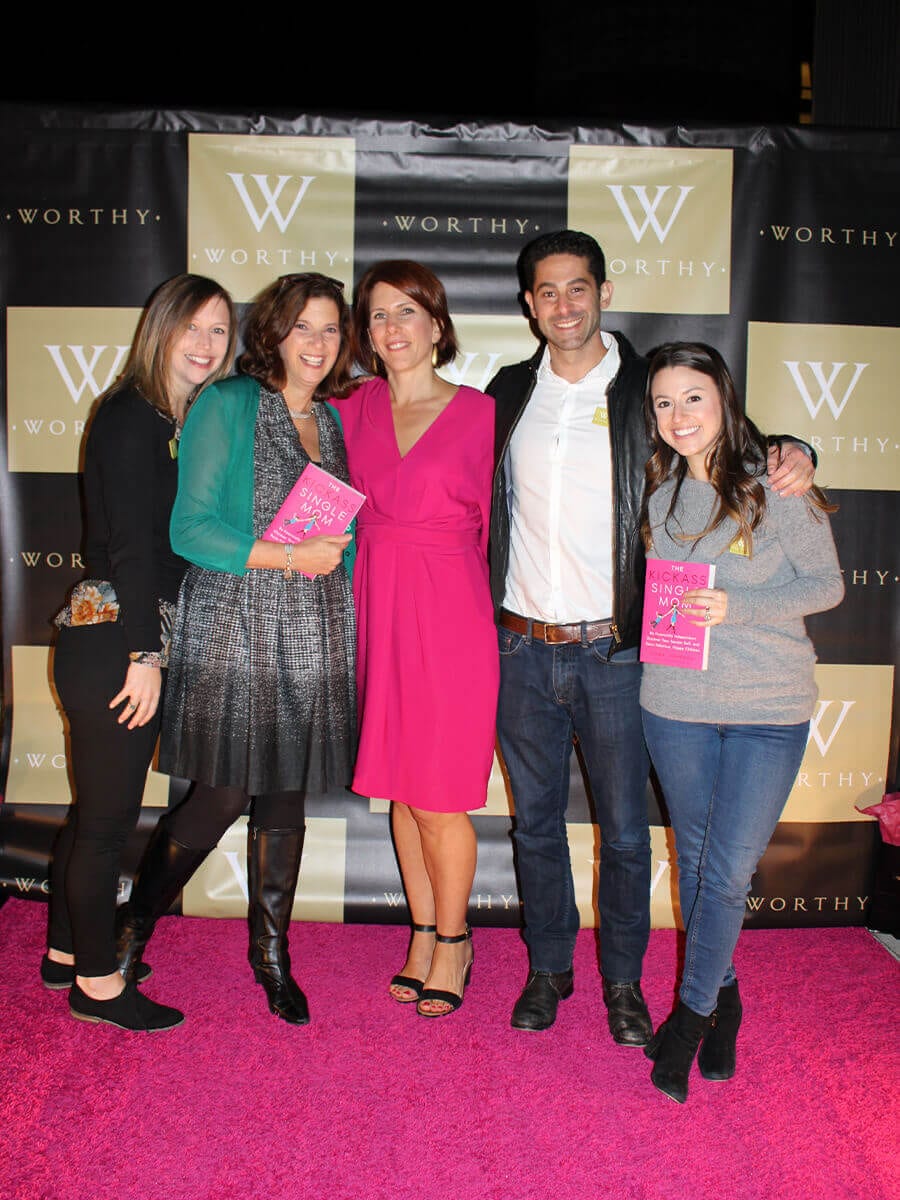 Then, the party started. People, let me tell you something: It was incredible. Friends flew in from Nevada, Houston and Toronto, and Worthy team members flew in from Israel. Others hired sitters and took long train rides to be there. People brought flowers and homemade luxury chocolates. My son and daughter strutted their finest manners, gobbled cupcakes when they thought I wasn't looking, and did me proud. My boyfriend arrived wearing his sexiest suit and a hot-pink tie (photo caption: "Single Mom Prom"). I spent the evening welcoming and chatting with my friends and colleagues, trying my damnest to make sure to get time with everyone (I know I missed a few… so so sorry! Lunch soon?), feeling not unlike I did at my own wedding, minus the flitting sense that this wound not be my last romance.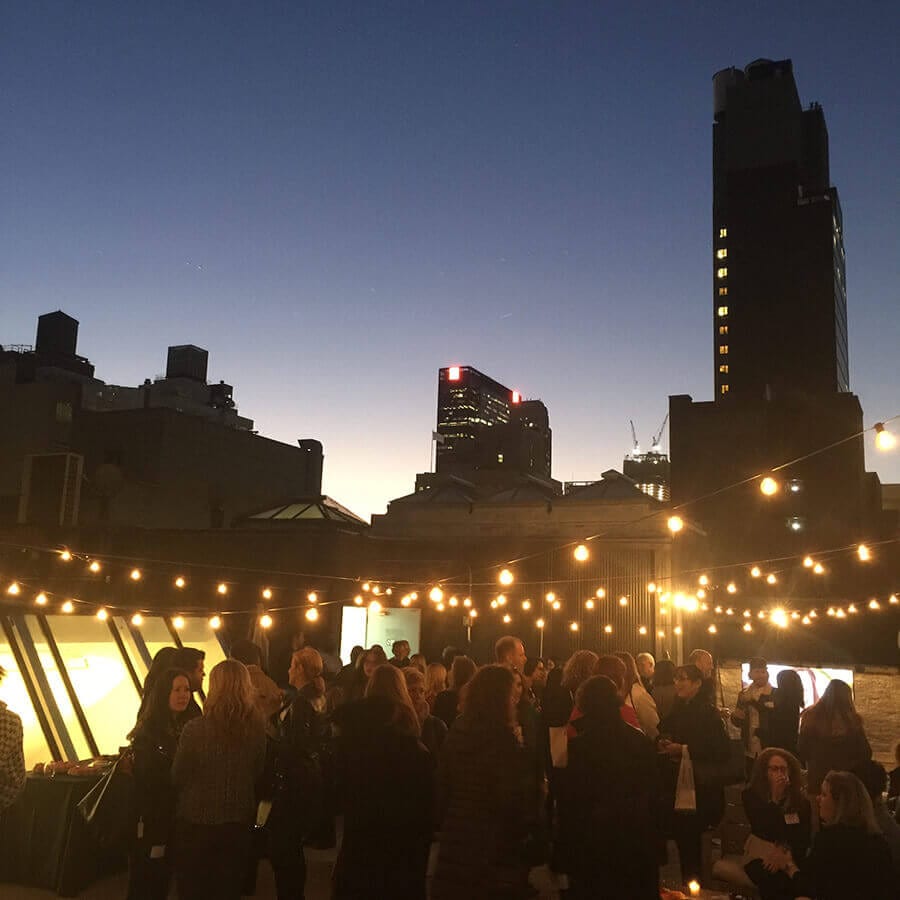 Eventually, the air took a chill, and guests moved on to their dinner plans. My longtime friends Betsy and Kris, who left their kids at home in Pennsylvania to attend, drove me, my kids, boyfriend and visiting BFF Kirsten, back to my apartment in Queens, where I closed out my very special princessy day drinking rosé and serving Costco frozen pizza to those I love most.
//= get_template_directory_uri() ?> //= get_template_directory_uri() ?> //= get_template_directory_uri() ?> //= get_template_directory_uri() ?> //= get_template_directory_uri() ?> //= get_template_directory_uri() ?>
©2011-2023 Worthy, Inc. All rights reserved.
Worthy, Inc. operates from 25 West 45th St., 2nd Floor, New York, NY 10036