MyIntent: Why We Love These Wearable Reminders of Your Intention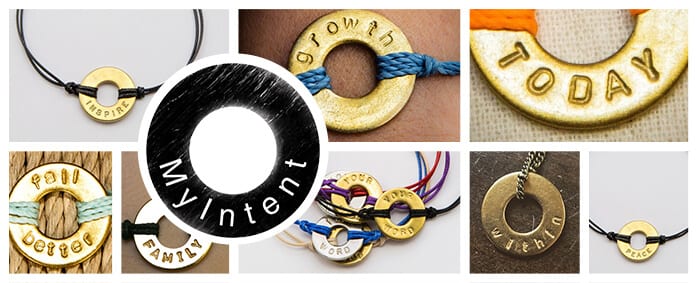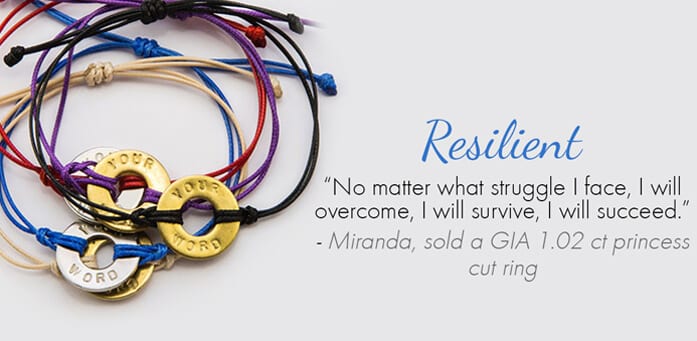 Every day, we witness people making the brave decision to let go of a material item that used to be meaningful in their lives —like their old engagement ring— and starts a new chapter in their lives. A simple transaction can mark the beginning of a journey: the quest towards new meanings, new projects, new intentions.

With this vision in mind, we came across a beautiful organization: MyIntent Project. We connected immediately with their mission: to be a catalyst for meaningful conversations and positive energy.

MyIntent creates pieces of jewelry, like bracelets, necklaces and more. But what sets them apart from any other jewelry design brand, is that all of their pieces contain personalized tokens with engraved words that represent the wearer's intentions.

Getting your own MyIntent piece of jewelry not only gets you thinking about your purpose and ultimately defining the word that best represents that, it also allows you to wear your intentions daily.

Even Beyonce and Kanye wear their own MyIntent bracelets. Just sayin'…

Delighted by their concept, we decided to give out a MyIntent personalized bracelet to every client that would decide to sell their valuable with us, as a gift in their new life journey. Since we launched the MyIntent – Gift with Shipment promotion earlier this year in May, we've rewarded many of our clients with bracelets featuring their engraved words.
Our Clients' Words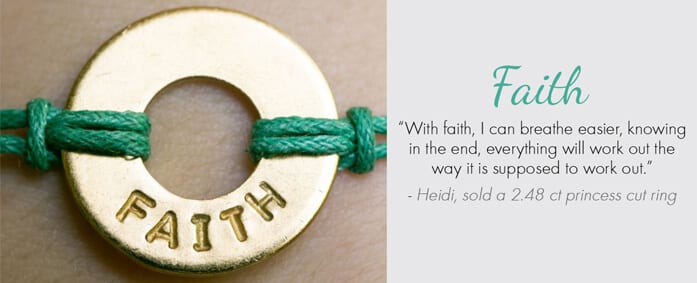 Our clients have shared with us the reasons behind the words they've chosen. And their quotes are simply inspiring. Here are some of our favorites:

BELIEVE
"This will remind me to believe that every day is a blessing and should be cherished."
—Jessica, sold a GIA 0.66 ct round cut ring.

FAMILY
"I have found over the past several years of trials and tribulations that the love of family can give you strength in your weakest moments."
—Marla, sold a GIA 1.79 ct round cut ring.

WITHIN
"Reminds me of where I must look to accomplish anything in life."
—Erin, sold a GIA 0.70 ct old cut ring.
PEACE
"In 'peace' there is acceptance of whatever life hands you. On a global scale – peace is the only answer."
—Laurie, sold a GIA 1.60 ct round cut ring.
VULNERABLE
"I want to live with an open heart even though I just had it broken. I will love again."
—Kahai, sold a GIA 1.73 ct round cut ring.
INSPIRE
"As a reminder of what I have overcome, where I am today, and where I want to be moving forward."
—Kristin, sold a 0.69 ct round cut ring.
What's your word? Wear it as a daily reminder of your intentions. Receive your own personalized MyIntent with your word when you decide to sell an item with us. Learn more.
//= get_template_directory_uri() ?> //= get_template_directory_uri() ?> //= get_template_directory_uri() ?> //= get_template_directory_uri() ?> //= get_template_directory_uri() ?> //= get_template_directory_uri() ?>
©2011-2023 Worthy, Inc. All rights reserved.
Worthy, Inc. operates from 45 W 45th St, 4th Floor New York, NY 10036