Worthy's 2021 Jewelry Auction Trends Report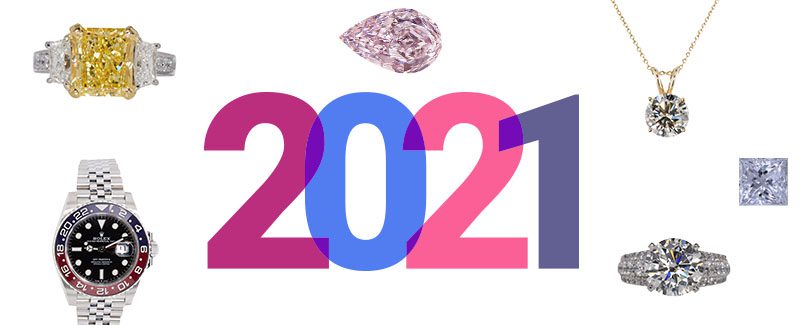 And just like that, 2021 comes to a close. For many of us, it was another unconventional year with more challenges than we would have liked. At Worthy, we continued to help hundreds of people all over the country sell their diamond jewelry and watches, with our auction total growing by 15%! We also took a leaf out of our own book to give ourselves a makeover – if you haven't had a chance, have a glance at the new version of our website!

Now let's take a look back to review our jewelry auctions from the past 12 months and see what has been trending in our auctions.

Types of Jewelry Sold With Worthy
The diamond ring remained the reigning queen of our auctions this year, with a record 82% of our jewelry auctions this year being rings. Loose diamonds followed behind as usual, with 6%, however, as you'll see below, we had a number of 6-digit loose diamond auctions that were quite impressive. Loose diamonds are followed by necklaces and watches at 3%, earrings and bracelets at 2%, and miscellaneous items (such as brooches) at 1%.

Diamonds in 2021
At Worthy, diamonds are more than just beautiful, they're at the very center of our business! And how much our sellers are able to get for their diamonds depends so much on a few important factors like the 4Cs and a diamond's shape.
The 4 Cs
You can learn a lot about a diamond from the 4Cs – cut, color, clarity, and carat- and they are major influencers on a diamond's price both at retail and resale.

Diamond Shape & Style
As always, classic round-cut diamonds made up more than half of all our diamond auctions this year. They were followed by princess, emerald, oval, and marquise. Diamond shape doesn't play into a diamond's grading, however, it can have a big impact on diamond value as there are a few shapes that are always in demand while others go in and out with the trends.

Our top ring styles remained bridal sets and solitaires and the top diamond shapes to be featured in a ring were rounds and princesses.

Best Ring Auctions of 2021
5.01 CT Round-Cut Solitaire Ring. Sold for $90,044.
3.37 CT Cushion-Cut Royal Blue Kashmir Sapphire & Diamond Ring. Sold for $78,786.
3.74 CT Yellow Radiant-Cut 3 Stone Ring. Sold for $70,000.
4.21 CT Round Cut Solitaire Ring. Sold for $67,695.
5.04 CT Round-Cut Solitaire Ring. Sold for $62,222.
8.39 CT Pear-Cut Solitaire Ring. Sold for $60,000.
6.38 CT Round-Cut 3 Stone Ring. Sold for $58,665.
3.04 CT Oval-Cut Bridal Set Ring. Sold for $57,800.
6.25 CT Cushion Modified-Cut 3 Stone Ring. Sold for $55,941.
5.66 CT Round-Cut 3 Stone Ring. Sold for $54,888.
Best Diamond Auctions of 2021
The Jewelry Auctions of 2021
Jewelry made up 9% of our auctions in 2021, with necklaces being the top jewelry item at 3% and earrings and bracelets at 2% (the remaining 1% goes to other types of jewelry, such as brooches and men's rings).

Biggest Jewelry Brands of 2021
The most popular jewelry brands on auction in 2021 aligned with what we saw in 2020, with Tiffany & Co. coming in as the winner by a mile with 69% of branded auctions.

Best Jewelry Auctions of 2021
Best Watch Auctions of 2021
You don't need to be a watch collector to know that the biggest factor when it comes to watch value is the brand. And there are a few big watch brands that are simply synonymous with luxury, such as Rolex, Omega, and Cartier. Here's what brands we saw in our 2021 watch auctions.
Watch Brand Breakdown
Rolex continued to be our top auctioned watch brand in 2021, with TAg Heuer and Cartier coming into third and fourth place. The "other" brand, coming it at second place included some other fine brands, including Baume & Mercier, Audemars Piguet, Harry Winston, and Raymond Weil.

Watch Brand By Deal Amount
When it comes to top brands by deal amount, Rolex wins by the sheer number of auctions (92 this year!), however, Audemars Piguet came in fifth place with only two watches auction from the brand. This goes to show that some of the more bespoke watch brands are the ones who are able to make the biggest impact at auction.
Best Watch Auctions of 2021
Rolex GMT Master II. Sold for $21,306.
Rolex Daytona. Sold for $21,178.
Patek Philippe Annual Calendar. Sold for $15,126.
Cartier Ballon Bleu. Sold for $14,389.
Audemars Piguet Royal Oak Offshore. Sold for $14,026.
Rolex Sea-Dweller. Sold for $13,750.
Rolex Day-Date. Sold for $12,790.
Rolex Submariner Date. Sold for $11,433.
Rolex Datejust. Sold for $10,663.
Hublot Spirit of Big Bang. Sold for $9,028.
And that's a wrap on our 2021 jewelry auctions! What a year it has been and wishing us all a happy and healthy new year in 2022. Can't wait to see what our sellers have to offer!

//= get_template_directory_uri() ?> //= get_template_directory_uri() ?> //= get_template_directory_uri() ?> //= get_template_directory_uri() ?> //= get_template_directory_uri() ?> //= get_template_directory_uri() ?>
©2011-2023 Worthy, Inc. All rights reserved.
Worthy, Inc. operates from 45 W 45th St, 4th Floor New York, NY 10036