Co-Parenting Tips from 'Scary Mommy' Founder, Jill Smokler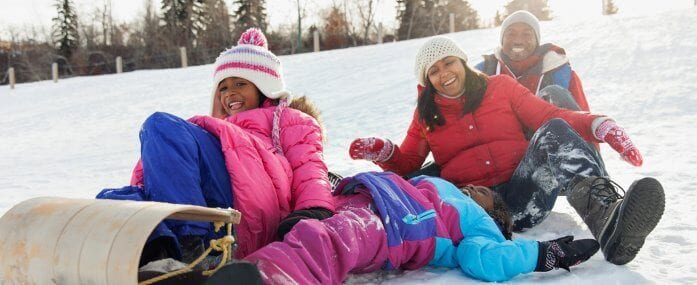 If you're a mom, you'll probably relate with the story of how I initially found Scary Mommy. It was just after I had my first baby and I was up for maybe the 5th time in one night, mindlessly typing into Google every search term I could think of for "why won't my baby sleep?" And, bam – I found Scary Mommy. For the first time since I had learned that I was pregnant, I felt all that self-judgment begin to slip away and embraced a new narrative: a perfectly imperfect, amateur parent. Scary Mommy's founder, Jill Smokler, gave a raw, honest voice to motherhood that was a breath of fresh air in this insta-world where we curate our lives to try to make people think we have our shit together more than we actually do. Jill's candidness about navigating life at home with her kids made us laugh, cry and, more than anything, feel less alone.
Last year, Jill and her husband Jeff told their children (and the world) that after 17 years of marriage and 23 years of togetherness, they were divorcing, because Jeff is gay.
It was a secret that the couple had held close for 15 years. And it took a lot of soul searching for them to decide to end their marriage. But just like Jill helped us moms navigate the turbulence of motherhood, so too have she (and Jeff) given us a master class in how to divorce, and how to keep your family, and your integrity, intact.
From the outset, Jill and Jeff were public about their commitment to their children. On her blog, Jill wrote that "…while we will no longer love each other as husband and as wife, we remain deeply committed to one another as partners and co-parents to the three most incredible kids we could ask for. It's our greatest hope that this experience translates into raising empathetic, caring and open-minded children who learn to embrace their differences… and respect and appreciate that which makes others different, too." And Jeff told PEOPLE Magazine, "We want to show folks that you can do divorce in a way that not just puts your children first, but can come from a place of love,' he adds. 'And in our case, there has never been a shortage of love."
Incredible. Right?
I had to reach out to Jill, because I knew that she would have honest, authentic, invaluable advice about divorce that we could all learn from. (And she did. You can read the full Q&A here on the Hello Divorce website.)
But I also knew that if anyone could share the truth about co-parenting and tips for navigating this always gray area, it would be Jill. Here are three things I learned from her that are absolutely worth sharing:
1. Make rules, and stick to them.
Even if your co-parenting relationship starts off on great footing like Jill and Jeff, developing – and sticking – to at least some basic ground rules will help you and your ex maintain good communication, and it will let your kids see that you're aligned.
"Jeff and I aren't the best with rules enforcement, but we've made much more of an effort since splitting," Jill shared. "The two big rules we have for co-parenting are simple: No ill speaking of the other spouse and a commitment to our kids. Putting them first – and remembering to even in the most challenging times – is the glue that holds everything together."
2. Remember that even with a great co-parenting relationship, there will be lonely times.
"For me, the most challenging part of co-parenting is not having someone to share the day to day minutiae with," Jill said. "It's comforting to feel like you're in the mess of parenting together – side glances when the kids are being assholes and beaming smiles when the kids impress you. It's lonely being the only parent witnessing such moments sometimes."
This really rung true for me, as so many of my clients share similar sentiments. I always wish I had a smart suggestion to share to help them overcome this loneliness. Like carrying a small notebook and documenting tiny moments so you can revisit them later. But, remember that sometimes there's beauty in the loneliness. At some point, your frame of reference will change, and you'll appreciate those crazy, sweet or pride-filled moments for what they are: moments that you are happy you were there to be able to witness.
3. If you can make it happen, maintaining a regular line of communication with your ex can benefit you, and your kids.
This isn't possible for everyone, but if you and your ex can stand being in the same room at least once a month, do it. Having some sort of regular check-in, whether that's sitting down, talking on the phone, instant messaging or committing to a quick monthly e-mail exchange, can help you feel more comfortable about the way your ex is co-parenting your kids, and more confident that you're forging ahead on the same page.
"We find that the more effort we make to stay connected, the better our relationship is. We were a team for 20 years, and in many ways still are…but, it's not always easy remembering that when you're pissed off about the missing school uniform top or the last-minute change of carpool plans," said Jill. "Having a regular coffee or lunch date helps us reconnect and remember that we really do love one another."
But just like Jill showed us through Scary Mommy that motherhood isn't perfect, neither is co-parenting. It's hard. There's no way around that. But – you are not alone. You're not the first person thrust into this situation, and you certainly won't be the last. (And you know what? That's the same advice I give myself about motherhood, in general.) I just hope that whether it's a little honesty from Jill Smokler or bookmarking helpful advice on how to approach co-parenting, you'll find resources that help your self-judgment begin to slip away. And just like I did that night with my sleepless daughter five years ago, I hope eventually you can embrace a new narrative: that of a perfectly imperfect, amateur co-parent.
//= get_template_directory_uri() ?> //= get_template_directory_uri() ?> //= get_template_directory_uri() ?> //= get_template_directory_uri() ?> //= get_template_directory_uri() ?> //= get_template_directory_uri() ?>
©2011-2023 Worthy, Inc. All rights reserved.
Worthy, Inc. operates from 25 West 45th St., 2nd Floor, New York, NY 10036