Single Mom Guide to Financial Independence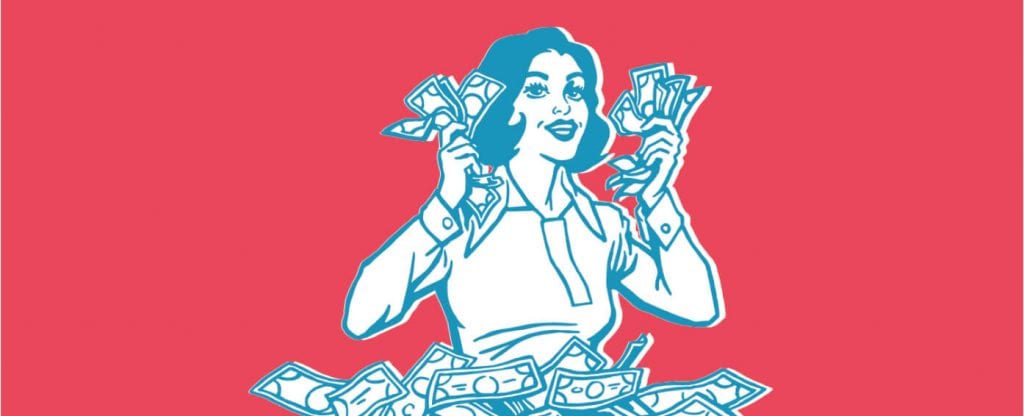 This page includes links to other third-party websites. By providing links to other websites, Worthy does not guarantee, approve, or endorse the information, services, or products available on these websites. Worthy bears no responsibility for the accuracy, legality or content of the external website or for that of subsequent links. We may earn a small commission for purchases made through links in this post at no additional cost to you.
While the nation normally celebrates our independence in July, Independence Day happens every day for thousands of women when they get their divorce decree. They declare their independence from a bad relationship, stifling obligations, and much more.
The biggest declaration of independence is the financial kind. In theory, it sounds good to be financially independent but what are you really getting into? There are pros and cons of financial independence. Let's explore.
But first, here are a few tips to get back on your feet financially after your divorce.
Create a One-Income Budget- Things have changed in your life and child support (even with a court order) may not be very reliable or always available. Creating a budget based on your income will put you in control of your expenses. When you get child support, a tax refund, or other type of windfall, put it into savings. Just remember to add that money when it is in hand and not before.
Get A Better Job Or Train For A New Career To Make More Money – A better job or new career is a path to higher income. This is important because it will often determine how quickly you become financially independent. Look for a training program that fits your personality and lifestyle choice. Keep learning by taking advantage of every free resource at your disposal. Contact your training and development office at work for available opportunities.
Control Your Spending And Pay Cash – Be sure to watch your spending so you don't go over your budget. Look out for sales, bargains, and freebies both online and offline. Live below your means until you are financially independent. Stay out of debt and cut up all your credit cards. Paying cash ensures you will not go into debt, which causes stress.
Cut Your Expenses – Continue to reduce your spending by cutting unnecessary expenses like that over bloated cable plan, the landline, and any other frivolous services. Instead get Netflix, a pre-paid cell phone, and shop at thrift stores for a while.
Find a Way to Make Extra Money – It's easier to add to your budget than cut things out. Now that you are the sole provider you may already be feeling a bit of deprivation. In this gig economy there are many ways to make extra income. Become an Uber driver, post a gig on Fiverr, or babysit to bring in a few hundred extra dollars.
Now let's get into the pros and cons of financial independence and what it means for your new life.
Being the Sole Provider for your family
That is usually the first thing people think about when we say we are financially independent. We are not dependent on a partner or spouse to make money, pay bills, give an allowance, or dictate what happens with the money. When we become single moms we become the sole provider. Child support may be a hit or miss so it is up to us to handle all the financial responsibility for the family.
Listen to our podcast "Woman's Guide to Financial Independence After Divorce" with Laurie Itkin.
Ability to pay bills
As the sole provider, you are now responsible for paying the bill. Your ex will not do it and your family is not responsible for doing it, though they may offer to help you in dire situations. Overall you are responsible for paying your bills, handling errors, and updating information.
Freedom to make financial descisions
Being a financially independent mom means you are making all the financial decisions. No matter how big or small, it's up to you to make the right decision for your family. From the home you will live in, the amount you will spend on clothing, food, and extracurricular activities. You are responsible for deciding on the kids' medical and dental as well as childcare providers.
Autonomy with where the money goes
All financial decisions begin and end with you. If something goes wrong, you are the only person to blame. This is why education is very important when it comes to making decisions for your family. Now is a good time to learn financial literacy and about anything that impacts your household.
Responsibility for all the financial ups and downs
Life has its ups and downs, it's no different when it comes to your finances. Even if you are working a stable job with a good income, there are surprises that come up at the most unexpected time. You may have a kid break an arm, chip a tooth, or need a new instrument because they've joined the orchestra. Regardless of the circumstances, the financial ups and downs are all yours to handle.
Being a financially independent woman has its rewards and challenges. But no matter how tough it gets, it feels fantastic to call the shots when it comes to money matters.
Protect your investment in your home. Home Title Lock is how you keep identity thieves from stealing your home's equity. Click the link below to start protecting your title now.
Prevent Title & Mortgage Fraud for Pennies a Day with Home Title Lock!
//= get_template_directory_uri() ?> //= get_template_directory_uri() ?> //= get_template_directory_uri() ?> //= get_template_directory_uri() ?> //= get_template_directory_uri() ?> //= get_template_directory_uri() ?>
©2011-2023 Worthy, Inc. All rights reserved.
Worthy, Inc. operates from 45 W 45th St, 4th Floor New York, NY 10036