From $70K debt to positive net-worth: 3 lessons on financial independence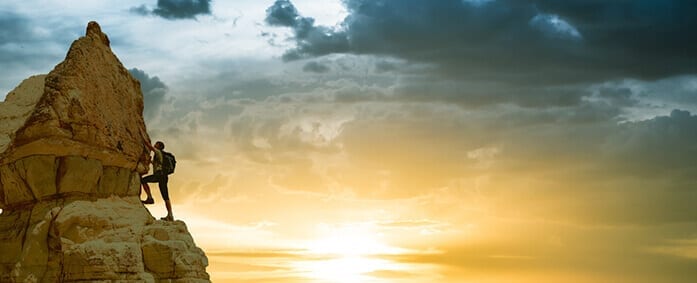 Earlier in March, we launched "Make It Rain", a quiz/sweepstakes in which we asked our audience six questions about personal finance. We've learned a lot about how financially savvy the respondents are, and how they feel about a matter that can be intimidating. We were glad to confirm our intuition when data from the quiz proved women are better at money than they think they are.
From March 21st through May 3rd, we received responses from more than 4,800 women. By taking the quiz, they earned a chance to win one of ten yearly subscriptions to YouNeedABudget, a leading personal finance app, plus the grand prize of $1,000 in seed money for their next project. We are thrilled to announce the winner of the grand prize: Linsey K. from Tekamah, Nebraska. Keep reading to learn more about her and the rest of the winners.
Seventeen years ago, our winner Linsey went through a divorce that left her a debt of more than $70,000. She said that while taking the Make It Rain quiz, she became aware of the long way she'd come since those days. When we asked her what she had learned about herself while taking our quiz, she said: "The quiz answers reminded me that I make choices every day that put me in a better position so that I can be prepared for everything from major sickness to a little flat tire."
To Linsey, the most rewarding aspect of handling her finances is being in control. Today, she enjoys a positive net worth that she works on every day. Staying updated on the status of the household finances is something Linsey and her new husband have made a priority: "This is helpful in meeting our goals."
"The quiz answers reminded me that I make choices every day that put me in a better position so that I can be prepared for everything from major sickness to a little flat tire."
But when it comes to managing personal finances, even wealth gurus face challenges. Linsey told us that staying on the same page is not always possible, especially when daily life gets in the way. What brings her peace of mind is knowing that, at any time, either she or her husband can take the helm of their finances confidently. When comparing her present situation with her previous experience, she affirms: "I would never want to be in that position I was in with my first marriage where I never had a clue what was going on. It leaves you open to so many bad things."
We asked Linsey what advice would she give to women who don't feel confident enough about their finances. Below are three pieces of advice from a woman who got through divorce — and thrived.
Know where all your pennies are going! You will never regret taking those extra moments to check on accounts and seeing where you are at in meeting your budget, savings, and investing goals.
Having confidence in your money management plan is important, too!
Find a money mentor or someone who has been there before to help guide you. I'm not necessarily talking about the most successful person you know. Ideally, get connected with someone who has experienced and come out of hardship with lessons they can share. Get their OK to call or text about even the smallest decisions until you get confident and can start working on bigger vision goals. We should not be embarrassed about what we don't know!
Thank you, Linsey! And last but not least, we also want to congratulate Laurie W., Donna D., Laura R., Brenda S., and Jannet K., for winning a yearly subscription to YouNeedABudget. Happy budgeting to you all!
Stay tuned for more quizzes and sweepstakes! Subscribe to our newsletter to receive our latest news and promotions.
//= get_template_directory_uri() ?> //= get_template_directory_uri() ?> //= get_template_directory_uri() ?> //= get_template_directory_uri() ?> //= get_template_directory_uri() ?> //= get_template_directory_uri() ?>
©2011-2023 Worthy, Inc. All rights reserved.
Worthy, Inc. operates from 25 West 45th St., 2nd Floor, New York, NY 10036