How Selling My House Convinced Me to Sell My Engagement Ring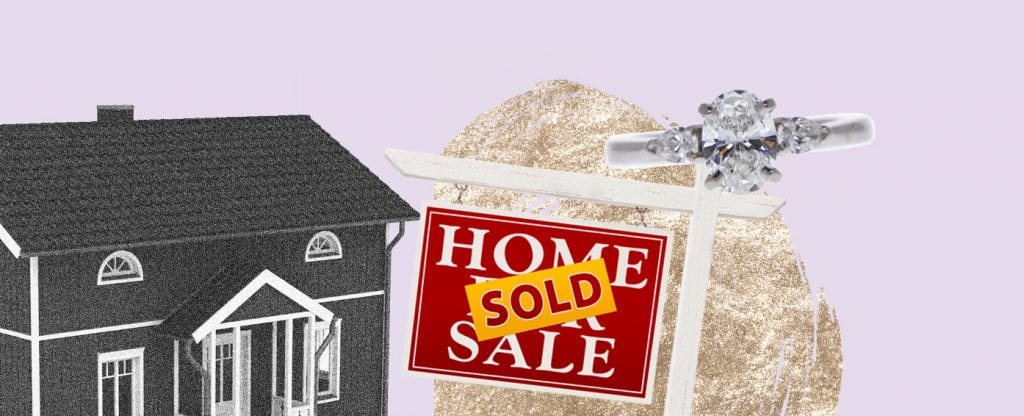 As a veteran family law attorney, mediator, and divorce innovation specialist, I am always interested in meeting other professionals in the industry and hearing about new concepts that are changing the face of divorce. I recently had the opportunity to speak with Judy Herbst, the Director of Public Relations and Relationships at Worthy.com, the premier online auction house for jewelry, and notably, for old engagement rings. Worthy has created quite a buzz in the world of divorce in the past year or two, but I must admit I was skeptical about selling such a valuable item online. After only a few minutes of speaking with Judy however, I was digging in my jewelry box for my own engagement ring from my former marriage and surprisingly, it was my recent experience of selling my house that convinced me that Worthy is the way to go when selling your old ring or other jewelry. Let me explain.
Let's go back to last summer. After almost a year and a half spent renovating my dream home in La Jolla, California I had the unenviable task of having to sell that home when we unexpectedly relocated to Chicago. We had just moved two times in the two years before this move and sold two homes and I was dreading going through the experience again. The endless process of staging the house, preparing for market, keeping the house in show mode with teenagers at home and having to vacate with only a few minutes notice with three dogs was not something I wanted to experience again. Also, I was dreading the long wait for offers and the interminable back and forth of negotiating the sale. Then I remembered a conversation that I had not long before with a real estate broker, Kathy Clark of Harcourts Luxury Auctions. Kathy and I had connected because, as a divorce professional, many times my clients seek to sell the marital residence as a part of the divorce process, and Kathy introduced me to the idea of selling high-end real estate via a luxury auction process. After all, as she says:
In a luxury market where only about half of the homes that go on the market actually sell, it's time for a shift. As consumers we "shop" differently today for virtually everything we purchase… so why would purchasing homes be any different? Our marketing method, Luxury Auction, is just that – marketing. It allows us to see an over 90% success rate in selling homes within an average of 35 days. When all is said and done, our sellers are always satisfied with the result because if they weren't, they wouldn't have sold. Homeowners never lose control of their home regardless of what price we reach, it remains their choice.
I put in a call to Kathy and I am so glad that I did. We were initially nervous about selling our home in such an unconventional fashion but the lure of the ease of the process, as described by Kathy, was compelling. For example, all appraisals and home inspections are done upfront by the broker so there is no wait nor negotiating once an offer was accepted. There are no private showings of the home, only very short (1-2 hour) open houses that condense the seller market and create buzz because all interested buyers are viewing the property at the same time. Kathy told us that quite often this auction format results in multiple offers long before the actual auction date arrives and, in our case, this was thankfully true! After only two short open houses (a total of four hours) we received three competing offers and ended up selling for a considerable amount over what traditional brokers told us we could get for the house. Since we had several bidders, we were able to negotiate all the terms that we wanted and no contingencies. It was by far the best experience I have ever had selling a home and that is why, when Judy told me how the Worthy auction platform works, I knew they had a winner.
The similarities are striking and as with the home auction, is based upon superior and more effective marketing than traditional methods. Think about it, what are the usual options when selling an old piece of jewelry? Usually, it was going to your local jeweler, who has limited traffic and demand, and either selling the ring to them outright or consigning it with them. Neither option is optimal. I know, I did it. When you sell your jewelry to a retail jeweler you generally receive about one fourth of the value of the item. If you consign it, you end up waiting until the item sells, which can be a long time, and still then only usually receive about half of whatever they sell if for. Then eBay came along, and people thought "Hey, this way I can sell my ring and keep all the money myself" but at any given time, there are thousands of rings for sale on eBay and although they supply a platform to sell, they do no marketing or otherwise promote your sale. In addition, you are responsible for describing and pricing your ring and many buyers are wary of purchasing such an expensive item from an individual. For these reasons, it is interesting to note that only a very small percentage of diamond rings actually sell on eBay. So, what is a woman with an old engagement ring taking up space in her jewelry box supposed to do?
Worthy places the ring for sale on their auction platform, with a professional description and pictures, and markets your ring to qualified buyers, many of them jewelers, WORLDWIDE.
Enter Worthy and their brilliant online luxury auction platform which is so similar to the luxury home auction process. One of the first notable pluses is that in both processes pricing is taken care of by the market. As Kathy said about selling homes, "By declining to place a price on what something is worth, you can create competition and drive the price as high as possible." In both the home sale and jewelry auction process, a starting bid is set by the seller, but not in a vacuum of information. In both the home sale as I mentioned, as well as in Worthy's process, they provide the seller with a current evaluation of the item prepared at the auction house's expense. This alone is worth the price of admission and Worthy even includes a complimentary GIA grading for your diamond which encourages buyers to place bids with confidence. Then, and I believe most importantly, Worthy places the ring for sale on their auction platform, with a professional description and pictures, and markets your ring to qualified buyers, many of them jewelers, WORLDWIDE. Unlike your local jeweler, who has foot traffic limited to your geographical location, Worthy has an extensive network of buyers that spans the globe who are looking to purchase rings just like yours. This exposure is what allows you to drive the price up for your ring. It's simple, and more potential buyers usually mean more demand and a higher price.
Finally, both the luxury home auction and Worthy's online auction process have the one major advantage that sold me on both – they keep it simple. The home selling process, with the limited open houses and streamlined marketing was a seller's dream and Worthy has made their auction process similarly carefree for sellers. Essentially, a seller just needs to fill out the online form regarding their item for sale on the Worthy website and they will be contacted by a Worthy associate who assists them thereafter. A prepaid, insured FedEx package is sent to the seller to send their ring to Worthy's offices in New York and from there it is all hands off for the seller as Worthy handles each and every detail. As the Worthy website says "sit back, relax, and watch the offers roll in with the live auction viewer. Approve the final bid and the money is yours!" You can see why I'm sold. Now please excuse me while I go back to digging in my jewelry box. I can't wait to see what my old ring is worth!
//= get_template_directory_uri() ?> //= get_template_directory_uri() ?> //= get_template_directory_uri() ?> //= get_template_directory_uri() ?> //= get_template_directory_uri() ?> //= get_template_directory_uri() ?>
©2011-2023 Worthy, Inc. All rights reserved.
Worthy, Inc. operates from 45 W 45th St, 4th Floor New York, NY 10036