5 Ways to Practice Gratitude When You're Not Feeling Grateful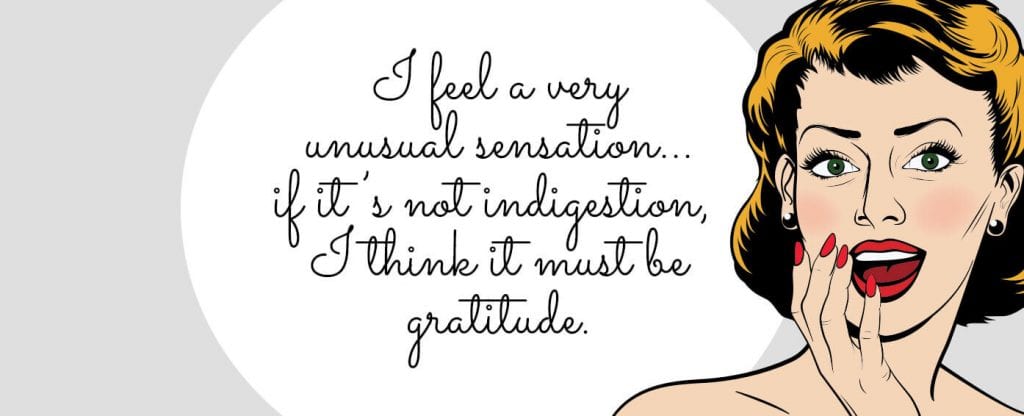 Every year around Thanksgiving, I tend to feel more pressure than I ordinarily do during other times during the year to practice gratitude. That's because, speaking candidly, I haven't always felt as thankful as I should, given how much I have to be thankful for, especially since my divorce. To adjust my mindset, I have learned to incorporate the following five strategies into my day, which you can, too. Though they may not sound like much, these simple tricks have made an incredible difference in how I view my life.
1. Choose something small
And I mean tiny. A dessert you love but don't often eat. Sitting in a favorite chair. Sleeping on a firm mattress. (I love mine!) What someone else might not think twice about, but focusing on lifts your spirits and changes your day for the better. It could also be a small occurrence. One thing that comes to my mind is how I felt when, after fighting a sinus infection for nearly a week, which caused me to feel both physically and mentally down, I walked into the Minute Clinic at CVS on a Saturday afternoon to find I only had to wait 10 minutes. I felt so much better, even before taking the first dose of my antibiotic. Was I ever grateful!
2. Focus on what cannot be measured
In addition to the 20 minutes of pleasure I take in drinking my coffee alone after my children clear out of the house for school, I also spend a few minutes each day thinking about how lucky I am to have the relationships in my life that I do, including the ones with my kids. (Hey, absence makes the heart grow fonder!) All joking aside, not a day goes by that I don't hear from a friend or family member wanting to say hello, or get included in an upcoming get-together or event. I can't always make it to everything, but it's a wonderful feeling to know people are thinking of me. I'd say, definitely worthy of some gratitude.
3. Change your frame of reference
Would someone else feel the same way you do? The world is a mighty big place, and everyone faces challenges at different times in their lives, not only around the world but also around the block. If you don't think so, spend about 10 minutes focusing on the news of the day or on social media where people share the most intimate details of their lives in search of comfort and community. Pain is a click away and is a useful reality check for me. Even better, sometimes I click back with a "How can I help?"
4. Quiet your mind
In the scheme of things, does it matter? I asked myself this question yesterday after my cleaning service broke the medicine cabinet in my guest bathroom. It pissed me off, especially as the responsible party told me she didn't do it, but more so because I now have to invest time and money into fixing it. After a few minutes, I deliberately diverted my attention elsewhere, onto more productive endeavors, including writing this article, which brings me comfort and happiness. Within a few minutes, I was much calmer. Om…
READ ALSO: Going Cold Turkey: What I Discovered After I Gave Up Trying To Please Everyone On Thanksgiving
5. Do it anyway
Just because I may not feel grateful at every moment doesn't mean I can't behave as though I am. Practicing gratitude sometimes means precisely that; practicing until I feel authentically thankful. It means engaging in the above exercises with the understanding that over time, I will eventually alter my way of thinking for the better. This method isn't always foolproof, though, and shouldn't be. Experiencing a range of emotions is part of the human experience. Our lives can be messy, which only gives us more cause to appreciate those times when they're not.
//= get_template_directory_uri() ?> //= get_template_directory_uri() ?> //= get_template_directory_uri() ?> //= get_template_directory_uri() ?> //= get_template_directory_uri() ?> //= get_template_directory_uri() ?>
©2011-2023 Worthy, Inc. All rights reserved.
Worthy, Inc. operates from 25 West 45th St., 2nd Floor, New York, NY 10036