Worthy's Hot List for July 2019: Films, Fans, and Fun!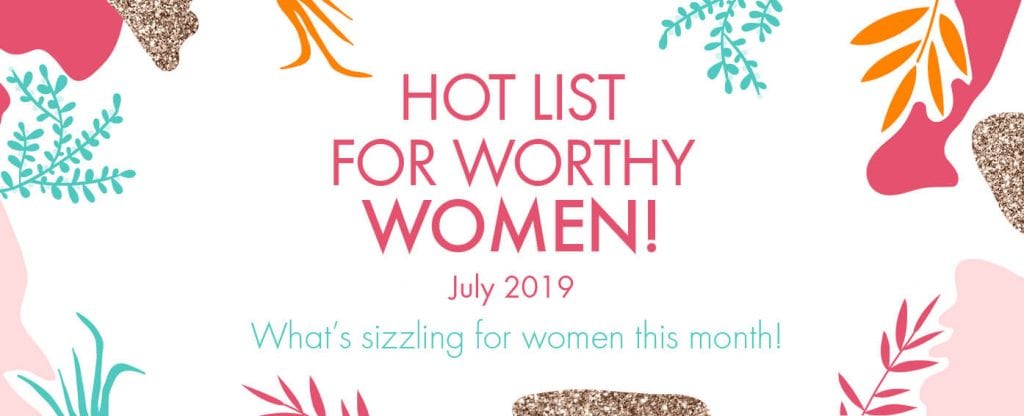 Whether you are looking for serious films, a good beach read or want to join in the fun of the Women's World Cup, we've got you covered in July's hot list.
Consider a Serious Film
The Farewell
Originally based on a podcast episode of The American Life, The Farewell is based on a true story of a Chinese American woman (Billi, who is played by Awkwafina) and her family who lied to the family matriarch (Nai Nai, Billi's grandmother played by Shuzhen Zhou) about her terminal illness. As a ruse to allow all of Nai Nai's family to say goodbye to her, Billi's family stages a wedding where family from all over the world comes to "celebrate", but really it's to say a final farewell to their grandmother.
The film debuted at Sundance in January 2019 and hits theaters July 12th.
Ophelia
If you haven't thought about Hamlet since high school, it's time to start thinking about it again (but no test this time, we promise). Ophelia is a film based on the 2006 novel by Lisa Klein of the same name that retells the story of the Prince of Denmark from the perspective of Ophelia, his betrothed who ends up throwing herself into a river after her madness takes over. In the novel, and now the film, Ophelia (played by Daisy Ridley of Star War fame) becomes a much more powerful character, taking charge of her own destiny rather than allowing the men in her life to decide for her.
If you are a fan of rewrites or classic stories reimagined, this is a movie for you. Ophelia is in theaters now.
Some Girl Power for You
If you aren't currently a soccer fan, now might be a great time to become one. The FIFA Women's World Cup (now in it's eighth year) is in it's final moments in France, with the final game (or match in this case) happening this Sunday, July 7th. And guess who one of the two semi-finalists is? That's Team USA for ya! Make sure to tune in Sunday morning to (hopefully) watch the American ladies take the cup! The game will be broadcasted on Fox and FS1.
Add This To Your Reading List
One of the hottest books out this summer is Mary Beth Keane's Ask Again, Yes. The novel centers on two New York City cops in the 1970s and 80s. The two men aren't good friends but after each gets married, they end up living next to each other and their lives become entwined. As GoodReads describes it, this is "A profoundly moving novel about two neighboring families in a suburban town, the friendship between their children, a tragedy that reverberates over four decades, and the power of forgiveness."
//= get_template_directory_uri() ?> //= get_template_directory_uri() ?> //= get_template_directory_uri() ?> //= get_template_directory_uri() ?> //= get_template_directory_uri() ?> //= get_template_directory_uri() ?>
©2011-2023 Worthy, Inc. All rights reserved.
Worthy, Inc. operates from 25 West 45th St., 2nd Floor, New York, NY 10036