Divorce Counseling: Is It Right For You?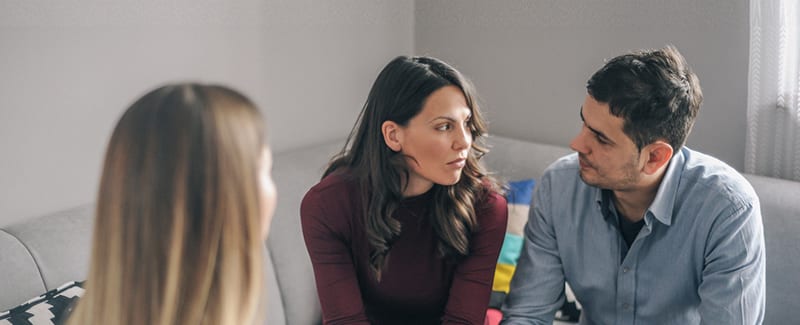 We all know that divorce is painful. It has inherent ups and downs that create significant stress in a person's life. No two days are alike and each is nuanced in a way unlike the others. And no two divorces are the same, either, even if they 'look' that way from the outside.
Some divorces appear to go on forever, with rounds of litigation. These divorces can become extremely expensive, and often seem ridiculous to those from the outside, but from the inside, they are anything but. Couples find themselves fighting over the big things, like houses, cars, and retirement funds, and pets but also things that seem inconsequential as well, like a specific dish, family pictures, or who is picking up a child from sports practice. Other divorces wrap up in a matter of months. The majority of divorces fall somewhere in between these two extremes.
Thus, like divorce itself, divorce counseling is a process. Getting the right information helps both people, either individually or collectively, make informed decisions for the greater good. And the more informed decisions both parties are able to make, the better off both will feel in control about this difficult and challenging time in their life.
So, how do people become informed? Many people seek out divorce counseling (or divorce therapy) as it's also referred to either individually or as a couple. Either way, both soon realize that their divorce is more complicated than they imagined and that the ripple effects beyond the couple are prevalent. This is because going through a divorce affects more than just the couple. Children, parents of the couple, and extended family can and often are affected by the divorce. So how a couple chooses to process and move through their divorce is key.
?Tune Into Our Podcast: Breakup Therapy
They soon discover that almost all the arguments, hefty and minute, are not only about the big tangible things – the house, car, or children, or other material things – but also about chronic resentment, unresolved anger, and of course, loss. Together, they work to not only uncover the causes of anger, resentment and feelings of loss but also help them move beyond those issues in healthy ways, clarify and help to resolve the ongoing battles all while in a safe and neutral environment. It is here that couples are also able to express themselves in non-threatening, honest exchanges. Through this dialogue, the counselor works to move the couple from contention to negotiation, improving their ability to communicate in a healthy and effective way.
There are many benefits to divorce counseling:
It provides a space to share your thoughts and feelings and learn effective ways to express them in the best possible manner. This will help you feel more in control of your emotions – which on any given day are all over the place.
It provides a space to share your feelings related to your spouse and their family as well as feelings of loss both of you may experience due to changes in the family structure of when two people are married and now divorcing. There are a lot of people who are affected by your divorce. It is a lot to think about and carry.
It provides an opportunity for you to explore and gain greater introspection and clarity about the problems in the marriage, your contribution, and the changes you would like to make as you move through and eventually beyond this chapter in your life. It can be a time of significant personal growth and for many people, renewal.
For many people, they begin to understand how they changed in the marriage and whether this was good or bad and how they would like the future to look for them.
It provides an opportunity for you and your (soon to be ex) spouse to discuss challenging issues related to parenting, childcare, dating, scheduling (among other concerns).
It helps couples learn how to more effectively communicate with one another. It also improves each person's negotiation skills when there is a difficult issue that has come up that needs to be resolved – all in a safe environment.
Couples learn how to introduce better coping skills so that moving forward, each person is better able to cope with the challenges that are ahead of them. And learning how to cope with challenges will also help couples be better parents and more emotionally available for their children. The upside to this is each person is more prepared to handle the reactions of your children in a way that is positive for them since they will have their own process and struggles.
The therapist can address some of the many distortions that people have going through the legal process. People are known to listen to the 'Greek chorus" or hop on the internet for answers. Both of these are not good ideas. They distort the truth and reality of your situation, leaving you more confused. Although there are general legal statutes for each state, each divorce is different. But because people are in pain and they want that pain to go away, they seek answers now. However, often those answers are either not available specific to your situation or wrong. This only creates more sadness and confusion.
Therapists who work with individuals and couples going through divorce often have an abundance of referral sources. This could be for an attorney, financial planner, or real estate professionals among many others. They can assist you to get the additional help you need as you build your tribe of support. Because there are so many professionals that work in the divorce field, it can be overwhelming. So, don't be overwhelmed! Let the therapist help you. It will save you a lot of time, money, and mostly frustration.
It helps you (both) realize that you can be happy again even in this moment of time when you are not happy. There is a silver lining only to be discovered at a later time. Gaining control over your life and decisions again, teaches you how to implement good self-care and also self-reliance. Going from We to Me provides the opportunity for growth – eventually.
It also teaches self-reliance and self-care with the goal of increased independence via improve
Helps provide closure of this chapter in their life.
Tips on Finding the Right Counselor/Therapist
First and critical to therapy outcome is the fit between the individual/couple For therapy or counseling to really work effectively, this is critical. So, if this means, meeting with 2-3 to determine your best fit, so be it. It is your life, time, energy, and money. Make it work for you. Further, the therapist should have specific expertise in divorce, parenting, and adjusting to this major life transition. He or she should also be comfortable and be willing to meet with both parents where children are involved. Having too many professionals working with one family in a divorce can make things that much more complicated in an already complicated situation.
Finally, choose a licensed mental health professional in your state. This person can be a Licensed Clinical Social Worker (LCSW), a Psychologist (a person with a Doctorate in Psychology or Clinical Psychology), a Marriage and Family Therapist (MFT) or a Licensed Professional Counselor (LPC).
And remember, in the end, this is your divorce and your process. Make it work for you. By taking a proactive rather and getting ahead of issues, rather than a reactive approach to divorce and allowing things to unravel in complicated ways (which it will if given the opportunity) couples can create the kind of divorce that instills health and positive emotional well-being for everyone.

//= get_template_directory_uri() ?> //= get_template_directory_uri() ?> //= get_template_directory_uri() ?> //= get_template_directory_uri() ?> //= get_template_directory_uri() ?> //= get_template_directory_uri() ?>
©2011-2023 Worthy, Inc. All rights reserved.
Worthy, Inc. operates from 25 West 45th St., 2nd Floor, New York, NY 10036