The Divorce Process Guide for US States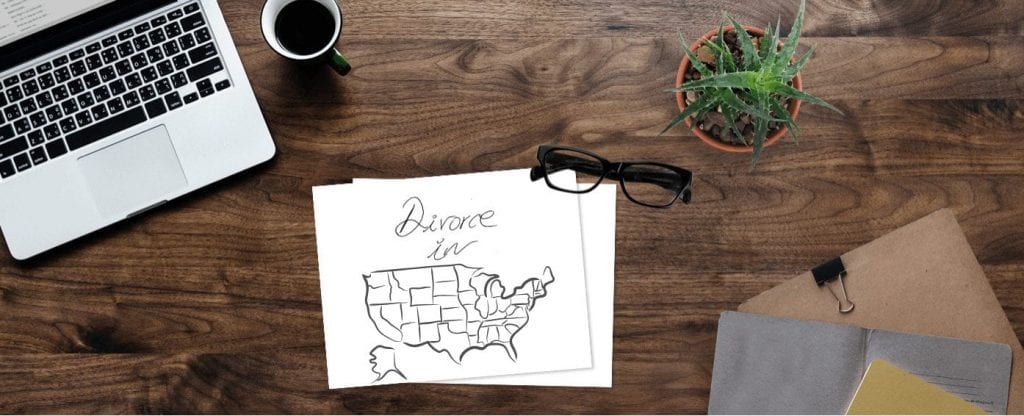 The divorce process for each state is unique, from residency requirements to timelines. That's why it is important for anyone considering or going through a divorce to have a basic knowledge of how the process works in the state they are living in.
During a divorce, information can be your best companion. Below you will find articles on divorce information by state that include everything you need to know.
Explore The Divorce Process By State
Divorce in the US Today
You've probably heard the phrase "half of marriages today end in divorce". While that might have been true for some time, things are looking up for marriages in the US. The divorce rate in 2018 was 2.8 per 1,000 people and other studies have shown that divorce rates are on the decline.

There are a number of factors that contribute to why this is happening. On the positive side, young couples are waiting until they are financially stable and emotionally ready for marriage, making their relationships stronger. On the negative side, fewer couples are getting married today, either because they don't believe in the institution of marriage or because they simply don't find a suitable partner.

In 2018, the state with the highest amount of divorced women per thousand individuals was Arkansas, with 13%. The state with the lowest was North Dakota, at 4.7%.
Worthy's Divorce Demographics

Since 2018, Worthy has conducted two studies targeting divorced women. The first, Building A Financial Fresh Start, focused on how women dealt with their finances before and after divorce and how their financial perspectives changed once they were no longer married. The second, Dating After Divorce in 2019, focused on how women approach the modern world of dating and how they make decisions when it comes to finding a new partner.
Age – Most divorced women who participated in the studies were between the ages of 35 and 54. Women 18 – 34 were the most likely to be considering divorce.
Legal Knowledge – More than half of the women surveyed were familiar with litigation (53%) and almost as many with mediation (48%). But as couples become more concerned with financial and emotional costs, they turn to alternative routes like low-conflict collaborative divorce (25%). Only 5% of participants were familiar with the services of CDFAs, or Certified Divorce Financial Analysts.
Financial Knowledge – most of the women surveyed (78%) said that during their marriage, they took some part in managing the household finances, whether that meant paying the bills (51%), managing the savings and investments (14%), or being the breadwinner (13%). However, 22% of the survey participants said that they left their finances up to their ex-husbands. And when it came time for divorce, 48% of the participants said they experienced some sort of financial surprise during the process. Their biggest money-related fears about divorce were:

Living on one income
The cost of divorce
Re-entering the workforce
Managing their finances on their own.

Seed Money For A Fresh Start – once divorced, many women search for a way to re-boost their savings or find the money for a fresh start. Many women don't realize that their engagement ring from their marriage can be a financial asset and the sale can give them just that!
//= get_template_directory_uri() ?> //= get_template_directory_uri() ?> //= get_template_directory_uri() ?> //= get_template_directory_uri() ?> //= get_template_directory_uri() ?> //= get_template_directory_uri() ?>
©2011-2023 Worthy, Inc. All rights reserved.
Worthy, Inc. operates from 45 W 45th St, 4th Floor New York, NY 10036