Divorce in California: Your Complete Guide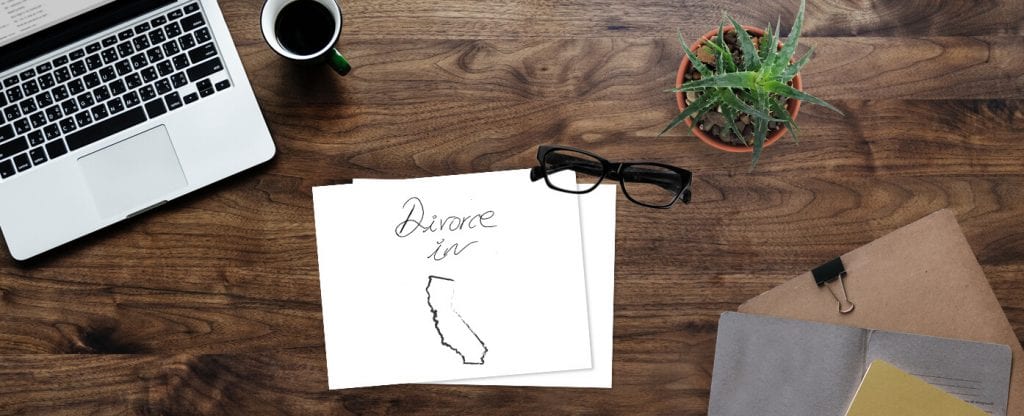 Getting a divorce in California may seem incredibly overwhelming and intimidating, but take a deep breathe because we've got all the basic information you need right here to get started.
Because the truth is, deciding to get a divorce is the hardest decision of the whole process. After that, it's simply getting started and once you dive in, you will see the finish line in due time. Just stay positive and read our FAQ's designed to help you survive the divorce process.
How to File for Divorce in California
From how to file for a divorce in California to how long it typically takes to get a divorce done and over with, everything is right here for you, so take a deep breath and read on.
The Very First Step: Do You Have Grounds For Divorce?
In California, there are only two recognized grounds for divorce and they are as follows:
Incurable insanity (with actual proof like: medical and psychiatric testimony)
Irreconcilable differences that caused the marriage to break down without the potential for repair.
Don't get "grounds for divorce" confused with an "annulment" – that's a completely separate issue!
Now that you know the legal grounds for divorce, let's discuss how to get the wheels in motion.
In order to file for divorce in California, one of you must have lived in California for at least six months prior to filing for divorce. Another caveat is you must have lived in the county where you plan on filing for three months prior to filing. So, before you start to dissolve your marriage, California calls it a "dissolution of marriage," make sure one of you fits that criteria.
And when you file, you file what is called "A Petition for Dissolution of Marriage and Summons"in the superior court. The spouse who is filing is called the "Petitioner" and the one who is being served the papers is called the "Respondent." If you have a minor child(ren), you will also need to prepare and file one more informational type form called the Declaration Under Uniform Child Custody Jurisdiction and Enforcement Act. It's a mouth full but it's really not as challenging as it sounds.
All parties looking to divorce will have to wait a mandatory six month waiting period before the divorce can be final.
However, If You And Your Spouse Are Lucky, You Can Enter An Easier Process To Divorce, Called A Summary Dissolution:
Are you eager to get the divorce over with? If the answer is yes, read on to discover the requirements necessary for a Summary Dissolution, and see if you and your spouse qualify. This path to divorce is great for younger marriages and ones that did not bear or adopt children. When you file for a Summary Dissolution, you don't have to attend a trial or hearing, and even better: once you get a divorce through a Summary Dissolution, neither one of you can appeal to a higher court or try to get a trial.
The Requirements For A Summary Dissolution:
As mentioned before, the residency requirement must be met.
There are no children either through adoption or birth before or during the marriage; The wife cannot be pregnant.
Your marriage must be "younger" than five years on the date you file for what is called a "Joint Petition for Summary Dissolution of Marriage".
You and your spouse don't own real estate either as a couple or separately, as individuals.
Your debt cannot be more than $6,000 since your date of marriage. The exception to this is auto loans.
Both of you agree that neither of you will receive alimony, or what is called spousal support.
Neither of you own property worth more than $41,000, minus property or auto loans.
But, on the flip side, there cannot be community property worth more than $41,000, only excluding vehicles.
You both have to also sign an agreement that divides your property and debts.
What About Division of Property of Spousal Support?
What Happens To Your Property?
In general, California courts divide joint property, or community property, 50/50. The only exception to this rule is if there is a written agreement that states otherwise or oral stipulation in court between the two of you. However, separate property is treated differently. What things are considered separate property?
Property that you or your spouse owns before you got married.
Property received during the marriage, but given as a gift or an inheritance.
Any rent or profit that comes from a separate property source.
What About Spousal Support, Otherwise Known As Alimony?
The court may order one of you to pay spousal support. In order to determine if post-divorce spousal support will be granted, the judge takes the following factors into consideration before granting or denying spousal support, like:
How long you have been married.
Your age and your spouse's age.
Your individual health status – is one or both of you very ill or disabled?
Each party's income and earning capacity.
If one of you was hit by unemployment or maybe taking care of children at home and out of the workforce.
If one of you helped advance the other's career by supporting while one of you went to college or got special licensing, etc.
If there is a domestic violence issue.
And other factors.
And Here Are Some Other FAQ's And Averages You May Want To Know:
A divorce could take anywhere from 8 months to 20 months in California, but most take 15 months.
The cost of divorce is not cheap in California: while average costs are about $17,500, the range goes from $5,500-$38,000.
In 2019, Worthy conducted a study on how divorce women approach divorce and dating in today's world.
Age of Today's Divorced Woman
Of the women we surveyed, 42% divorced between the ages of 35-44 and 28% between 45-54, indicating that midlife is the most common time for marriages to break up. Only 9% divorced after the age of 55 and the younger women, 34 and under, made up 22%.
Divorce Proceedings in the 21st Century
We asked our participants to share what legal processes they were familiar with for divorce. Litigation (53%) and mediation (48%) were at the top of the list but many were also familiar with alternative routes such as low-conflict collaborative divorce (25%). Services like working with a Certified Divorce Financial Analyst are much less well-known (5%).
Divorce Finances 101
When it came to the big issues, the majority of women felt sufficiently informed to make decisions. This included issues like health insurance (60%) and the marital house (56%). However, when it came to issues outside of the immediate household, such as taxes, the participants felt less informed.
Dating After Divorce
Dating is at the forefront of many divorcees' minds. 78% of the women have already started thinking about dating by the time the divorce papers are signed. 40% of women feel confident about dating after divorce, 68% feel excited and hopeful. 59% of divorced women meet dates on online dating websites or apps.
Getting Divorced the Easier Way
Divorce can be a complicated, draining and expensive process, but it doesn't have to be. If you're looking to file for an uncontested divorce in California, do it the easy way with our friends at It's Over Easy, the only online divorce solution that guides you through every aspect of your case, founded by celebrity divorce lawyer Laura A. Wasser. 
Watch: Laura Wasser on the TODAY Show
"After practicing Family Law for over 20 years I came to realize that people deserve a better way to get divorced. I founded It's Over Easy to give people a high-quality, less expensive & more amicable option. Our platform takes the user through the entire dissolution process. We provide information and support along the way through our content on our Insights Blog, the Divorce Sucks! Podcast and The Index, our curated professional and lifestyle resource guide. Divorce is difficult but the legal part shouldn't have to be." 
–Laura A. Wasser
\n
A List of Resources You'll Need to Get Through Your Divorce in California
You've decided you want a divorce. You know how to file. You know the average timeline and cost, but technically, what resources will you need to make it through the divorce process?
Here's a checklist with resources you'll need to get through your divorce as smoothly as possible:
\n
\n
Then… there's us at Worthy.
What Exactly Can Worthy Do For You?
Worthy is here for you on your divorce journey, from those life-altering words, "It's over," to starting over again, to enjoying and thriving in your new life after divorce.
Our online auction house brings together buyers and sellers to get the best value for your engagement ring and other diamond jewelry, in a safe and transparent environment.
Worthy is here to help you sell your engagement ring and diamond jewelry for more by providing insured shipping (up to $100,000!), GIA/GSI diamond grading and professional photos, shown to hundreds of buyers ready to bid on it.
We understand the decision of selling jewelry from a previous marriage is not an easy one. When you're ready, Worthy is here to be a part of your transition from "Mrs. to Ms."
Selling your jewelry can be a great way to purge old energy from your bad marriage, as well as serve you financially for your goals post-divorce. And in addition to our stellar marketplace, you can enjoy our blog to read inspirational stories from women who have been through every stage of divorce and back. You can also listen while you're on the go to our podcast, "Divorce & Other Things You Can Handle."
Divorce process guide for main US states
Legal Disclaimer: This article is intended for informational purposes only and should not be relied upon as legal advice on any subject matter. Consult with an attorney for more information regarding your individual situation.
//= get_template_directory_uri() ?> //= get_template_directory_uri() ?> //= get_template_directory_uri() ?> //= get_template_directory_uri() ?> //= get_template_directory_uri() ?> //= get_template_directory_uri() ?>
©2011-2023 Worthy, Inc. All rights reserved.
Worthy, Inc. operates from 45 W 45th St, 4th Floor New York, NY 10036