My Daughter Inspired Me to Sell My Rings After Divorce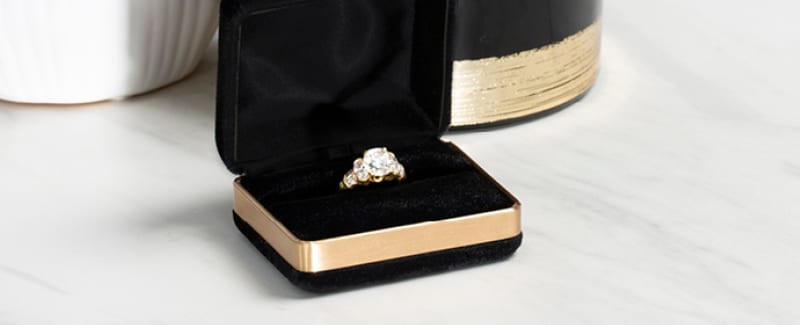 My daughter sat at my desk while I was pounding away on my laptop next to her. She reached into the top drawer, pulled out my engagement ring and wedding band, and slid them over her tiny finger.

"Can I have these, Mom?"

My heart sped up. I couldn't swallow. I hadn't looked at my rings in over a year on purpose and I didn't want her to see what seeing them did to me.

It seemed like so long ago I'd taken them off and put them in a small, velvet drawstring bag after I saw my ex-husband had removed his. Before heading out every morning while taking one last look at my face in the mirror which hangs over my desk, I could feel those rings. It's funny how you become more aware of things you are trying to ignore. Their presence was holding me back, and I knew it but the days would run into each other and I'd become so overwhelmed, I'd do nothing.

On that day, sitting next to my daughter. I didn't want to look at the way the diamonds reflected the light. I didn't want to be reminded of the day my ex-husband proposed to me in the apple orchard. I didn't want to think about sitting on his shoulders in the middle of a graveyard trying to reach hydrangeas the size of my head to dry and decorate the barn where we'd have our reception.

I didn't want my daughter to have my platinum band which had the date her father and I got married etched on the inside.

When I first removed them, I'd stare at my naked, left ring finger and think about buying myself a ring to replace the space they used to hold.

A few months later, I found a wonderful, local woman who made custom rings with stones and metals to support whatever life-change you were going through. She made me a thick gold band that holds a large green stone, "It's a heart-opener," she told me. It was the push I needed and it felt like I was moving in the right direction.

Almost a year after my ex-husband moved out, I was thinking about getting back and dabbling my toes in the dating world. I never did anything about it though. Well, not until I made a new divorced-mom friend who'd been dating for a few years. She filled me in on how dating these days worked, then helped me set up an online dating profile. It was the push I needed and it felt like I was moving in the right direction.

I want to give my daughter the world, but I don't want to give her my rings. The thought of saving them for her made me feel like I was taking a step back, like I wasn't taking the right steps to heal and start over.

The day she pulled them out, told me how beautiful they were and how bad she wanted them, it was the push I needed to do something with them and I knew if I did, I'd be moving in the right direction.

I want to give my daughter the world, but I don't want to give her my rings.
I wanted to release my rings and give them a new life, but I felt stagnant. I didn't want to sell them myself, or walk into a jewelry store and watch someone polish and look at them while I stood there staring at glass cases you aren't supposed to touch, filled with pearls and diamonds.

Then, I saw another divorce friend who had sold her rings through Worthy. She had a great experience and was taking a trip with some of the money. Seeing the pictures of her traveling with a big smile on her face was the push I needed. I sent in my rings within twenty-four hours and I knew I was moving in the right direction.

I split the money into thirds. Part is going into my kids' savings accounts, we are taking a trip with another portion, and I used to rest to get Botox and fillers. My sister and I went together and lounged in a white cushy chair and we've been sending progress pictures to each other ever since. It was glorious; I look glorious.

I've released my rings. I've released what they represented to me. I've released the guilt about selling them and rewarding myself and my children with the money. I've released it all.

Selling my rings was the push I needed to do that, and it feels like I am moving in the right direction. And honestly, taking one last look in the mirror before I leave each morning feels so much lighter now.

//= get_template_directory_uri() ?> //= get_template_directory_uri() ?> //= get_template_directory_uri() ?> //= get_template_directory_uri() ?> //= get_template_directory_uri() ?> //= get_template_directory_uri() ?>
©2011-2023 Worthy, Inc. All rights reserved.
Worthy, Inc. operates from 25 West 45th St., 2nd Floor, New York, NY 10036