5 Life Remedies You Need to Heal a Broken Heart at the Holidays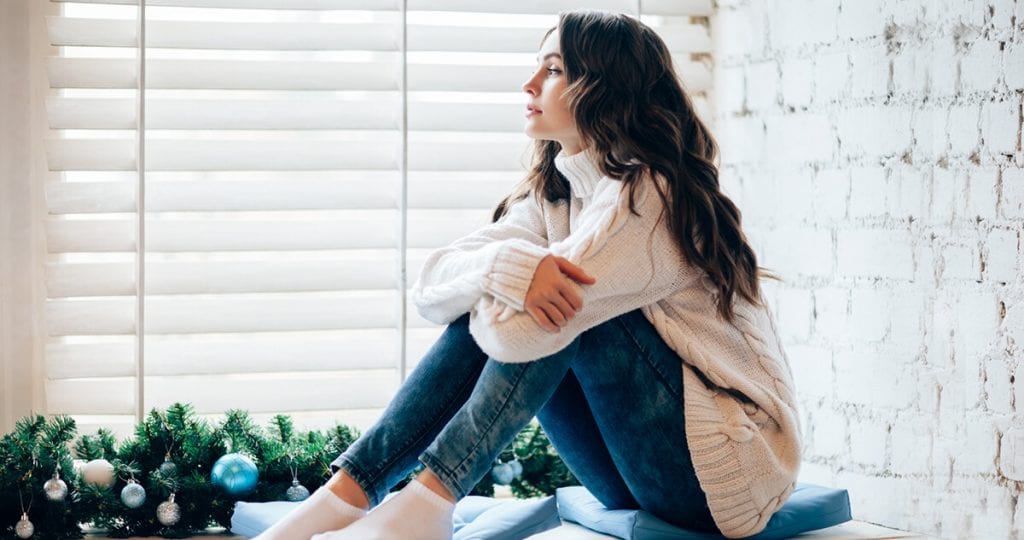 The holidays are sort of like a high: they rush in, take over your life, and fill your schedule with a bunch of activities. They take charge of your wallet (unless you shop smart!) and tug at your heartstrings. What makes the holidays so special are the memories and traditions we have created with our loved ones. The yearly family photos. The gift-giving exchanges.
That's what makes the holidays so amazing: the love.
So, what happens when you're going through a breakup, a loss of a parent or loved one, or a divorce at the holidays?
The heartache feels like it's amplified a million times more. Every tradition or moment is tinged with that former person's presence, whether it's an ex-husband or a parent who passed. There is a ghost in the room with everything you do.
It's understandable to feel this pain in a more pronounced way during the holidays, but how can you help yourself heal and enjoy the time with your loved ones and beautiful children despite the heartache?
READ MORE: 8 Signs You've Healed After Your Broken Marriage
It's important you continue to work on healing your pain even while it may be the toughest to do so. Here are 5 life remedies you need to help heal your broken heart during the "most wonderful time of the year."
1. New Traditions While Keeping Some Old
If you had a tradition with a loved one who passed away, it may be hard to do, but if it brings you joy to do so, continue on!
For those of you suffering the heartbreak of a divorce or breakup, consider the power of making new traditions with your children. Ask them their opinion on what they would like to do, year after year. Even if it's new and feels different, your new tradition will in time, be a tradition that floods you with powerful memories.
Don't be afraid to make changes! If you have traditions that bring you too much pain, step away from them even if just temporarily.
But most importantly, be bold and embrace new holiday traditions.
2. A Moment to Yourself
With the hustle and bustle of the holidays, there comes a lot of socializing. This is wonderful and also, will help you keep busy and dwell less on your pain.
However, don't forget to take a moment to yourself. Maybe you lock yourself in the bathroom and take a bath. Maybe you leave the festivities an hour early so you can get home and curl up with a book, or your thoughts.
You must practice self-care or you will not heal.
3. Say Yes to What Matters
You don't need to do everything. Pace yourself. Dealing with a major heartbreak is exhausting. Depression and pain are tiring and taxing on our souls and bodies.
Pick whatever activities you and your children do with discretion. You do not have to say yes to everything; you need to say yes to what matters to you, and the kids. This means you may have to say yes and buck up and do something your kids want to do, even if you're not feeling in the spirit.
This also means however, you should say no to what will not bring you or your kiddos joy, or will be too stressful for you.
4. Life Isn't The Movies
Remember, most of us don't live like a Hallmark or Lifetime movie. We won't meet Mister Right necessarily on Christmas Eve at Target.
Our busted marriage most likely won't magically fix under some mistletoe.
In other words, don't pressure yourself for every second to be joyous and amazing! Many of us are also stressed, busy and dying to take a break from the holiday hustle and bustle. And are also, not bumping into hotties in the dollar section of Target.
Ease up on yourself. Life is never perfect, so just embrace the moments that feel happy and the time with your loved ones.
READ MORE: "Worthy's December Hotlist – Fun Holiday Activites and More!
When you are feeling your most vulnerable and lonely, make time to see the people who lift your spirits. Choose these people wisely. Go shopping with your favorite people. Ask a friend to bake with you. Grab your kids and take them out to see holiday lights together. Surround yourself with the people you find the most loving, positive and understanding. You need it right now, especially when you may feel at your worst and particularly lonely.
Most importantly, remember to listen to your heart and do what feels best for you. If you are really struggling with depression and anxiety, this is also a good time to go see a therapist, attend fitness classes or talk to a doctor if you think medication is a route you would like to take. The wintertime and holiday time can be extra difficult for people dealing with emotional pain and mental health issues. Just as if you were physically ill, make a game plan to take care of yourself. Heartache and sadness can quickly turn into a gripping depression. Be good to yourself!
The reality is that the holidays are a brief time of the year, and a time for us to reflect on the ones we love and the blessings we have. Even if you don't believe it, I guarantee you are more blessed than you even realize. Embrace every good second, minute, hour and day!
//= get_template_directory_uri() ?> //= get_template_directory_uri() ?> //= get_template_directory_uri() ?> //= get_template_directory_uri() ?> //= get_template_directory_uri() ?> //= get_template_directory_uri() ?>
©2011-2023 Worthy, Inc. All rights reserved.
Worthy, Inc. operates from 25 West 45th St., 2nd Floor, New York, NY 10036