When I Realized a Diamond Isn't Always Forever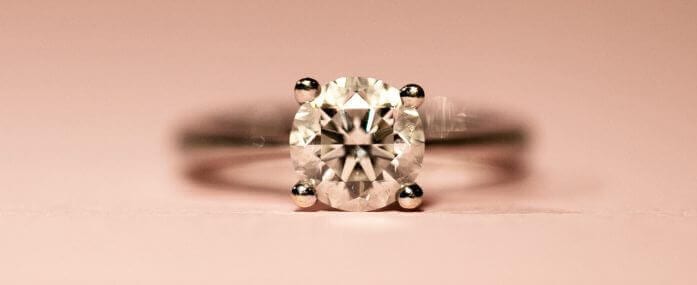 Never in a million years did I think I would be divorced. Not me. Not us. Even when my husband announced nearly five years ago that he was leaving me – that he was "done" with our marriage – I still didn't believe it. But once I learned he had moved on with someone else, the writing, as they say, was on the wall.
At the time, we were married for more than 16 years, together for over 24. We were high school sweethearts who had never broken up. Not once. I had only one date before meeting my husband, too, a typical high school double date with a guy from school, another friend, and her boyfriend.
My husband and I dated all through high school. And college. After my first year of law school, we got married. I was 22.
Following law school, I embarked on my career, not as a lawyer. Though I didn't know it yet, soon after I would table those aspirations for the foreseeable future.
At 27, I became a mother for the first time, then a second 14 months later, and a third three-and-a-half years after that. I'll never forget how it felt to hold my son in my arms for the first time as my husband looked over at me and said, "Congratulations. You now have three kids under five."
I was overjoyed.
During my first pregnancy, we had made the decision together that I would be a stay-at-home mom and I passed up a job opportunity demanding weekly travel that would have solidified my chosen career path.
In its place, I ran our household. Took charge of our finances. Negotiated and supervised both large and small construction projects in our home. Coordinated every detail of my family's lives from our kids' play dates and doctor appointments to my and my husband's social calendar. I planned and prepared meals daily, including those for the larger gatherings we hosted. I negotiated with providers, from utility companies to insurance carriers to get the best rates. I researched where we should travel, and made all the arrangements. I volunteered at our children's schools and in our community. I chaired committees. Worked alongside my peers on others. Fundraised. I did it all, that is, except generate income. Separated at 39, divorced at 40, I suddenly would have to.
The question was, how?
I didn't know much but what I did know was that it was going to be an uphill climb. But, honestly, what worthwhile endeavor isn't? Success is rarely born overnight. And even when it appears to be, once you scratch the surface you discover just how many hours of planning went into it, how much effort it took, how many highs and lows that person faced, and how often he or she reached a milestone only to face a setback.
From every "failure" I began making it a point to distill a practical takeaway and then redirect my efforts in a new direction.
I looked, first at my attributes, then at my skills. Next, I reviewed my options. What I realized was that there were many. What I also realized was that I needed to put a plan in place and set goals for myself, goals that I could and would with discipline and a lot of hard work be able to attain.
I listened to anyone and everyone who had an opinion. And I learned how to discern good advice from the bad. But I have to say, some of the best advice I received was this:
Become an entrepreneur. And put yourself on LinkedIn.
At the time, I didn't take these words to necessarily mean that I should start my own business, though eventually, this is what I did. Instead, I interpreted the advice as a call to action to begin viewing my life through a different lens and focus on the skills and experience I already had, and how I could apply both to transform my career and, ultimately, my life.
Shortly after I created a LinkedIn profile, recognizing the power in numbers and the strength that can come from growing a strong network of people, organizations, and companies around me. Not surprisingly, it was through LinkedIn that I was first introduced to and familiarized with Worthy, an innovative platform providing women with the ability to sell their diamond jewelry in a safe, transparent, value-adding way while allowing for more possibilities and greater control in the process.
A company that recognizes the importance of new beginnings and building a solid foundation, Worthy's programs and scholarship opportunities are designed to educate and empower deserving women looking to make a fresh start. Not so long ago, that woman was me.
Throughout my life, I haven't always made the best choices. And not every opportunity, including my marriage, worked out as I had hoped. But from every "failure" I began making it a point to distill a practical takeaway and then redirect my efforts in a new direction. Once I did, slowly, and more importantly steadily, I started to build. Not rebuild because that would imply I lost something along the way, and I refuse to accept that.
The time I spent married was time well spent. I accomplished a lot during those years, as did my family, in large part because of my efforts. My marriage may have ended, but I cannot say it was a failure. If anything, I say it was a success. And though a diamond isn't always forever, I know now that the legacy it can create is.
//= get_template_directory_uri() ?> //= get_template_directory_uri() ?> //= get_template_directory_uri() ?> //= get_template_directory_uri() ?> //= get_template_directory_uri() ?> //= get_template_directory_uri() ?>
©2011-2023 Worthy, Inc. All rights reserved.
Worthy, Inc. operates from 45 W 45th St, 4th Floor New York, NY 10036