9 of the 'Worst' Things I'm Thankful to Have in My Life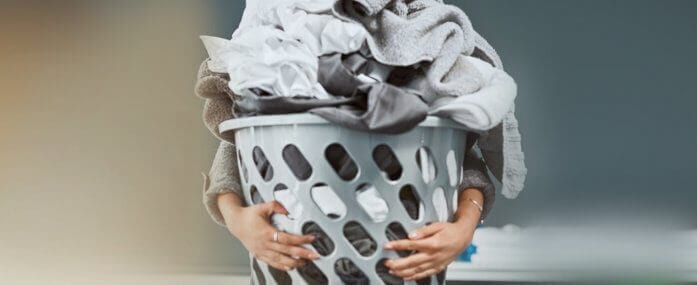 Most of us can easily recognize the things we have to be thankful for: our friends, our family, and our health ranking among the most obvious. If we don't, guaranteed there's always an article or meme to remind us. But what about all the other stuff, i.e., the crap we have to deal with every single day that causes us to sometimes lose sight of the more obvious blessings in our lives? Can we find a silver lining there? That all depends on how we look at it, I suppose. As we get closer to the holiday season, here's how I'm choosing to see the not so obvious blessings in my life:
LaundryAnyone who knows me knows laundry is the bane of my existence. I don't mind washing it as much as I do folding it and, worse still, putting it away because as soon as I do, miraculously, more appears. But the truth is, the very fact I have dirty laundry is a blessing. It means my children and I have closets filled with clothes to keep us warm and choices to make about what we want to wear each day. That wasn't always the case for me. For a period during my childhood, my parents faced severe economic hardship. During the fifth grade following a growth spurt, I ended up not having enough complete outfits to get me through a full week of school, so I had to mix and match. A few kids in my class took it upon themselves to repeatedly remind me of this, sending me home crying to my mother on a few occasions. Despite not having much to wash in those days, I'm pretty confident she would've been grateful for more.
Grocery shoppingThis past November, I hosted Thanksgiving in my home. Without exaggeration, I must have made at least 10 trips to various supermarkets over a five-day period. As annoying and frustrating as it was, especially as I fought the crowds, every time I got to the checkout line I could pay. Our table was full this year, as was our refrigerator and freezer. In fact, they usually are filled, something else I've taken for granted in the past even though I should know better. During the same period during my childhood that I spoke about above, my parents didn't have enough money for food. To this day, I can barely watch the scene in "Terms of Endearment" when Emma has to hand back items while her children and strangers look on because she doesn't have enough cash to pay. My brother and I were those children, and it's a situation no one should ever experience and one I need to remember the next time I complain about lugging bags of groceries into my house.
Dirty dishesWhen I became a single mom, little by little, I taught my daughters how to cook and bake so they could become more self-sufficient. The girls ran with it, particularly as they became expert bakers. Presently, my 12-year-old son is well-equipped with the skills he needs to heat up food or make himself a sandwich, which is fine for now given his age. The only trouble is, the three of them sometimes forget how to wash a plate or help me wash one after I cook for them. On many days, I leave my house with a clean kitchen, only to come home and find a sink filled with dirty dishes. Although it irks me, and I continue to reprimand them with the hope that one day they'll hear me when I say they need to do a better job cleaning up, a part of me is happy to see the mess and a cake or cookies they made together to show for it. The same goes for when they take the initiative to prepare lunch or dinner for themselves if I'm unavailable. I try to keep that in mind when I'm elbow deep in dishwater.
WorkI don't know anyone who hasn't complained about work at some point during their career. If I'm being perfectly honest though, today I would've liked nothing more than to binge-watch "Ray Donovan" instead of writing. I'm tired, and my lower back hurts (probably from doing all the laundry, grocery shopping, and dirty dishes). But because it's the end of the month and I have deadlines to meet, here I am, sitting at my desk, fidgeting in my chair while I do. That's reality. At least part of it. The other part is that I've worked hard for the opportunities I have and am grateful for each of them. I just have to remind myself of that every so often, including right now.
BillsIf you're shaking your head in disbelief, stay with me here. I promise, what I'm saying will make sense. Yes, I'm thankful I have bills. They have my name on them, mine and mine alone. They represent my road to financial freedom and independence from my husband. They also inspire me to work as hard as I do for the new life I'm building.
Assh*lesAs in the liars, cheaters, thieves, and naysayers who have crossed my path. These are the people who kicked me when I was down or tried to knock me down when I was up. But guess what? I'm still here, wiser and stronger for having known them. Many thanks.
Long lines and wait timesTrader Joe's before a snowstorm? The DMV, where I will be in the next few weeks to renew my license? Doctors' offices? Thanks to technology, I can occupy myself anywhere, even do work if I so choose. Between my pit stops and waiting for my kids at their various activities and appointments, I often get to steal some mental breaks throughout the day during which I can read a few articles or continue with a book. My body may be standing in line but, I assure you, my mind is somewhere else far, far away, preferably a place with a white sandy beach.
Emotional painDivorce? Check. Breakups? Check. Periods of introspection? Double check. Though I can't say I'm longing to experience the emotional pain that comes from a broken heart anytime soon, what I can say is that I'm better for the pain I've experienced in the past. All the relationships, including friendships, which didn't work out taught me not only what I want, but also what I don't. Most important of all, I learned that no matter how badly I feel, I can and will move on.
Health scaresLike death and taxes, all of us will face health scares during our life. When we do, we immediately realize that nothing in the world matters except whether we are and the people we love are well. Even though it's nerve-racking, I'll take a health scare over an illness any day, keeping in mind that the rest of my "problems" are only as large or small as I make them.
//= get_template_directory_uri() ?> //= get_template_directory_uri() ?> //= get_template_directory_uri() ?> //= get_template_directory_uri() ?> //= get_template_directory_uri() ?> //= get_template_directory_uri() ?>
©2011-2023 Worthy, Inc. All rights reserved.
Worthy, Inc. operates from 45 W 45th St, 4th Floor New York, NY 10036