How to Dress for Divorce Court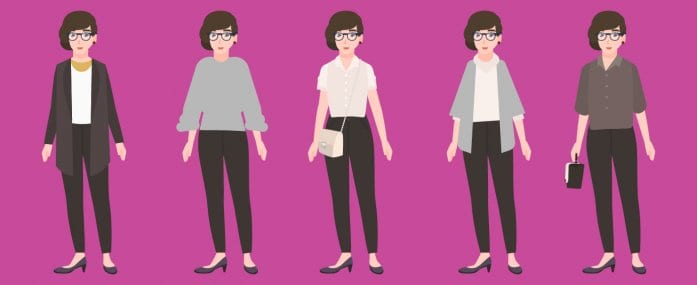 If you're reading this post, you are smart and already a step ahead of most going through the divorce process. Really! You know that appropriate attire is necessary for court. But appropriate can mean different things to different people, so I wanted to take a moment to lay out a few observations and recommendations, based on more than 13 years of experience in the courtroom. Because everyone is influenced by first impressions – even judges.
First, a tip: try to spend a couple of hours in your judge's courtroom before your hearing to get an idea for who s/he is and how they run their courtroom, and adapt your style accordingly. If s/he's super formal, a full suit may be more appropriate, and closed-toe shoes. If the judge seems more down to earth, a suit might feel over the top (like you're trying too hard) – so perhaps business professional or a "church outfit" might be more appropriate.
Also, think about the actual issue before the court and how your clothing might influence the outcome and/or trigger your spouse and/or his/her attorney. (I know, it sounds crazy, but judges are people, too, and have their own biases to overcome). So, don't come to court requesting spousal support with a brand new designer handbag at your side (even if you purchased it for 75% off retail).
>em>Same thing goes for your witness or support person(s) who go with you to court. They should dress well, too! This not only helps maintain decorum but shows that you (and your peeps) respect our nation's laws and Courts.
Everyone is influenced by first impressions – even judges.
As a general rule, you should think of the courtroom as a formal environment. Dress as you would when going for an important job interview or to church. Did you know that you can (actually) be barred from the courtroom if you violate the Court's dress code?
Most of the below should go without saying, but sometimes people need a little reminder.
Just for men: wear shoes with socks; long pants (on pants with belt loops, wear a belt); collared shirt (tucked in) with a tie, with or without a jacket. Pants must be worn at waist level.

And for you: wear shoes; a knee length or longer dress or skirt; long pants; a blouse, sweater or casual dress shirt.

What you should never wear: You will NOT be allowed to enter the courtroom wearing the following inappropriate clothing (remember: if you're asked to leave the courtroom to change your clothes, this can affect the outcome of your matter):

Shorts
Hats (men) or hair curlers (women)
Halter or tube top
T-shirt or muscle shirt
See-through top
Flip flops
Clothing that exposes your midriff or underwear
Ripped or torn jeans
Baggy pants that fall below your waist
Clothing with an emblem or wording that promotes illegal or inappropriate activity
Clothing that depicts or promotes violence, sex acts, illegal drug use or profanity

Phones and other electronic devices off: You absolutely must turn them off while Court is in session. No texting in court either. I mean it when I say "off." Court attendants and/or Bailiff's have ears like a bat. Even vibrating phones are often detected by them and if so – you might find your cell being confiscated — maybe even front of the same judge that's about to hear your case.

Tone down the piercings: I hate that I have to say this. But I do. Especially for those of you in more conservative counties. Body piercing, including but not limited to, tongue, eyebrows, nose, and multiple piercings in the ear should be removed or be very small as not to call attention them. Large, loud earrings in standard piercing holes should be taken out and replaced with studs or small hoops. Some Judges are more accepting of these expressions of individuality, but play it safe and take them out before court.

Tame your mane: Make sure that your hair is brushed and clean. If you have a washable dye in it because you wanted blue hair yesterday, wash it out before you go to court. If it's permanent/semi-permanent dye, style it respectably. If you are a woman with longer hair, don't opt for the messy ponytail or some crazy-elaborate style. A neatly brushed ponytail, or your hair half pinned up is a good option. Keep it out of your face, and take care to style it in a way that does not attract undue attention. Men should make sure they do not look like they just rolled out of bed or removed a hat. Facial hair should be trimmed and neat.

Keep the makeup minimal: If you want to wear makeup, wear it. If you don't want to wear it, don't wear it. If you're not going to wear it, all that matters is that your face is clean. If you are going to wear it, maybe skip the false lashes, the hot pink blush, the bright red lipstick, and the crazy contouring. Opt for something sedate and natural looking.

Pass the sniff test: Gosh I hope this is a no brainer 😉 Shower beforehand, and make sure your clothes are clean. Not wore-them-once-or-twice-so-they're-probably-fine clean. Clean. Dry clean them if they require that kind of treatment. Iron them. Use mouthwash or keep some mints in your purse or pocket, just in case your coffee-breath is a little more rank than you'd like. Do not bathe in cologne or perfume, but if you must use it, consider using a little bit, just a dab.

Mind your mani: Try to think ahead and not go for the three-inch-long acrylic nails, electric blue nail polish, and flashy nail art prior to appearing in court. Nails should be clean, neat and trimmed in both men and women.
Remember, first impressions matter.
When we dress to impress, we often feel better and more confident. If you live a casual life and dressing up feels out of character, think about purchasing something new that you feel great in, and that you can see yourself wearing again on a special occasion, like a job interview. Most importantly, you want to feel like yourself and be as comfortable as possible – so your true self (and the facts related to your case) will shine through.
//= get_template_directory_uri() ?> //= get_template_directory_uri() ?> //= get_template_directory_uri() ?> //= get_template_directory_uri() ?> //= get_template_directory_uri() ?> //= get_template_directory_uri() ?>
©2011-2023 Worthy, Inc. All rights reserved.
Worthy, Inc. operates from 25 West 45th St., 2nd Floor, New York, NY 10036