Affordable and Fun Staycation Ideas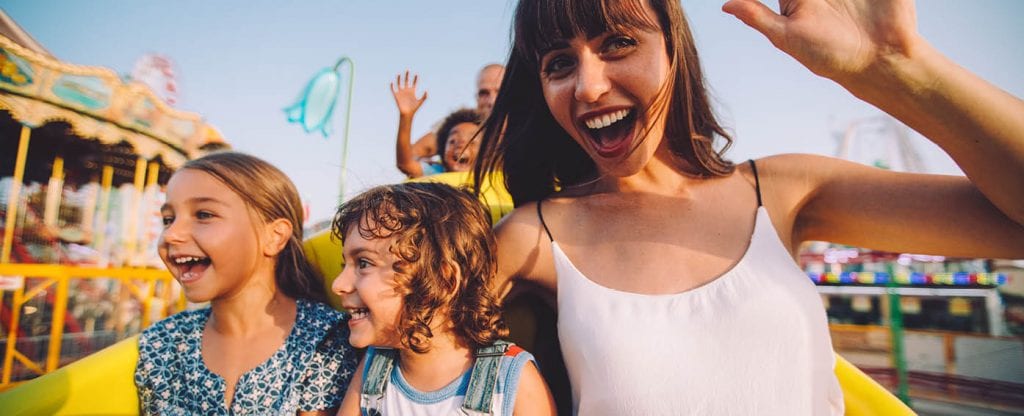 The summer brings thoughts of vacation and fun on a sunny beach, theme parks, or sailing on the ocean somewhere. But often time or money keeps you tethered to your home town. Fortunately, summer is not a bust because there are many options for a fun and affordable staycation. What is a staycation? Let's turn to Wikipedia:
A staycation, or holistay, is a period in which an individual or family stays home and participates in leisure activities within driving distance of their home and does not require overnight accommodations. Alternatively, and commonly in UK usage, it is a holiday spent in one's home country rather than abroad. Wikipedia
Here are nine ways you can make your summer staycation the most memorable experience for you and your family:

1. Free Summer Movie Series
If you are like my family, you love movies and summer is prime time for family-friendly movie premiers. We also like older movies, especially the kids. Theaters know this and often offer summer specials. I've seen summer movies specials for kids on specific days that include drink and popcorn for $4. The caveat is that these movies are usually in the morning. If you can't make it in the morning because of work you can try movies on discount days (see tip #4). Check out summer movie camp to find out if there is a theater near you offering discounts.

2. Affordable Adventure at Amusement Parks
If you can't get to Florida or California to see the mouse at Disney World or Disneyland, you can check out local amusement parks. Six Flags is one amusement park that is in many cities around the country. You might have other amusement parks in your city that are fun and affordable. Large parks have roller coasters, kid rides, food, and shows. Smaller parks have go-karts, mini golf, fair-type rides, and games. Wherever you choose to go, a day at the park is fun and affordable for everyone.

3. Friendly Competition with Summer Bowling
Bowling is a fun activity to learn and a great way to get away from the screen and video games. Some bowling centers have kids bowl free programs and even have lessons. Check with your local bowling center for special bowling days and discounts for kids. Head over to Kids Bowl Free to find bowling centers that offer free summer bowling programs.

4. Discover Discount Movies
My family loves movies and look forward to major movie premiers. In the summer all the best movies come out but it can be expensive. Fortunately, there are affordable options. In my area, there are movies on Tuesdays for $5.50. My family and I take advantage of this deal at least twice a month. Check out Cinemark Discount Days, Regal Value Days, or AMC Discount Tuesdays for days and prices.
5. Venture Out to Your Neighborhood VBS
During the summer you might find churches that have vacation bible school for at least a week. They offer themed lessons, games, snacks, and craft activities for kids 4-14. These camps are usually in the evening, making it easier for working single moms to get them there.

6. Build a Backyard Camping or Glamping Spot
A fun and free family vacation is backyard camping. Sleeping under the stars and roasting hotdogs and learning how to make campfire S'mores is an experience you and your kids will never forget. Buy a tent or create a sheet tent with rope and a sheet or blanket, add sleeping bags, flashlights, and ghost stories for an easy backyard camping experience.

7. Explore Your Nearest State Parks
Exploring in a state park is another fun and affordable summer staycation adventure. Make it a day trip or stay for the weekend. All you need is hiking boots, a fishing rod, binoculars, bug spray, and a parking permit (as low as $5 a day). Many state parks have a nature center with free programs that help you discover the history and local habitat.

8. Local Historic Tours
If you and your kids are history buffs or just want to know about the history of your city, local historic tours are the way to go. You may discover the house on the hill is actually haunted or the boardwalk was port to pirates. There may have been a civil war battle in the local park. A clue to the history of the city are the historic landmarks. Contact the historical society to find out if they have tours you can join.

9. Grab a Groupon for Discount Attractions
You can expand your staycation options with attraction discounts through Groupon. Head over to Groupon and click the Things to Do link. You will see family-appropriate activities around your city for discounts up to 75% off. You can even get seasonal passes to area museums, amusement parks, and other places you'd like to frequently visit.

Summer doesn't have to be boring or a financially crippling experience just because money or time is limited. Staycations can be both fun and affordable. You just have to research the options, load the kids in the car, and head out.

//= get_template_directory_uri() ?> //= get_template_directory_uri() ?> //= get_template_directory_uri() ?> //= get_template_directory_uri() ?> //= get_template_directory_uri() ?> //= get_template_directory_uri() ?>
©2011-2023 Worthy, Inc. All rights reserved.
Worthy, Inc. operates from 25 West 45th St., 2nd Floor, New York, NY 10036