Holiday Recipes From and For Single Moms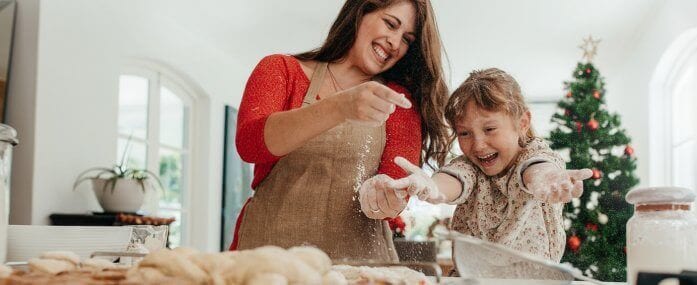 Sunday was cookie day. Once a year, around the holidays, my family bakes. Plates and tins and freezers full of goodies are prepared against a backdrop of voices rising and mingling with the jingling bells in Christmas carols. That family has dwindled over the years, and now it's just my son and I rolling cookie dough.
This year's cookie day had a different twist. Worthy asked its contributors to send in some of their favorite holiday recipes which we could share with the Worthy community. And I was the lucky one who got to try them all out!
As I'm much more a baker than a cook, when Worthy sent over the list of recipes I chose the few that I knew I could pull off. After a massive shopping trip to the grocery store up the street, my son and I mixed together the ingredients for writer Sarah Davis's holiday home potpourri. I kept it simmering on the back burner while we cooked that day, and it smelled amazing.
Once we had the potpourri going, it was time for writer Lorie Eckert's fantasy fudge. It was a disaster, but that was entirely my fault. Somewhere in the midst of two cross-country moves, I lost my candy thermometer. After hunting high and low through every drawer in my kitchen I decided to wing it. Big mistake.
When I saw how the batch turned out, I texted a neighbor and asked if she had a candy thermometer I could borrow! In the meantime, I pulled out my Grandmother's recipe box.
Earlier that week I'd asked my sister if she had our mom's candy cane cookie recipe. My mom made the twists every year, laying them out on floured baking sheets and letting us roll the dough. In the chaos of her death at an early age, we'd lost track of a lot. We had her special kringlar recipe, but none of her other favorites.
Holiday baking and traditions take us back to our childhoods. They connect families across the years and remind us of happier times. My sister and I don't just miss how her cookies tasted, we miss the time spent with her. This year, I dug through the jumble of hand-printed cards, recipes clipped from magazines, and occasional childhood photos tucked into my Grandmother's box and I found it. The candy cane cookie recipe!
I immediately snapped pictures and texted it to my sister, who responded with "OMG, really?!?!" and emojis. And then my son, the grandson my mother never met, and I made cookies the way I used to when I was a little girl.
When I popped the first batch of cookies in the oven my neighbor showed up with a candy thermometer. I let her in and we stood in the kitchen chatting – yes, she exclaimed about how great the apartment smelled from the potpourri! – about the new dog and holiday travel. The holidays don't just bring families together, they remind many of us of our shared experiences. She had to rush back upstairs to pack for an upcoming trip, so next up was peanut butter fudge.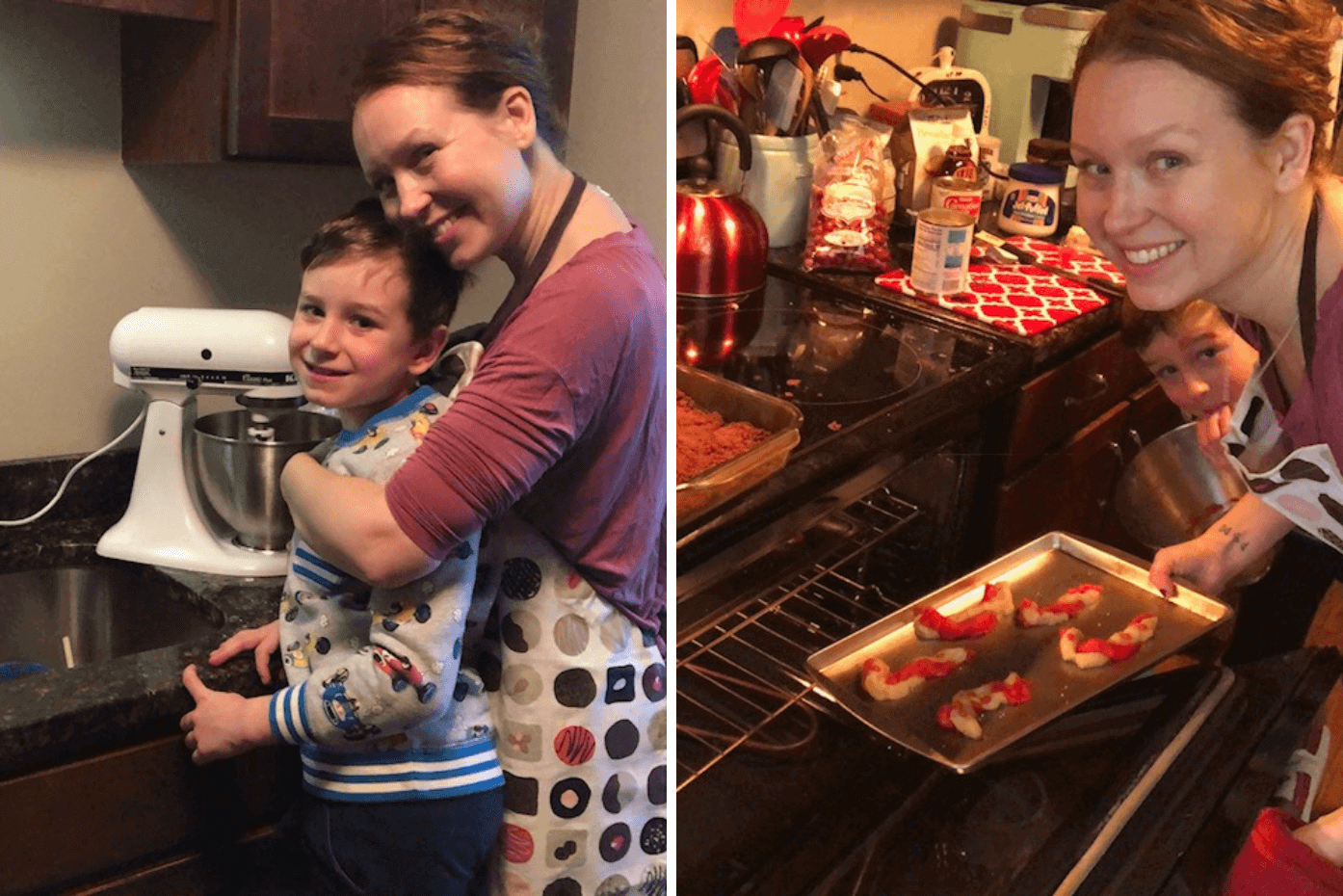 The recipe comes from my ex-mother-in-law. Everyone in the family loved it so much that she'd make special batches for nieces and nephews to take home. When you're divorced it's hard to know the right thing to do when it comes to family traditions that came from your ex. Since this wasn't a recipe handed down through the generations, I thought it was okay to continue making and sharing it.
While the fudge cooled, my son wandered off to play Legos and I quickly whipped together writer Debbie Reslock's cranberry brie crostinis for dinner. My grocery store didn't have any French baguettes, so I substituted packaged crostinis. The treats had a nice balance of smooth, creamy cheese with the tart cranberries, and they'd be great to pass around at parties. We ate them for dinner.
If you're up for more of a challenge than I was this past weekend, two other contributors sent in recipes for more complicated dishes:
I'll try Certified Divorce Financial Analyst Karen Spark's ultimate brussel sprouts recipe, which sounded delicious, the next time I have company over. Company that isn't a playdate and only wants pizza, that is.
I'm not a corn fan at all, but if you like the ease of one dish casserole recipes, try Personal Growth & Love Coach Nicole Amaturo's corn casserole dish.
While you're unlikely to try baking and cooking all these recipes on one day like I did, I hope you'll at least try one of them and let us know what you thought over in the Worthy Facebook community. We'd love to see pictures of your cooking!
Our Favorite Holiday Recipes:
Holiday Home Potpourri
By Sarah Davis
2 oranges, sliced
1 cup of cranberries
3 cinnamon sticks
3 teaspoons of ground clove
2 teaspoons of nutmeg
2 or 3 sprigs of fresh rosemary
Fill a large pot with water and all ingredients. Bring to a boil then simmer on low throughout the day to make your home smell amazing, especially while entertaining. Refill with additional water occasionally as needed.
"This is my number one favorite (not for eating)…" Sarah Davis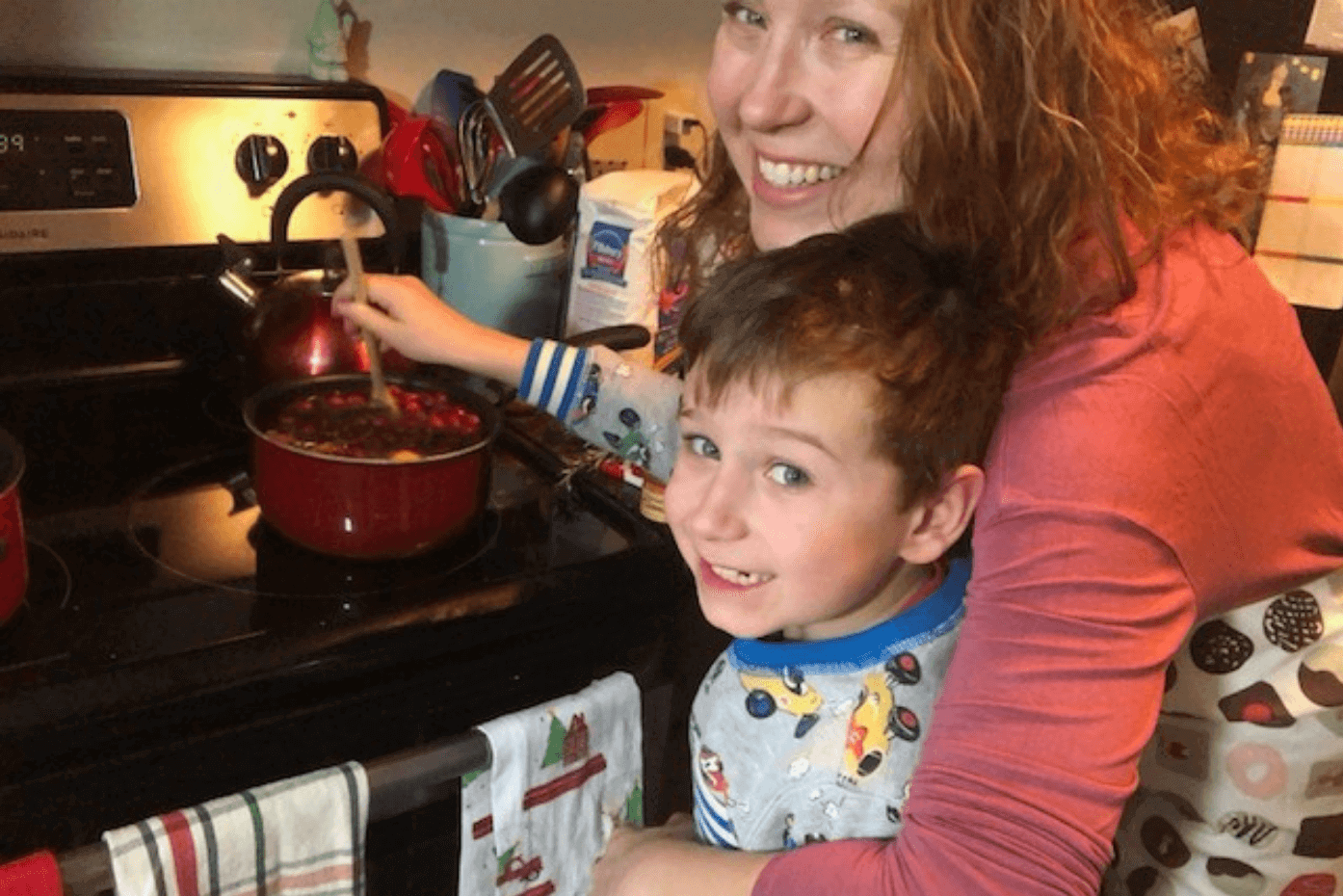 Candy Cane Cookie Recipe
By Dena Landon
1.2 cup powdered sugar
1 egg
1 ½ teaspoon of vanilla
2 ½ cups of flour
1 tsp of salt
½ cup granulated sugar
Mix all wet ingredients first, then add the dry ingredients. Divide the dough evenly in half and put a ½ tsp of red food coloring in one half. Roll out strips then twist them together to make candy canes. Bake at 375 degrees for nine minutes.
Peanut Butter Fluff Fudge
By Dena Landon
4 cups white sugar
1 cup light brown sugar
½ cup butter
1 (12 fluid ounce) can evaporated milk
1 (7 ounce) jar marshmallow creme
1 (16 ounce) jar peanut butter
1 teaspoon vanilla extract
Mix the first four ingredients in a sauce pan and bring to a boil. Cook at 234 degrees for seven minutes. Remove from heat and immediately stir in the next three ingredients. Pour into a pan and let cool.
Corn Casserole
By Nicole Amaturo
"Here's my simple recipe that is always a fan favorite!! I bring it every year! It's a must for the holidays with my kids and boyfriend, as well as for my parents, sisters, nieces and nephews."
1 can whole kernel corn drained
1 can creamed corn
1 8oz. box jiffy corn muffin mix
2 eggs
1 c. Sour cream
1/4 c. sugar
1/4 c. Butter melted
Mix together all ingredients in a large mixing bowl, while adding the Jiffy mix last. Spread into a large 9×13 casserole baking dish. Bake for 40-50 minutes on 350 degrees. Let cool and then cut into squares. Serve with lots of love!
The Ultimate Brussle Sprouts
By Karen D. Sparks, CDFA®, J.D.
This recipe is a nice variation for this popular holiday side dish
1-2 pounds fresh brussel sprouts (NOTE: If using frozen, defrost completely in a colander and pat dry to get rid of any remaining moisture)
1 pound of button mushrooms (the white or brown variety)
5 pieces of hickory smoked bacon (you can substitute turkey bacon for this ingredient)
1/2 onion, finely diced
2 cloves of garlic, finely mined
5 sprigs of fresh time-remove leaves from the sprigs (or 2 teaspoons dried thyme)
2 teaspoons paprika (sweet or smoked)
1 teaspoon salt
1 teaspoons pepper (white or black)
3 tablespoons of butter/margarine
1/2 to 3/4 cup grated parmesan cheese
1 tablespoon dark brown sugar
1/4 cup teriyaki sauce
1/4 cup of pomegranate molasses (you can substitute 1/2 cup of balsamic vinegar which has been simmered and reduced down to a syrup consistency)
Preheat oven to 350 degrees.
You will need a 9×12 baking dish that is sprayed lightly with vegetable oil (or you can use butter or margarine to cover the bottom and sides of the pan)
Brussel sprouts- If using fresh brussel sprouts remove the outer leaves and rinse thoroughly. Remove any long stems from the bottom of each sprout and then cut each sprout in half. Steam or blanch the brussel sprouts for about 10 minutes and set aside in a small bowl.
If you are using frozen brussel sprouts, allow them to come to room temperature and make sure they are free of moisture. Cut each sprout in half and set aside in a small bowl.
Sauté the bacon slices until they are nice and crispy. Remove them from the pain to drain on a towel to absorb the oil and once this is done, crumple the slices into pieces. Set the pan with the bacon drippings to the side.
Wipe each mushroom clean with a paper towel and remove the stems. Slice each mushroom into equal size pieces. Saute the mushroom pieces in 1tablespoon of butter and continue stirring as they begin to reduce in size and cook down. Add the brown sugar and teriyaki sauce and cook until incorporated with the mushrooms. Remove mushrooms from the heat and set aside.
Pour the bacon drippings and one and half tablespoons of butter into a large saucepan on medium heat. Add the brussel sprouts, minced garlic cloves, finely diced onion, salt, pepper. paprika and thyme and saute until the brussel sprouts are slightly golden brown and remove from heat.
Combine mushroom mixture and the crumpled bacon pieces with the sautéed brussel sprouts in the 9 x 12 baking dish. Sprinkle with parmesan cheese and dot the top of the casserole with the remaining butter and place in the oven for 15 minutes or until the parmesan cheese is a little crusty.
Remove from the oven, drizzle pomegranate molasses (or balsamic vinegar reduction) over the top of the brussel sprouts and enjoy!
Fantasy Fudge
By Lorie Kleiner Eckert
"I have been making Fantasy Fudge for over thirty years. It is my family's most favorite of all recipes. My kids and grandkids often try to convince me to make it throughout the year, but the answer is always "no." I keep it special by only making it during the holiday season. The recipe makes three pounds of fudge. I serve half of it at Thanksgiving and pop the rest in the freezer until Chanukah comes around, at which time we devour the rest. This is so yummy that my ex-husband is first in line to grab a few pieces even though he gets headaches from chocolate. Please note that the recipe is not a family secret, in fact it is printed on the jar of Kraft Marshmallow Creme, which is one of its main ingredients."
3 C sugar
12 oz package semi-sweet chocolate morsels
¾ C butter (not margarine)
7 oz jar of Kraft Marshmallow Crème
2/3 C evaporated milk
1 C pecans (chopped fine)
1 tsp vanilla
Combine sugar, butter, and milk in a 2 ½ quart saucepan. Bring to full boil, stirring constantly.
Reduce to medium heat and continue boiling until the temperature reaches 234 degrees on a candy thermometer.
Remove from heat. Stir in chocolate until melted.
Add marshmallow creme, nuts, and vanilla. Beat until well blended.
Pour into a 13X9X2" pan.
Cool at room temperature.
Cut into small pieces. (I make 96 pieces from the recipe. To do this I cut a grid that is 12 pieces by 8 pieces.)
Can be frozen.
A final note: There are two great things about the jar of Marshmallow Creme:
The recipe is printed on it so if you forget what ingredients you need when you are doing your marketing, a reminder is at your fingertips.
The jar itself is darling and can be turned into a great craft project for little kids. See photo!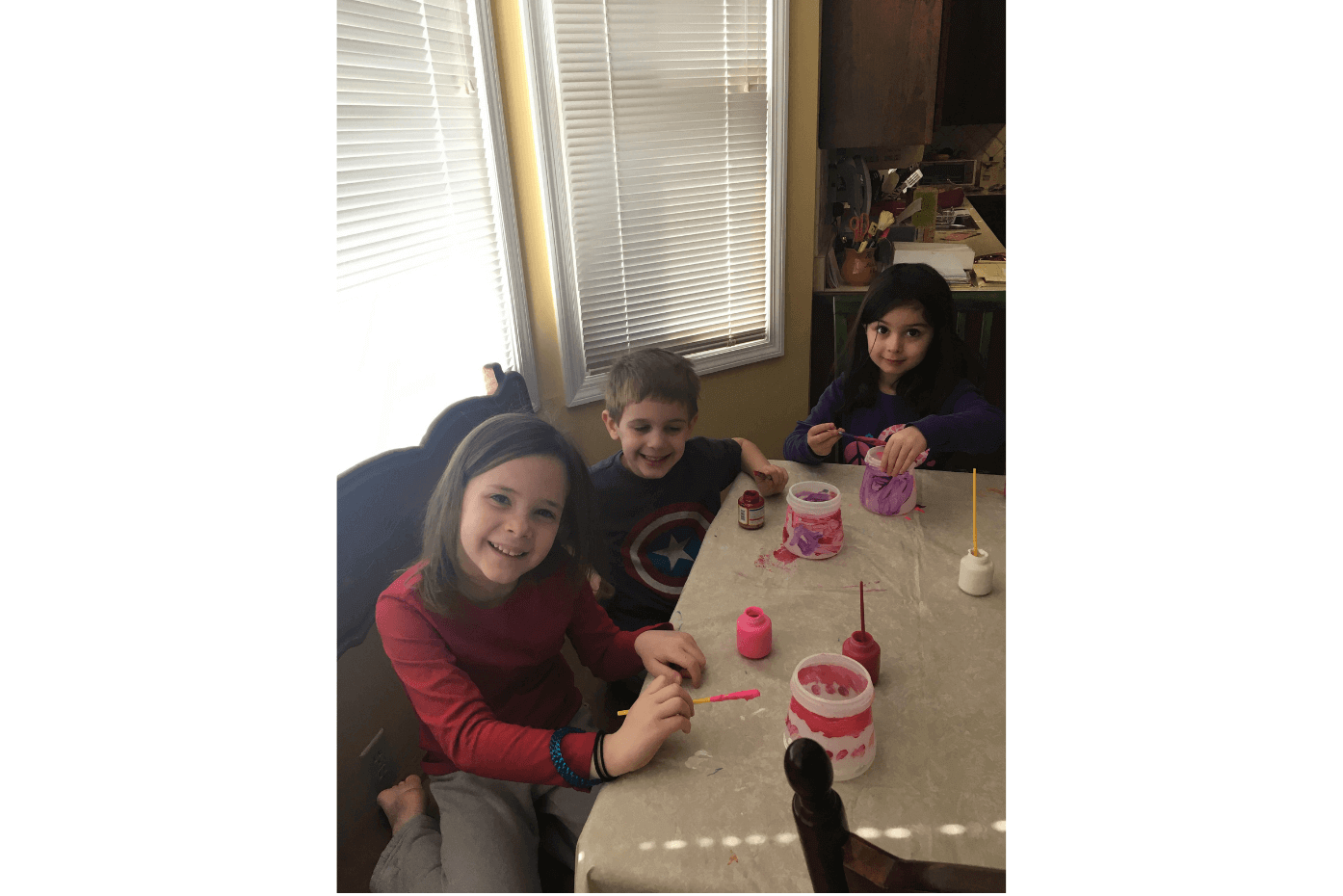 Cranberry Brie Crostini
By Debbie Reslock
"I discovered the Cranberry Brie Crostini only a few years ago. I love trying new recipes, especially ones with brie!
I don't have much time to cook but love the holidays because it gives me the chance to orchestrate a big meal. Sharing this time together with our kids, two granddaughters and often some extended family usually makes for a full table!"
1 loaf French baguette
2 tbsp olive oil
3/4 cup brown sugar, divided
1/4 cup maple syrup
1/2 pound wedge brie
1/2 cup chopped pecans
1/2 cup dried cranberries
1. Preheat oven to 350 degrees.
2. Slice baguette in 1/2″ slices. Brush both sides with olive oil and bake for 12-15 minutes, until golden.
3. In medium saucepan, combine the maple syrup and 1/4 cup of brown sugar. Bring to boil, then simmer 2 minutes.
4. Microwave brie until cheese begins to melt and is warmed through, about 45 seconds.
5. Spread equal amounts of cheese on each baguette slice.
6. Sprinkle equal amounts of pecans and cranberries over the cheese.
7. Sprinkle remaining brown sugar.
8. Drizzle with maple sugar glaze.
9. Serve warm.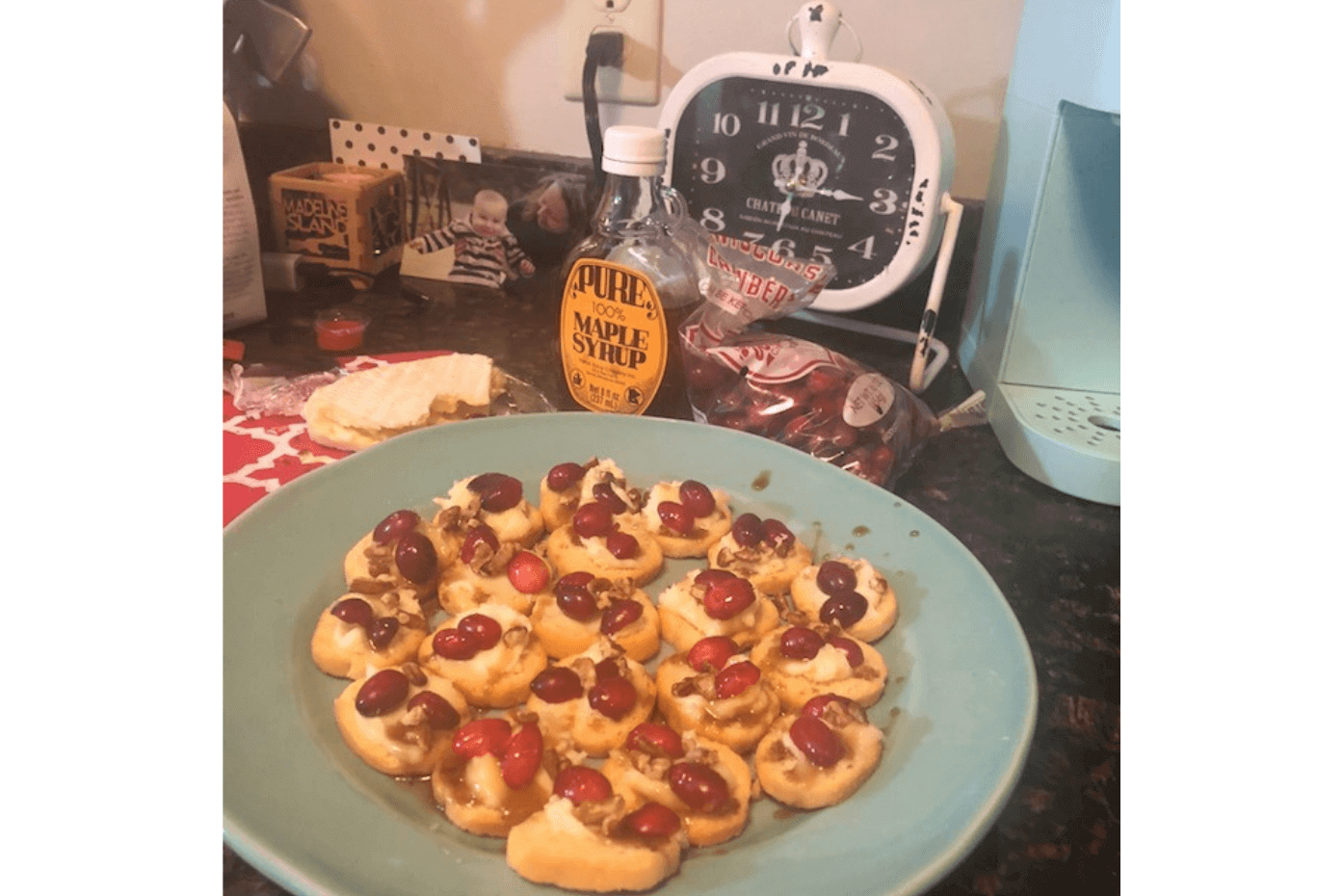 //= get_template_directory_uri() ?> //= get_template_directory_uri() ?> //= get_template_directory_uri() ?> //= get_template_directory_uri() ?> //= get_template_directory_uri() ?> //= get_template_directory_uri() ?>
©2011-2023 Worthy, Inc. All rights reserved.
Worthy, Inc. operates from 25 West 45th St., 2nd Floor, New York, NY 10036