10 Gift-Giving Tips to Save Money (and Your Sanity!)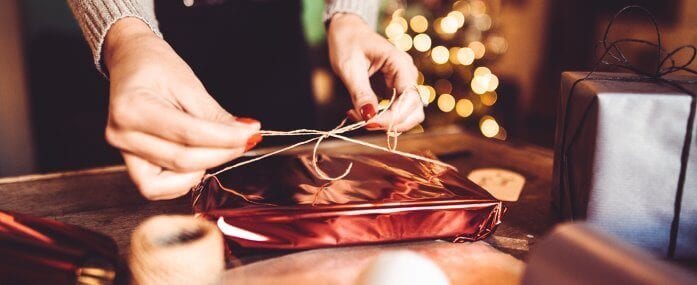 The holidays are closely associated with giving. It's nice that we have a season designated as a time to show love and appreciation for friends, family, and others who share our lives; but, sometimes I feel that the movement got derailed and has now driven us all to extremes in spending and pressure to wow everyone we know with our creativity and generosity. When did gratitude become equated with shopping and stress?
Recently, I went out for breakfast with my kids and noted that the placemats had a "helpful gift checklist" printed on them to assist me in remembering to buy gift cards for essentially everyone I've ever met. Don't get me wrong, I enjoy the act of preparing a present for someone I care about and letting them know how much they're cared for and valued. I contend that we've reached a point of gift giving insanity when we're now expected to gift everyone from the garbage man to our favorite barista, and even our tax preparer!
So, when reflecting over the suggested list of who to remember during the holidays, I recommend considering:
Your budget. We may wish we could deliver the world on a silver platter to all our loved ones, but the balance of our bank account might not make that possible. Would our friends and family want us going broke just to give them an awesome present? Anyone who really loves us would say "absolutely not!" Loved ones will completely understand if it's been a rough year for you financially or if you have many other responsibilities to look after. Besides, it's never wise to trade short-term gain for long-term struggle!
The relationship. Does your hair stylist really need a present from you? That depends. If you only get a trim every few months and don't have much of a personal connection, your stylist surely won't expect anything. However, if you've been a weekly client for 15 years and are actual friends, maybe she does belong on the list! You will have to list and prioritize everyone who is a contender for your gift-giving operation to determine who is most deserving. If they don't make the list, that doesn't mean they don't matter or you don't care. Anyone reasonable will understand we have to set a limit somewhere!Many of us are not at pal status with our child's teacher or hanging out on the weekend with our doorman; yet, these people make a daily impact on our lives and are deserving of recognition. Dozens of people may fall into this category, but that doesn't mean we have to break the bank to offer up elaborate presents. Even a nice holiday card with a candy cane or a $5 gift card for coffee will bring a smile and get your point across!
Your expectations. I always refer back to the meaning of altruism. If a gift is given purely for the purpose of bringing joy to another, then it is given for the right reasons! If, however, we give from a sense of obligation or because we hope to receive something in return (maybe a present of our own, or perhaps recognition for what a thoughtful and generous person we are), then maybe we need to re-think our motivation!
Are you feeling overwhelmed by the cost, quantity, and effort required of gift giving?

Triage that list! Surely our children, significant other, and closest friends or family will top our list and stake claim to the lion's share of our budget. Consider categorizing your list by order of importance, then set appropriate price ranges for each. If you need to trim the list, it will be easiest to thin out people who round out the bottom of your list.
Divide and conquer. While picking out personalized individual gifts for each person on your list is extremely sweet, it can also be time-consuming and difficult! Instead, see if you can come up with a few signature items to give people at your various set price points. For instance, "category two" people might be set at $50 apiece, "category three" people at $20 apiece, and "category four" people at $5 each.Could you simplify the process by purchasing several bottles of wine to dole out to your $20 recipients and a handful of gift cards for coffee for your $5 crowd? You can still make your present special by selecting something truly unique or give it a personalized touch with the way you wrap and present it.
Don't confuse inexpensive for lacking in thought! I like to give a little something to all my co-workers, but I can't justify spending a lot of money on my very large office family. Last year I managed to turn a small piece of tartan fabric, a box of mason jar lids, and paper snowflakes (purchased from the craft store in the scrapbook section) into adorable handmade ornaments that cost less than $1 each! I didn't experience any holiday stress over these gifts because I assembled them while watching a holiday movie, and my co-workers appreciated the sentiment and something cute for their trees!If you're a crafty person, Pinterest is a gold mine of ideas that don't necessarily require superstar talent in the kitchen or with a glue gun. A festive cellophane bag of homemade treats (or even dressed up store-bought goodies), a holiday decoration, or something you made that they can look at and use daily will achieve your goal of treating someone you care about to something nice without the need to panic!
Many birds with one stone. If you feel the need to recognize many people from one place but don't necessarily want to shop, wrap, and come up with multiple ideas, consider presenting a group experience such as a pop-up hot chocolate bar (bring in a big thermos of nice coffee or cocoa and a bunch of tasty toppings and add-ins) to your favorite office mates, drop off a plate of homemade treats to the school office, or order a pizza for the staff of your favorite business.
Plan ahead. Part of the hysteria caused by holiday shopping is the tight timeframe and the fact that an above average amount of funds is spent over a short amount of time. Don't wait until it's time to give to wrack your brain for ideas. Start making your list (and checking it twice!) now and try to collect ideas and even gifts throughout the year to make the process a little less painful! Many holiday-themed items can be picked up on clearance after the holidays, then stashed away for next year!
Sweet and sentimental. Sometimes, the most memorable and adored gifts have little monetary value. Frame a cherished photo, write a heartfelt poem or letter, or prepare a special meal to share. Experiences may be more meaningful than any tangible item, so consider tickets to a concert or play you can attend together (even if it occurs after the busy holiday season) or something as simple as an evening of ice skating and taking in holiday lights.
Be prepared. How many times have you thought you were done shopping only to remember someone at the last minute or wish you had a token of holiday cheer to offer to someone you run into close to the holidays? I've done this many times and, as a result, I now keep several extra holiday cards, candy, and other small gifts (e.g. a cute scarf, gift cards most people would like, or some items I've made- this year I'm making cookie sugar scrub!) on hand. If you're baking a batch of cookies, why not package up a few as "just in case" presents so that you're covered if you run into the mail carrier, an old friend, or feel moved by the holiday spirit while getting your oil changed?
No present or any amount of money spent on a gift takes the place of the love and esteem we feel for the people in our lives. The holidays can be magical, or they can make us feel like we're being chomped down on by a giant nutcracker if we allow ourselves to get caught up in a frenzy of spending and guilt giving! By simmering down the gift-giving experience to the heart of what matters most, prioritizing, planning, and letting go of the perception that we need to go crazy with gifts, we can re-discover the simple joys of the season!
//= get_template_directory_uri() ?> //= get_template_directory_uri() ?> //= get_template_directory_uri() ?> //= get_template_directory_uri() ?> //= get_template_directory_uri() ?> //= get_template_directory_uri() ?>
©2011-2023 Worthy, Inc. All rights reserved.
Worthy, Inc. operates from 25 West 45th St., 2nd Floor, New York, NY 10036