How to Live with Extended Family…Happily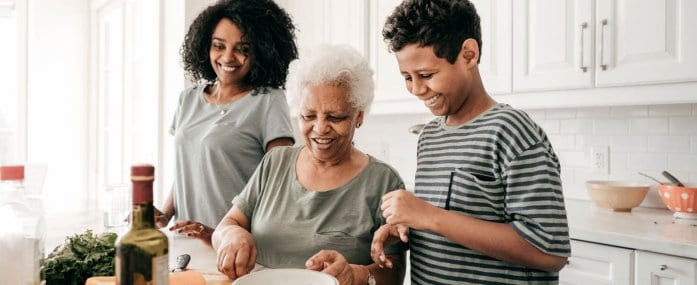 You're moving in with your sister. Or maybe your family is going to move in with your parents for a bit. It's going to be a full house, and that can be a super scary proposition.
It's a common one, however.
In 2014, extended families represented 17 percent of all households – 85 million people are living with extended family which was an increase from 58 million in 2001, according to the Center for American Progress. Families are moving in together to reduce expenses, to help with childcare, to support elderly parents, for temporary between-homes housing and for other reasons.
Megan Bearce, a licensed marriage and family therapist and author of "Super Commuter Couples," welcomed her sister into her home for 5 years – and she described it as a fantastic experience.
But, Bearce says, before moving day, there must be rules and clear communication that details even minute details such as the temperature you'll be keeping the home in the evenings.
"It helps prevent resentment, which is deadly for any type of relationship," Bearce says.
The following are some rules you may want to consider before any extended family move:
Charge Rent
Charging an agreed-upon rent, even if it's very minimal, sets the expectation that they will follow rules like any tenant – and it shows appreciation for the situation, Bearce says. If they can't afford rent, they could discuss how they could help contribute to the household maintenance or family life. For example, helping with dishes, laundry or childcare can all help.
Establish Ground Rules and Expectations
"Do they buy their own groceries? Can they have guests overnight? Do they get to control the remote, or will you create their own private area of the house – a mother-in-law quarters, for example," says Bearce. Establish these rules before moving day so there are no conflicts around the issues.
Discuss the End Date
You may not know it in the beginning, but at least agree to revisit it at some point, after 6 months perhaps, Bearce says. "If there is no end date, the guest may not be motivated to ever move out," she says.
Figure Out Chores In Detail
Miscommunication around whose responsibility it is to do the chores can build resentment and cause unnecessary strain on your relationships, says Adina Mahalli, a certified mental health expert and family care specialist with Maple Holistics. "This means setting out clear guidelines on whose job it is to do what chore, to clean their bedrooms and maybe even to organize a rotation for the dishes or laundry so nobody feels like they're the designated slave in their own home," Mahalli says.
Go Over Expenses
It's always a little awkward discussing finances when it comes to family, but it's important to figure out how household expenses are going to work so that the weight doesn't fall onto one person," Mahalli says. "This includes things like basic necessities, groceries, and even the bills."
Living with extended family is a trend that appears to be increasing greatly, and sees no end in sight, especially with the focus of the economic benefits to sharing. And what could be better than sharing with your own family? Bonus: They already know your quirks.
//= get_template_directory_uri() ?> //= get_template_directory_uri() ?> //= get_template_directory_uri() ?> //= get_template_directory_uri() ?> //= get_template_directory_uri() ?> //= get_template_directory_uri() ?>
©2011-2023 Worthy, Inc. All rights reserved.
Worthy, Inc. operates from 25 West 45th St., 2nd Floor, New York, NY 10036