How to Find (and Keep) Your Girl Tribe!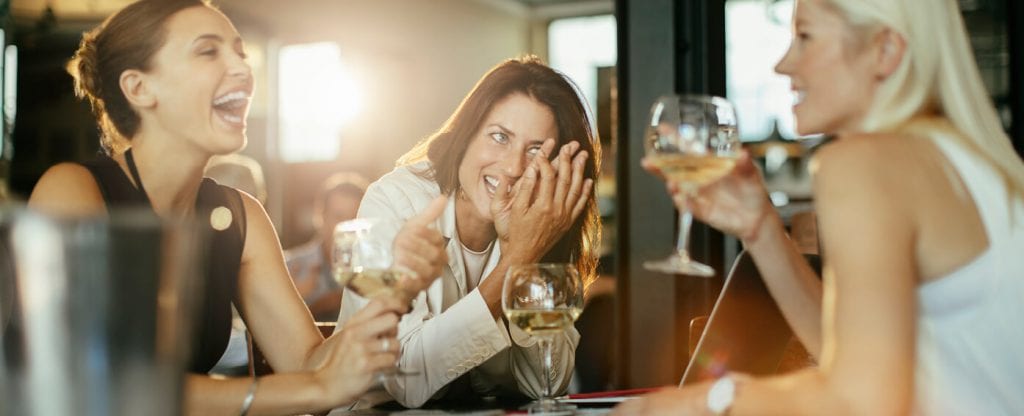 My all-time favorite television show is Sex and The City. I love it, not only because I can relate to Carrie as a writer or because I also spend too much money on shoes. I used to binge-watch reruns, wishing that I would one day have a girl posse that could talk as openly as they did. For years, I watched them laugh together, cry together, shop together and discuss their sex lives, wondering what it would take for me to have that deep of a connection with other women. I've had friends for years, but so often we could go out to dinner, talk about how good the food was and then go home. I craved a deeper connection. In the most trying year of my life, in the midst of a divorce, a double mastectomy and a plethora of fears and insecurities, something beautiful happened. Out of sheer desperation, I created a tribe of best friends that would pick me up off of the floor when I most need it and I have been there for them in return. Today my connections with my female friends are stronger than ever. The more connected I am with my friends, the more peaceful my life is, even if parts of it feel like they're spinning out of control. If you're looking to find or strengthen friendship connections, I encourage you to follow these steps.
Meet Other Humans
As simple as it sounds, if you're looking to build your tribe, you absolutely must put yourself in situations where you can meet other people (and not just on social media). I met one of my closest girlfriends at a class held by my Certified Divorce Financial Planner. She introduced me to her best gal pal and together, they've welcomed me into their tribe with open arms. Meetups, religious or political events, and hobby clubs are some other options for meeting like-minded people. Next week I begin pole dance fitness classes, and I'm excited to meet some fierce and amazing women there too.
Open Yourself Up to Meaningful Connections
The most powerful tool for turning acquaintances into close friends is by being vulnerable. Acquaintances never go deep. They pretend everything is okay and that they have no flaws. Friends share the scariest and most embarrassing parts of their life with each other and in return, they develop trust, closeness and the ability to support each other through thick and thin. I remember walking on the beach talking to a friend who I had met a few times before. We worked in the same industry and we had a lot in common. I really liked her, but our friendship was in its infant stage. I desperately needed friends that would go deeper with me. In one moment, I turned to her and opened up about every problem in my life. It wasn't complaining, it was being authentic. She looked at me with wide eyes, embraced me and began sharing some of the same struggles. Since then we've become inseparable. We text each other multiple times every day and we see each other once or twice a week. Traveling with her has been one of the most amazing experiences of my life. It's such a freeing feeling to put all of your fears and failures out in the open, and then know that there is nothing left to hide.
Technology is Your Friend
I have a horrible memory, so I mark my friends' birthdays on my outlook calendar with an annual reminder which syncs to my phone. Even if you're struggling financially, you can still show appreciation with a hand-written card or a homemade dessert. My favorite tool for staying in touch with my girl tribe is Voxer. My friend Anna recently created a group chat called "therapy". Every day, several of us get to chat about dating, fears, mom fails and successes and since it works like a walkie-talkie, it's easy to share a quick update while you're changing a diaper or ordering a pizza or doing both.
Put in the Effort to Maintain the Relationship
Once you've found your girl tribe, it takes effort to keep them close. Some of my closest friends are on opposite custody schedules as I am so it can be like pulling teeth to coordinate custody, work, and babysitters among multiple women, but every time we do it, we feel amazing. I make the effort by offering to drive to their town instead of expecting that they always come closer to where I live. The golden rule that you learned in Kindergarten is the same rule that predicts the outcome of adult friendships. I want to be cherished, celebrated, remembered and cared for, so I make an effort to do the same for my friends.
//= get_template_directory_uri() ?> //= get_template_directory_uri() ?> //= get_template_directory_uri() ?> //= get_template_directory_uri() ?> //= get_template_directory_uri() ?> //= get_template_directory_uri() ?>
©2011-2023 Worthy, Inc. All rights reserved.
Worthy, Inc. operates from 25 West 45th St., 2nd Floor, New York, NY 10036