Emerald Cut Diamonds: A Complete Guide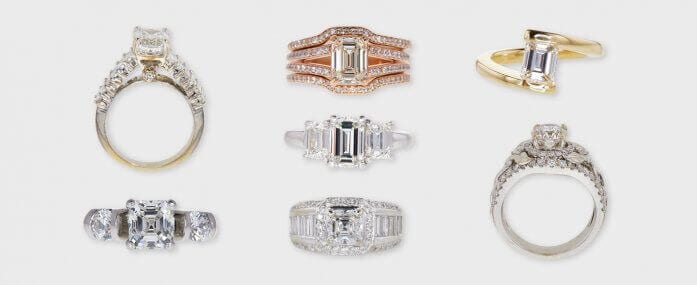 Elegant and sophisticated, emerald cut diamonds lend a distinctive look to jewelry of all kinds. This shape features a rectangular profile with beveled corners, along with a large table that provides a view of the facets beneath while creating the illusion of greater size. Read on to learn more about what sets emerald cut diamonds apart from the rest.
Emerald Cut Diamond Facts
Concentric rows of step-cut facets make up an emerald cut diamond's pavilion, setting it apart from radiant cut and Asscher cut diamonds, which offer similar silhouettes, but different faceting. Additional step-cut facets adorn the emerald-cut diamond's crown, framing a large table that creates an effect similar to that of a reflecting pool or a hall of mirrors.
Since emerald cut diamonds typically have far fewer facets than other popular diamond shapes, they display less brilliance. This is intentional; the emerald cut is designed to showcase a diamond's clarity rather than emphasizing fire. This cut is ideal for diamonds with few to no inclusions, as well as for those with higher color.
When viewed from the top, an emerald cut diamond's scintillation pattern displays a flashing "on and off" effect instead of the sparkle effect seen in diamonds with smaller facets.
The ideal emerald cut diamond offers a depth of 60 to 65 percent and a table of 61 to 68 percent.
Famous Emerald Cut Diamonds
If emerald cut diamonds are among your favorites, then you're in good company. Many celebrities have shown off truly stunning examples over the years. Here are just a few.
Mariah Carey's 35-carat emerald cut diamond engagement ring is absolutely stunning. At two carats larger than Elizabeth Taylor's 33-carat diamond, it's among the best examples we've seen.
While Angelina Jolie's marriage to Brad Pitt has come to an end, her engagement ring is an iconic piece. With an estimated 16 carats in emerald cut diamonds, it is an excellent example of a unique setting.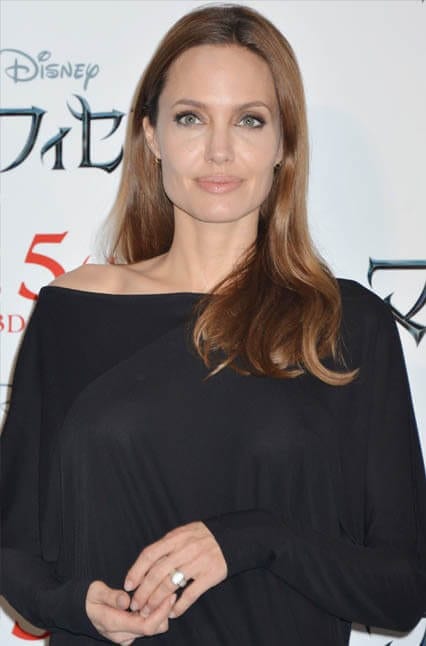 Grace Kelly's engagement ring is famous not just for its 10.47-carat emerald cut diamond, but for the story behind it. After Prince Rainier III of Monaco proposed in 1955, the soon-to-be-princess treated moviegoers to a look, wearing the ring during the filming of her 1956 film, High Society.Sell Your Ring
Outstanding Worthy Auctions featuring Emerald Cut Diamonds
Many emerald cut diamonds make their way through our doors and into the hands of new owners.
This unique ring featured a 2.17-carat emerald cut diamond at its center. Its side stones were emerald cut as well, in graduated sizes that altogether consisted of 1 carat total weight. It sold for $7,340.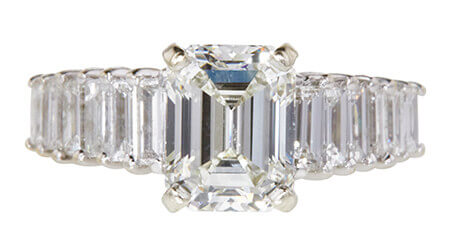 A show-stopping 3-stone ring consisting of a stunning 3.52-carat emerald cut diamond flanked by two emerald-cut diamonds totaling 2.23 carats sold for $21,299 at a recent Worthy auction. The center stone was exemplary, with K color and VVS2 clarity.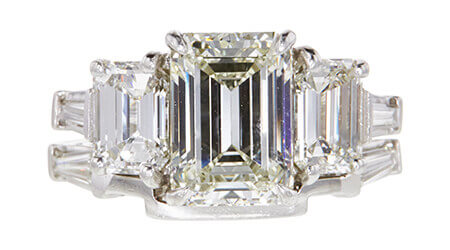 At 7.87mm long by 7.20mm wide, the 2.24-carat emerald cut diamond at the center of this 3-stone ring offered VS1 clarity along with a pleasing, near-square profile. This unique setting featured two round diamonds with a combined weight of 1.03 carats. It sold for $11,703.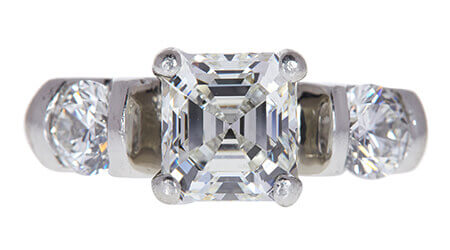 This custom-made 1.2-carat emerald cut solitaire ring featured a unique 18K gold setting that showed off the diamond's facets beautifully. It sold for $2,851.
A pair of tapered baguette diamonds totaling just 0.10 carats set off a stunning 1.45 carat emerald cut diamond in this beautifully balanced 3-stone ring. With F color and VVS1 clarity, it displayed the classic hall of mirrors effect, and sold for $6,904.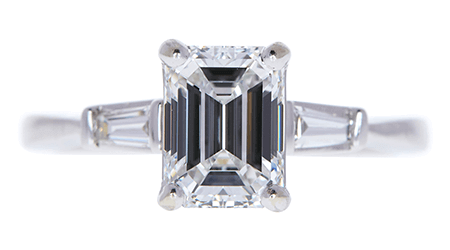 Want to learn more about diamond shapes? Read our complete guide!

//= get_template_directory_uri() ?> //= get_template_directory_uri() ?> //= get_template_directory_uri() ?> //= get_template_directory_uri() ?> //= get_template_directory_uri() ?> //= get_template_directory_uri() ?>
©2011-2023 Worthy, Inc. All rights reserved.
Worthy, Inc. operates from 25 West 45th St., 2nd Floor, New York, NY 10036