Guide to Vintage & Antique Engagement Rings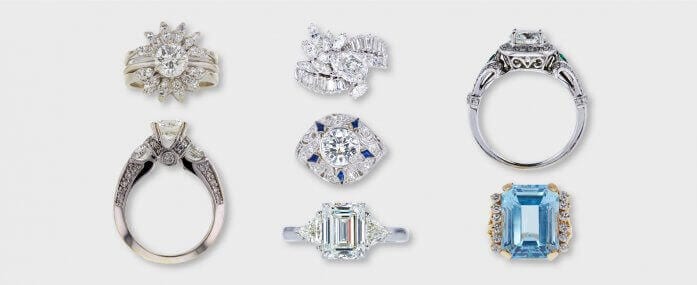 Vintage and antique engagement rings are very stylish these days! However, there is a big difference between antique and vintage rings. Whether you are in the market for an engagement ring or looking to sell one you already own, there are a number of things you should know before making your final choice and few terms to know to let buyers and sellers know you know your stuff.
Vintage vs. Antique
Antique rings – the eras:
Vintage rings by decade:
Stones in vintage and antique engagement rings:
You might think that the terms "vintage" and "antique" are interchangeable, however, they actually refer to very specific time frames. The US Customs Service defines anything that is over 100 years old as an antique. When it comes to jewelry, dealers tend to stretch this term to include pieces from the 1920s and 30s. You may come across the term "antique style" which likely indicates an item that was recently produced but made in an older style, possibly a reproduction of a known piece. In 2018, an official antique was made in or before 1919.
Vintage jewelry is technically at least 20-30 years old or more. So if you received a ring before 1999, it is now considered vintage. However, similar to clothes and cars, vintage is often applied to jewelry from the 1940s, 50s, and 60s: think Jackie Kennedy and old Hollywood styles.
Be aware that any jewelry that was previously owned is referred to as estate jewelry in today's market. This term was previously assigned to older, high-value jewelry pieces but today any piece of jewelry previously owned by someone, no matter the age or value, is considered estate jewelry.
Antique Rings – The Eras
There are three major eras that are used to describe antique jewelry and each of them has a few defining characteristics to be aware of.
Victorian Era – 1837 to 1901
Named for Queen Victoria of England who reigned during this time, the Victorian period was a time of peace and prosperity. Precious metals like silver and gold along with diamonds and gemstones were readily available, especially due to the expansion of trade all over the world. This was good news for the rising middle class, who were new to the world of fine jewelry and were finding more jewelry to fit their budget. Jewelry styles, like many forms of art during this time, tried to counteract the ongoing industrial revolution by using nature motifs like flowers and leaves, giving pieces and Romantic and mystical feel.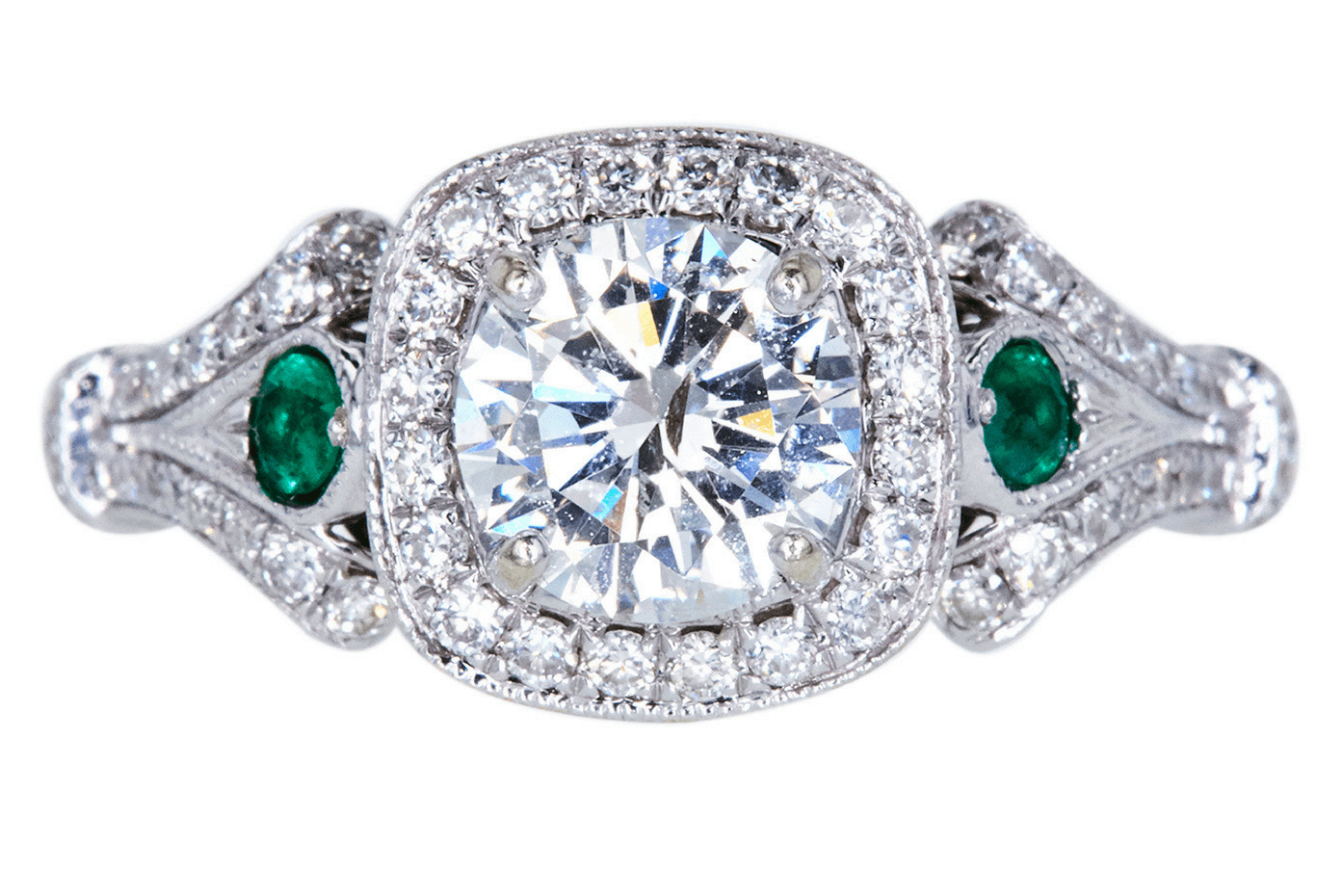 The Victorian era had a few defining characteristics. Cluster rings became very popular, with a group of smaller diamonds or gems creating floral patterns or ancient Greek and Roman inspired designs. Modern rings, such as the Duchess of Cambridge's diamond and sapphire ring, can trace their inspiration back to the Victorian era. As can the diamond and emerald cluster ring pictured here.
Edwardian Era – 1901-1910
The Edwardian era, named for King Edward, continued the same nature motifs found in the Victorian era in an artistic movement known as "Art nouveau". Womens fashion at this time was light and airy, with lots of lace and feathers. Jewelry mimicked this look by incorporating filigree into designs. Filigree is a metalworking technique that stretches precious metals into thin strands to recreate the thin curvy lines in vines and lace. Platinum was commonly used for this technique because it was more durable than gold and allowed filigree designs to be more complex and delicate.
While some of the styles associated with the Edwardian period have faded, filigree is still used in many modern designs, giving them a Romantic and vintage flair.
Art Deco – 1920s, 30s and 40s
If you can picture the jewelry described in F. Scott Fitzgerald's The Great Gatsby or bring to mind it's iconic cover, you are thinking of Art Deco style. This style was considered the height of modern design and could be seen all over, from buildings and wallpaper to rings and other jewelry. Similar to the Victorian period, more people were able to afford fine jewelry and, with the help of the famous DeBeers campaign, diamond rings became synonymous with marriage proposals. For those who could afford it, platinum and gold were the metals of choice, however smiths began producing white gold as a more affordable alternative and new metalworking techniques made ornate designs easy to produce.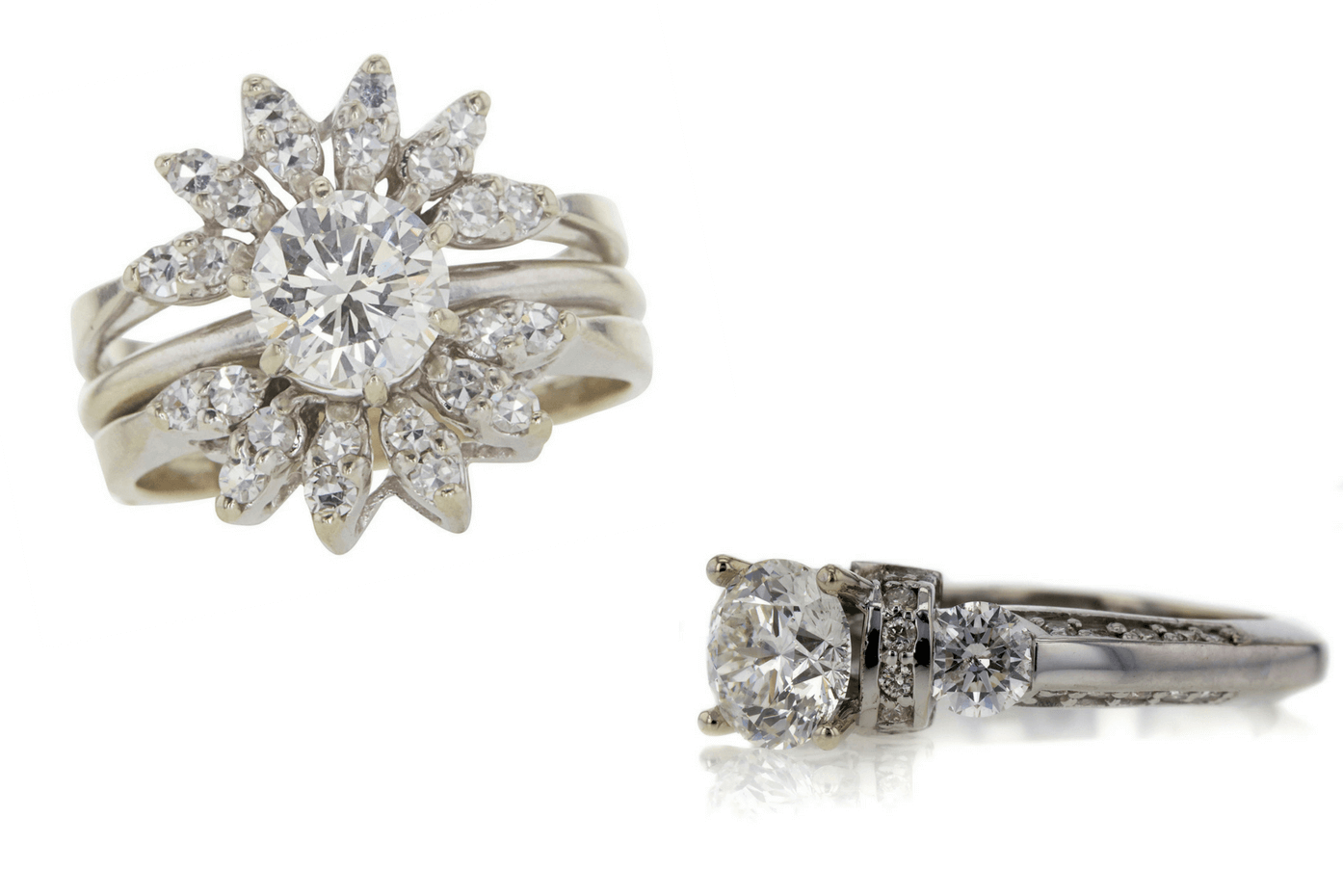 The bold, sharp and bright designs of the Art Deco allowed for more individual style. Geometric patterns that used colorful gemstones became very popular as did those which used diamonds. One of the biggest advanced of this time when it comes to jewelry was the invention of the brilliant cut diamond which made stones more sparkley and full of fire than ever before.
For most of the 20s, 30s and 40s, Art Deco rings reigned supreme, however adjustments needed to be made when the Great Depression and WWII eras set in. Diamonds and precious metals became more and more scarce during these times, besides for the fact that few people were able to afford them.
Vintage Rings By Decade
Following the Art Deco period, jewelry fashions expanded, with many different trends taking on central roles so it became less about the era. However, the 50s and 60s saw a few distinct styles and trends when it came to jewelry that we associate with the term "vintage" today.
1950s
The 1950s marked the dawn of a new day for diamond jewelry, especially diamond rings. With the economy beginning to boom after the dark years in the 30s and 40s, men and women alike were ready to start buying, especially with the continued popularity of the "Diamonds are forever" ads. Unlike past periods, diamond engagement rings in the 50s took on more practical designs and began to look more similar to the popular designs we know today.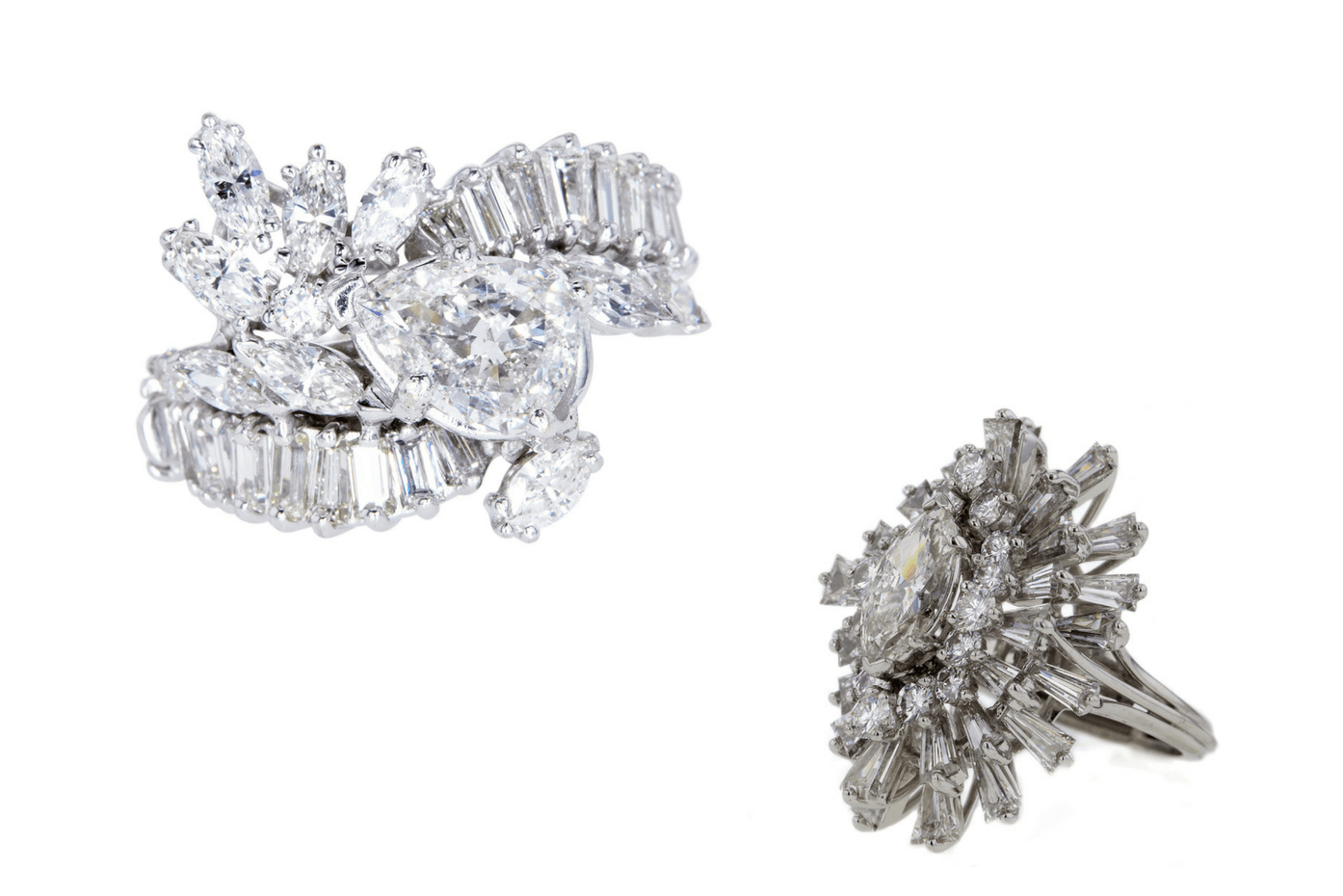 When it came to precious metals, platinum was back as the leading choice. White gold or silver were still available, however platinum rings were more expensive and more sought after. A marked change from previous eras was the choice in diamond cuts and shapes. Round stones that had previously been so popular were replaced with Asschers, Marquise, and Emerald cuts. While the princess cut wouldn't be available for another few years, women were already looking for a square alternative to the round brilliant. A work around was the fishtail setting which gave round diamonds a more square look. Cluster rings, such as Jackie Kennedy's, became popular but so did solitaire rings with side stones (most often baguettes) that accentuated the center stones.
1960s
Things continued on the up and up in the 1960s, especially if you happened to be a beautiful Hollywood starlet. Not only were there more and more rings to choose from but the diamonds themselves got bigger and bigger. Some of the most iconic rings, such as those belonging to Elizabeth Taylor, Grace Kelly and Lucille Ball, were well over 10 carats, completing the style motto many women had at the time of "the bigger the better."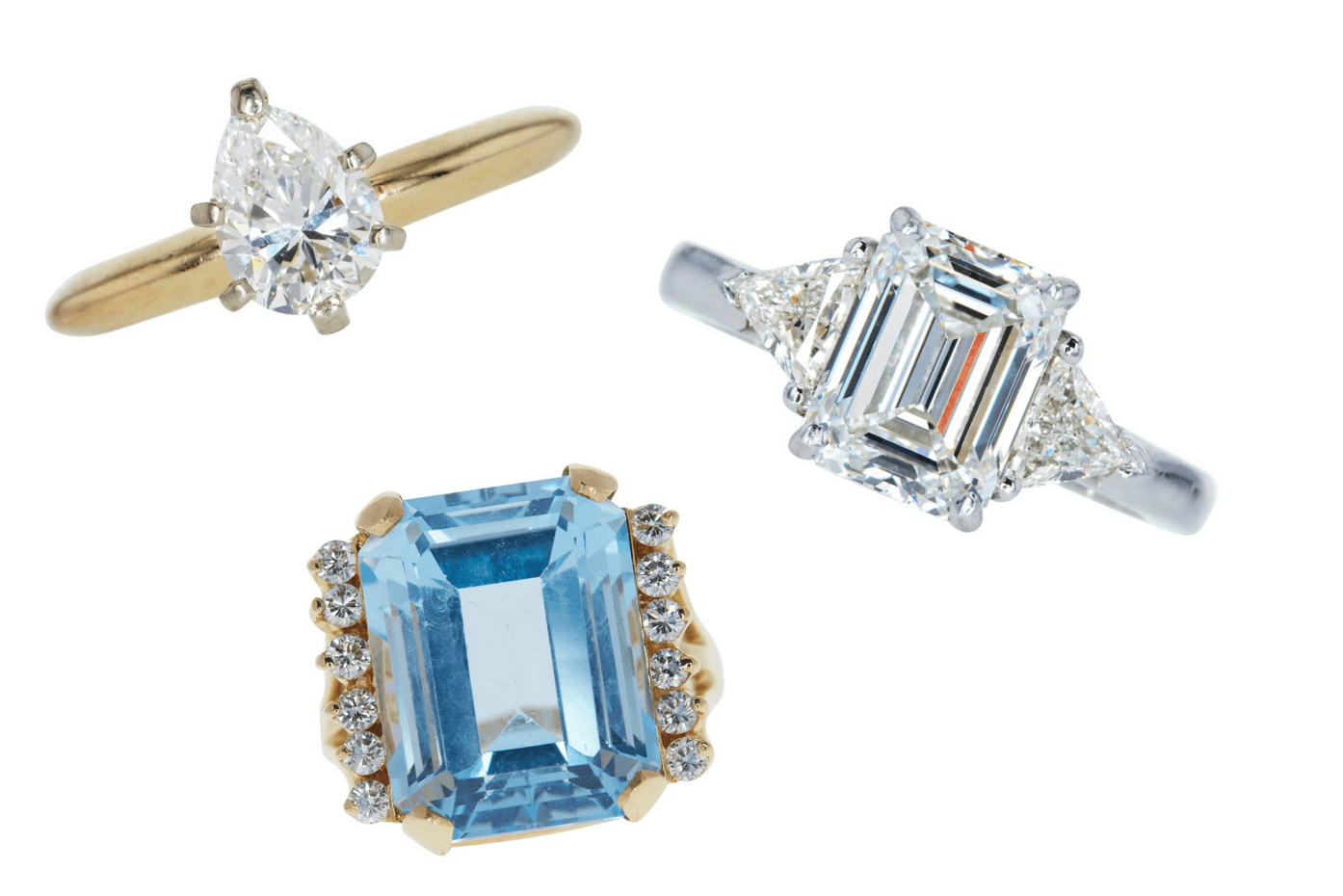 The classic engagement ring style continued to grow in popularity from the 50s into the 60s. More and more women incorporated colored gemstones into their rings, such as emeralds and sapphires. Pear cut diamonds also began to surface more and more, especially in Hollywood. On the other side, Audrey Hepburn and Marilyn Monroe both often for more understated, simple eternity bands featuring a full circle of baguette diamonds.
Stones in Vintage and Antique Engagement Rings
Two of the most common diamond cuts found in vintage engagement rings are the Old Mine cut and the Old European cut. Modern cuts, such as the round brilliant cut, use more modern technology and techniques to shape the diamonds, therefore enhancing their beauty. However, there is a distinct style to old cut diamonds that makes them attractive to many, part of which is due to the fact that these are hand-cut diamonds.
Old Mine Cut Diamond – This is the predecessor to the Old European Cut diamond, or diamonds cut before 1890. They are referred to as "old mine" because they often came from older mines in India and Brazil, rather than the newer mines in Africa.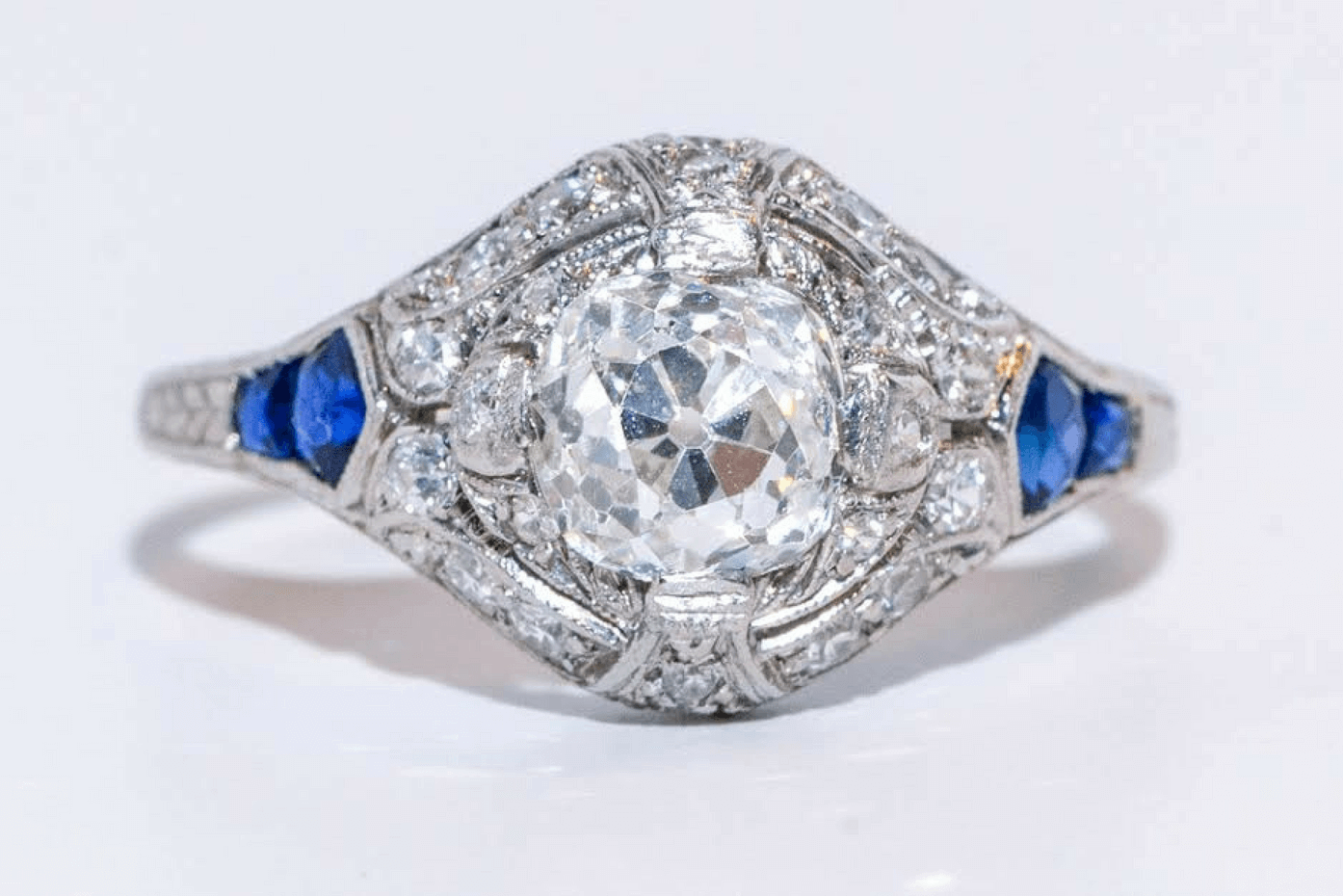 Old European Cut Diamond – This is the predecessor to the modern brilliant cut diamond and the name refers to diamonds cut between 1890 and 1930. These were the most commonly used diamonds at that time.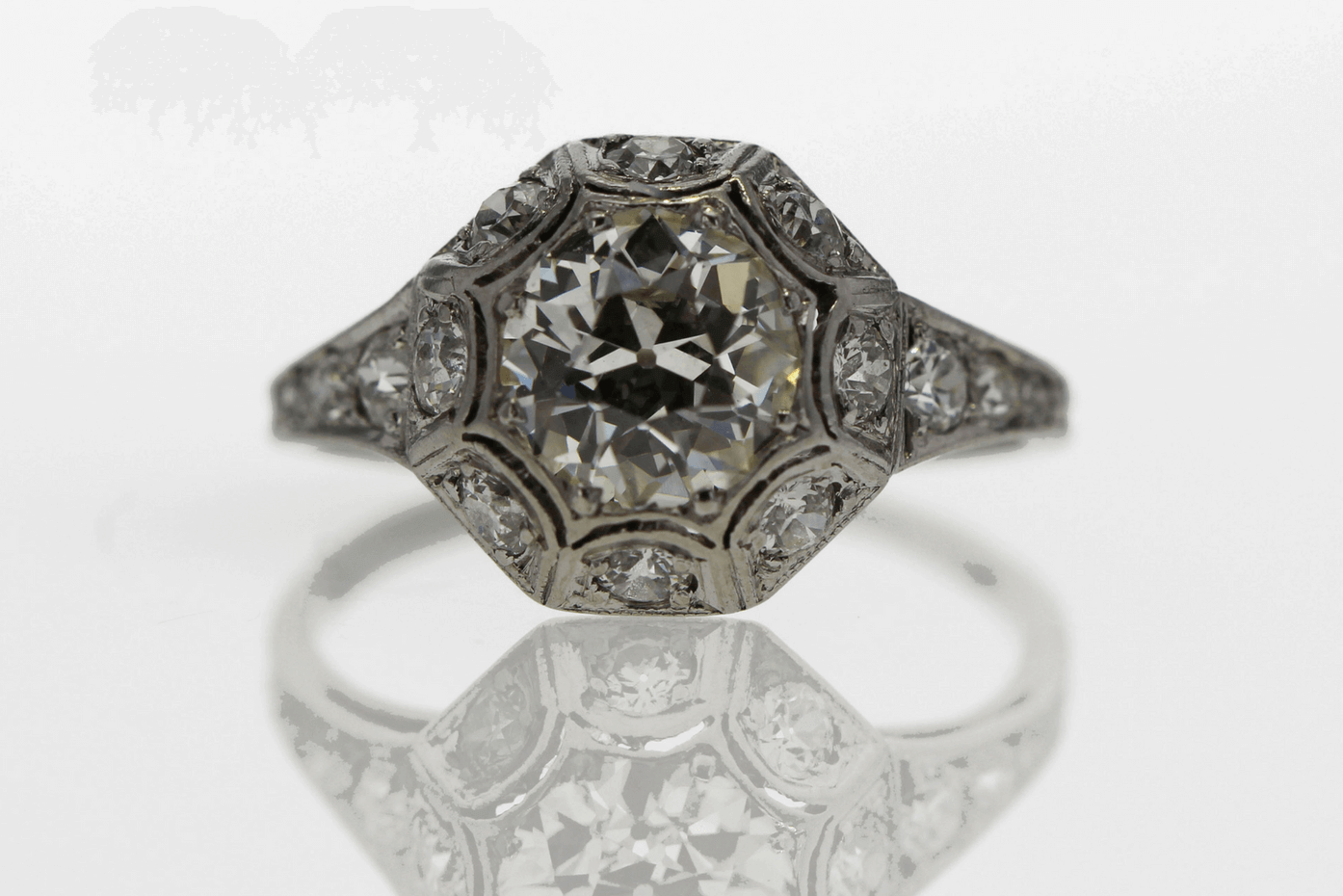 Sapphires – Sapphires have always been a popular choice for jewelry, symbolizing truth, love and many other virtues. The blue gemstone is often found in antique diamond rings from the late 19th century onwards and was even preferred to diamonds by many. As higher amounts of diamonds became available for purchase, those looking to purchase something rarer chose gemstones, including sapphires.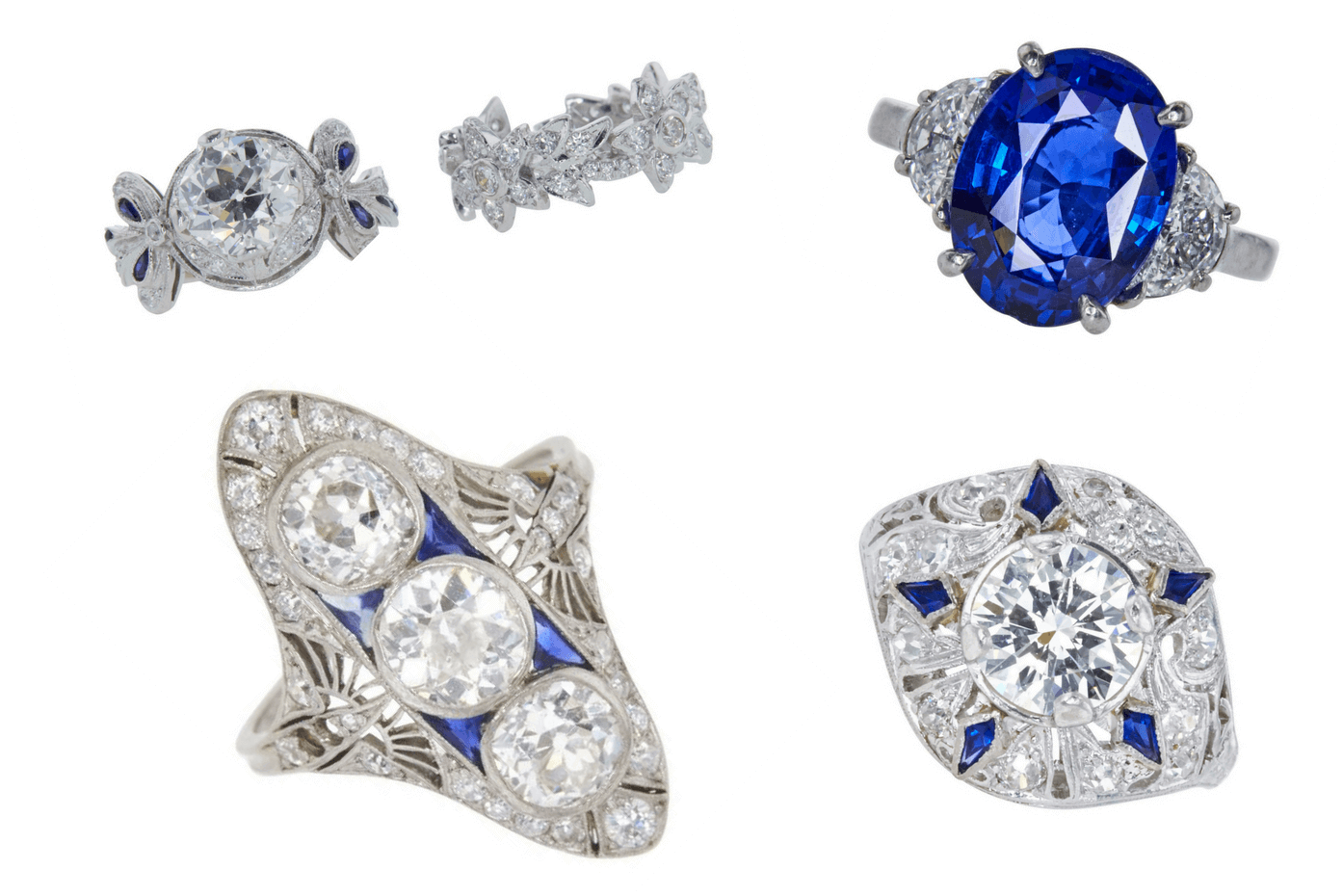 As we moved into the second half of the century, more diamond shapes and cuts became available. The round brilliant cut was developed in the 1920s but it's pair, the princess cut, was only created in the 1960s. Old shapes, such as the marquise, pear, and cushion, had been developed a long time ago. But with diamonds being more available and cheaper to come by, women began to look for alternatives to the more traditional round.
Antique and Vintage Inspired Rings
Today, there are hundreds of ring styles to choose from. If you like the look of an antique or vintage engagement ring but can't find the right one for yourself, consider antique-inspired or vintage-inspired rings as an alternative.
Both vintage and antique diamond engagement rings convey a certain elegance that some people find missing from more modern styles. If you are in the market for a ring and want something more unique, find the right antique or vintage style to suit yourself and start shopping. If you have a vintage or antique ring that you no longer want or need, Worthy's online auction platform is the perfect place to sell it. Once your ring arrives at our offices, it will be professionally cleaned, photographed and graded at the GIA labs. Our verified buyers know the true value of your item and are ready to pay deserving prices for these pieces. Have any questions? Feel free to contact us!
//= get_template_directory_uri() ?> //= get_template_directory_uri() ?> //= get_template_directory_uri() ?> //= get_template_directory_uri() ?> //= get_template_directory_uri() ?> //= get_template_directory_uri() ?>
©2011-2023 Worthy, Inc. All rights reserved.
Worthy, Inc. operates from 25 West 45th St., 2nd Floor, New York, NY 10036