Will Historic Prices Increase Demand for Colored Diamonds?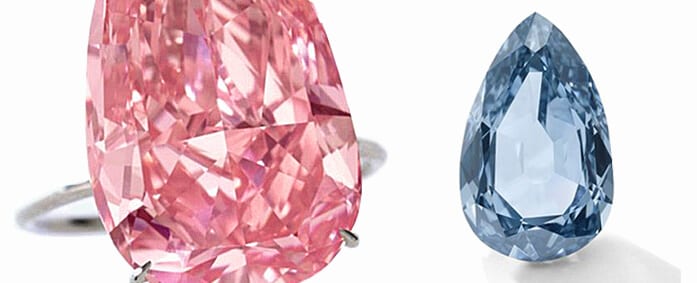 History was made last month in Geneva when the Oppenheimer Blue Diamond shattered a world auction record set just six months earlier, selling for $57.5 million. That's the highest price ever achieved for a gem at auction. The 14.62-carat fancy vivid blue diamond sold for more than $3.9 million per carat.

The bidding process at Christie's was as dramatic as any auction in recent memory. After 15 minutes, the number of potential buyers dwindled to two competitors who spent another 10 minutes trading offers inside a ballroom at the Four Seasons Hotel des Bergues packed with people whose silence was only broken by nervous laughter and applause as each million mark was toppled.

The Oppenheimer Blue has nearly everything one could ask for in a statement gem. It's the largest and finest fancy vivid blue diamond ever offered at auction. The rectangular-shaped gem showed excellent cut and polish. And it has pedigree: it was owned by Sir Philip Oppenheimer, arguably the most important member of the family that once controlled the De Beers Mining Company.




The only thing it didn't have was a flawless or internally flawless clarity grade. It was one step below at VVS1. Imagine the price it would have achieved if it were flawless!

It's certainly a one-of-a-lifetime gem and by itself can't be considered a barometer for the value of all colored diamonds. However, in light of the recent demand for colored diamonds at auction the past few years, it can be considered the high point of a very strong market.

For example, a day before the Oppenheimer Blue auction, pink diamond record was set by the Unique Pink, a 15.33-carat pear-shaped vivid pink diamond that sold for $31.6 million at Sotheby's Geneva: just over $2 million per carat.




The demand for colored diamonds didn't end there. At both auctions, high prices and records were set for several pieces, including:
A 7.32-carat IF, fancy blue diamond on ring that sold for $17.1 million.
A fancy intense diamond on a brooch that sold for $13.6 million, setting an auction record for a jewel designed by the Parisian jewelry house, Reza.
The Oriental Sunrise, a pair of 12.20 ct and 11.96 ct fancy vivid orange-yellow oval-cut diamond earrings that sold for $11.5 million ($476,238 per carat).
An 18.51-carat modified pear brilliant-cut fancy pink diamond pendant that sold for $9.7 million ($528,721 per carat), setting an auction record for a fancy pink diamond.
A pair of intense blue and pink diamond ear pendants that sold for $9.95 million.
A pear shaped fancy blue and fancy orangy pink diamond earrings that sold for nearly $6 million, double its high estimate, setting a new record for an online purchase during a live auction.
A 6.03-carat IF, pear-shaped fancy intense blue diamond ring, 6.03 carats that sold for $5.7 million ($955,254 per carat).
It's no secret that statement fancy colored diamonds have been in great demand in recent years based not only on their rarity and beauty, but also as an investment.

But will the success of statement colored diamonds trickle down to the broader market? That's a little trickier to answer, but the signs are good.

//= get_template_directory_uri() ?> //= get_template_directory_uri() ?> //= get_template_directory_uri() ?> //= get_template_directory_uri() ?> //= get_template_directory_uri() ?> //= get_template_directory_uri() ?>
©2011-2023 Worthy, Inc. All rights reserved.
Worthy, Inc. operates from 25 West 45th St., 2nd Floor, New York, NY 10036