Protecting an Elderly Parent From Financial Fraud & Abuse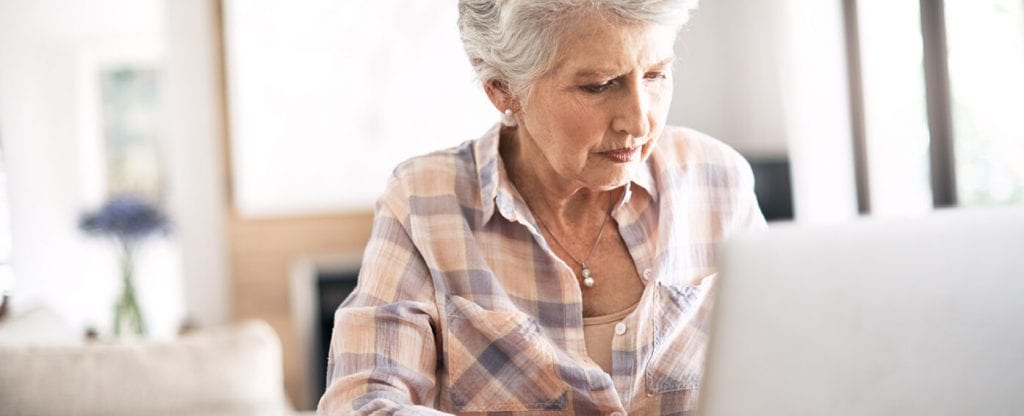 Financial scams involving the elderly are a national epidemic, and it's getting worse. In 2017 alone financial institutions filed 63,500 reports of suspicious activity involving older Americans with the federal government, a number that the Consumer Financial Protection Bureau believes likely represents "only a tiny fraction of the actual 3.5 million incidents of elder financial exploitation estimated to have happened that year." The problem is likely to get worse with the convergence of longer life expectancies and sophisticated technology that makes scamming harder to detect.
Family Ties
Many people think of scammers as shady looking, anonymous strangers. But unfortunately, they are often family members or people who the victim knows quite well.
"We often see situations where one adult child has power of attorney and uses that legal authority to exploit a parent financially," says Jen McGarry, head of the client risk prevention at RBC Wealth Management. "Romance scams where someone builds a relationship with the victim, often over the course of months, are also common." Once the scammer has gained the victim's trust, she says, he will ask for help with a financial emergency, such as bankruptcy or foreclosure. After the victim provides the money the scammer disappears, and so does the money. In another scam, criminals may try to impersonate a family member in dire straits–most often a grandchild–then ask for money for bail, attorney's fees, or a medical emergency.
Stranger Danger
Despite the fact that financial scammers and exploiters are usually family and friends, stranger scams are also common. Here are just a few of them:
"You've won the lottery!"
Someone contacts victims by phone to say they've won the lottery–but the catch is they need to immediately send a tax payment on the winnings before proceeds can be released. A variation of the lottery scam is the sweepstakes scam, where the criminal requires the victim to pay a fee to collect their "winnings." At the peak of the Jamaican Lottery Scam, one of the most pervasive sweepstakes scams in the U.S., Jamaican con artists placed approximately 30,000 phone calls to the United States per day and stole $300 million per year from tens of thousands of seniors.
"I'm from the IRS–and you owe us!"
Here, criminals most often accuse victims of owing back taxes and penalties. They then threaten drastic action, such as home foreclosure or arrest, if they don't receive immediate payment by certified check, credit card, electronic wire transfer, or other means. Often, the scammer uses a disguised, or "spoofed," caller identification number to make the victim believe that the call is coming from the "202" area code, the area code for government offices and the IRS in Washington, D.C.
"I'm from tech support."
This problem has grown substantially over the last five years, with Microsoft alone receiving more than 180,000 consumer complaints of computer-based fraud between May 2014 and October 2015. In this scam, con artists try to gain the victims' trust by saying they are from a well-known technology company, such as Microsoft, Apple, or Dell. Then, they warn that the victims' computer has been infected with a virus, and ask for remote access to fix the problem. Gaining access, they explain, requires personal information such as credit card or bank account numbers. In a related scam, individuals may see a pop-up window on their computer instructing them to contact a tech-support agent, who then tries to obtain personal information.
An Ounce of Prevention
Taking preventive measures before someone gets scammed can help head off problems down the road. "It's important to have an honest conversation with parents or loved ones. Understand their financial relationships and who they are doing business with," says McGarry. "And ask if you can get duplicate statements to help keep track of things. Once someone is diagnosed with dementia or significant cognitive impairment occurs, it's going to be too late to have that conversation."
A recent rule from the Financial Industry Regulatory Authority (FINRA) can also help adult children of aging parents. The "trusted contact rule," which went into effect last year, states that a financial advisor or broker who opens an account or updates information should make a reasonable effort to have a listed contact to notify if evidence of suspicious activity pops up. The rule is still relatively new, so not all firms have asked for this information on existing accounts. If that's the case the account owner can request that it be done.
You might also have a discussion about some common sense tips for avoiding fraud–things that might seem obvious to you, but might not be to an 85-year old in declining health:
Never give out personal information in response to an incoming call, even if that call seems to be coming from a bank, credit card company, or government agency.

If you get an inquiry for information from what appears to be a legitimate company, do not provide it. Instead, hang up and call the company directly using the phone number on your account statement or the company's web site.

If you suspect financial exploitation has occurred contact the brokerage firm, bank, or other financial services provider where the victim does business, and ask them to check for suspicious activity in the account.
If signs indicate something untoward is going on, the institution's next step will depend on the individual situation. Possible actions may include working with law enforcement, or contacting beneficiaries or trusted contacts named on the account to discuss the suspicious activity and possible recourse.
Another resource is the local adult protective services (APS) agency where the victim lives, which you can find by calling 800-677-1116. The Senate Aging Committee's Fraud Hotline at 1-855-303-9470 is mainly for reporting instances of fraud, but its phone reps can direct you to appropriate state or local authorities that may be able to help you.
//= get_template_directory_uri() ?> //= get_template_directory_uri() ?> //= get_template_directory_uri() ?> //= get_template_directory_uri() ?> //= get_template_directory_uri() ?> //= get_template_directory_uri() ?>
©2011-2023 Worthy, Inc. All rights reserved.
Worthy, Inc. operates from 25 West 45th St., 2nd Floor, New York, NY 10036