Solo Travel After 60…You Can Do It!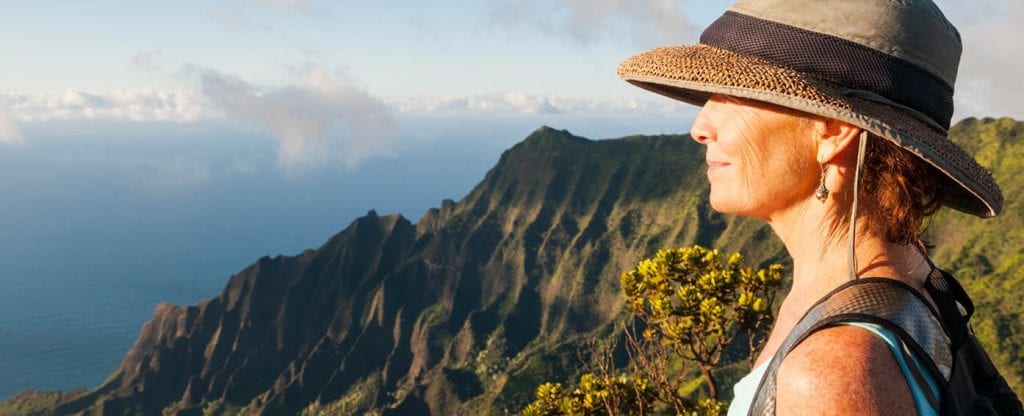 Vacation ideas for single women over sixty abound. If you have a compatible vacation partner, great. But if not, every travel opportunity can still be yours. The key is this mindset: You are NOT traveling alone because you are some sort of social pariah, you are traveling alone because you want to fashion the exact trip you want, with no compromise necessary.
Has this ever happened to you? I once phoned a friend to suggest an evening out. I asked her to go to my favorite Mexican restaurant and then to the movies to see a comedy that had great reviews. She excitedly, said, "Yes!" but followed it with the words, "But instead, let's go to the deli and then attend the concert in the park." Since it was just one night of my life, I agreed, but for my much-dreamed-of-trip-to-Italy-someday, she's not invited. Indeed, I'd rather go it alone.
What I mean by "go it alone": Whether I stay in the U.S. or travel abroad, I am most comfortable finding a tour company going to my desired locale. I like to travel by bus with two or three dozen fellow travelers. I want the tour company to make all the decisions. They need to line up the hotels and restaurants, get tickets to the main attractions, and encourage me to rotate my seat on the bus daily so that I get to know everyone. And of course, I want them to manage my luggage. All I want to do is get on their bus and go. Thus, when I say I am willing to, "go it alone," I mean that I am willing to join such a group knowing none of the other travelers in advance.
With this sort of vacation in mind, the choice of trips is endless. Of course, I can choose to go on my much-dreamed-of-trip-to-Italy, or I can pick any other country, state, or city to see. But beyond that, there are a lot of intriguing trips as well. Let's look at some by category:
Trips to Festivals/Special Events
All of these are offered by Road Scholar:
Sedona International Film Festival – You get to see the premieres of first-run and independent films and attend discussions with filmmakers, producers, and actors. (Other film festivals are also available – The Savannah Film Festival, Roger Ebert's Film Festival in Illinois, and the New Orleans Film Festival.)
National Cherry Blossom Festival in Washington D.C. – Did you know there are 3000 flowering cherry trees in D.C.? They were planted in 1912 and bloom annually to herald springtime.
The Kentucky Derby – Make a "Run for the Roses" with grandstand seats at Churchill Downs. With this trip you go behind the scenes at a horse breeding farm and talk to a jockey about racing.
Pageant of the Masters – is a unique event in Laguna Beach CA. Occurring at the Irvine Bowl Amphitheater since 1932, they recreate famous artwork using real people. I have been to this event and it is amazing! The "Festival of the Arts Fine Art Show" occurs at the same time featuring 140 local artists.
Holiday Happenings
Sad to be alone on a major holiday? Take one of these tours and be the envy of all instead. (All are offered by Road Scholar.)
Thanksgiving in historic Prescott AZ – Learn about Arizona, visit Montezuma Castle National Monument, ride the Verde Canyon Railway, AND sit down to a traditional Thanksgiving Feast with all your new friends.
Christmas in Sedona Arizona's Red Rocks and Grand Canyon – This trip's special treat is waking up on Christmas morning to the sunrise over the Grand Canyon!
Christmas in New York – You will have a seat at Radio City Music Hall's Christmas Spectacular, featuring the world-famous Rockettes.
New Year's Day – You've seen it on TV, now see it live: The Tournament of Roses Parade. Beyond attending the parade, you will help decorate a float before, and view all the floats up close after. I've done this and it's fabulous! (Note that AAA Travel also offers this trip.)
Women Only Travel
A travel company's catalog will show that many trips are offered on various dates. In such a listing, some companies will also specify that a particular trip is for women only. Additionally, a Google search of "women only travel" turned up these trips:

REI is an outdoor retailer that also offers adventure tours. In 2017 they started to offer trips for women only. They do all-female backpacking in Yellowstone and the Grand Canyon. They do sea kayaking in the Carolinas. Their newest trip is a multi-sport adventure in the Galapagos Islands.
Women Traveling Together is a tour company that offers a huge variety of trips in the United States and worldwide. If you click their "travel calendar" there are tabs for countries to visit; adventure and exotic travel; retreats and special events; cruises, sailing and train journeys. I have not used this company but their list of special events sounds amazing, especially the Albuquerque Balloon Festival!
As you think about your own travel desires, here are some other categories to consider and to Google for specific opportunities:

Food and Beverage Tours
Trips with Grandchildren
Outdoor Adventures – Walk, Bike, Hike, Kayak, Golf
Train Treks
Cruises
Spa Vacations
I'm sure that as you read these ideas, you will salivate over some and gag over others. Likewise, a prospective travel partner will feel the same way. But what if your likes and dislikes don't mesh? That means you might have to compromise and go on a trip that is not your number one choice, which is a perfectly fine thing to do. The other option, of course, is to travel solo, a decision that will open up the world to you…on your terms.

I tried it. I like it. I recommend it to you. You can do it!
//= get_template_directory_uri() ?> //= get_template_directory_uri() ?> //= get_template_directory_uri() ?> //= get_template_directory_uri() ?> //= get_template_directory_uri() ?> //= get_template_directory_uri() ?>
©2011-2023 Worthy, Inc. All rights reserved.
Worthy, Inc. operates from 25 West 45th St., 2nd Floor, New York, NY 10036