6 Lessons I Learned About Love Thanks to Eighties Music Videos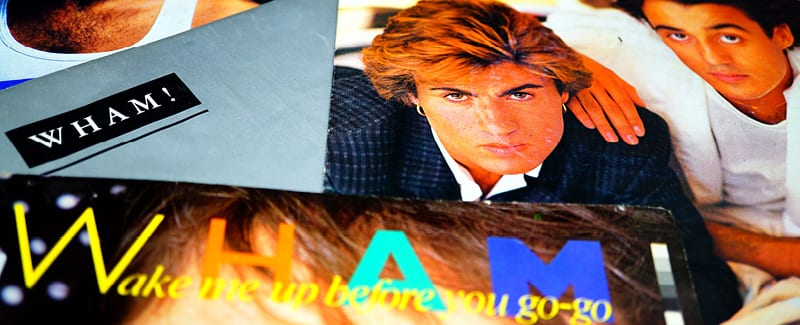 I watched an abnormally amount of MTV as a child so I suppose it's rather cool that I ended up an MTV personality back in the day. But, what I really learned from all those logged hours of RUN DMC videos, 120 Minutes, Head Bangers Ball, and Yo! MTV Raps goes beyond my love of music and straight to lessons I learned about love via the music video. I'm not saying that these lessons or "key points" were always the sanest tips on love, but that I was an impressionable young mind getting interesting impressions, to say the least!

Grab your love interest's attention by any means necessary
Okay, so writhing and doing a split on one or two cars— the split between the two vehicles is even more creative—seems a little out there, no? But Tawny Kitaen certainly made a point in Whitesnake's "Here I Go Again," video: if you want to catch your love's eye, you better stop traffic. Literally. Being a wallflower won't get you anywhere, for the most part, in love.
Take an adventure sometime—it just may lead you to love
Statistically, your chances of jumping into a comic book and finding adventure and love is about 0%, but if you watch and listen to A-Ha's " Take on Me" video, you might just open your mind. Maybe it's giving someone a chance even if you're afraid. Maybe it's going out more and mingling. Whatever the case—adventures can lead to possibilities.
Make note of sincerity
Madonna's "character" in her "Material Girl" video wasn't impressed with the director's attempts to get a date until he pulls out some simple flowers and a heartfelt smile. While diamonds are rather often, a girl's best friend, sincerity goes the distance and wins the race against empty promises and gifts. Are you really giving the good guy a chance? Or are you easily charmed by flash without substance?

Put it on … something lacy that is
When I saw George Michael's (RIP) "I Want Your Sex" video, I was young—and shocked. It was one of those videos I didn't want to get caught watching.
"Wow," I thought—that outfit was something else.
It was the first time I saw lingerie really, other than all my sisters' and mom's bras.
The message came across to me instantly: dress up and if you're afraid to, don't be. It will always be appreciated by your partner. But damn, no one told me as a young lady how tricky garters and stockings could be sometimes.
To boot— splashing water never looked so sexy and exciting before. Not sure how I feel about someone writing on me in lipstick though. Hmm.
Stand up for what you believe in and don't put up with crap
Pat Benatar's "Love Is a Battlefield" video starts out about a family (love) rift and then ends with her and her whole gang of dancers fighting some sleazy dude in a bar, but the message translates clear:
Take a stand—and don't put up with anyone's BS.
Don't sit back and let someone treat you badly. Respect yourself and demand others do the same.

Wait it out and dance the dance alone … until the right partner appears

Side note, unrelated: This song is my jam!
Whitney Houston's (also, RIP) "I Want to Dance with Somebody (Who Loves Me)" song and video is the anthem of the single lady! We all want a partner to boogie with, but until someone good enough to learn and execute the steps comes along, we've got to shimmy away by ourselves and find joy.
Sure, she had a top-hatted partner come in dance with her. A few guys she dumped water on. A crew as her backup dancers.
But all of that aside, the message in this video rang clear: Whitney was looking for a soul-mate, not a bed-mate and until that day came, she was going to keep dancing.
So should all of us. We should all wait until the right partner enters the ballroom …

The eighties were a fun time for music and music videos, and while I killed a whole ton of brain cells probably being glued to the Boob Tube, I do miss how exciting it was to see new videos and my favorite artists each day. Even if I didn't always get the best messages about love from them, I think I learned a few.

//= get_template_directory_uri() ?> //= get_template_directory_uri() ?> //= get_template_directory_uri() ?> //= get_template_directory_uri() ?> //= get_template_directory_uri() ?> //= get_template_directory_uri() ?>
©2011-2023 Worthy, Inc. All rights reserved.
Worthy, Inc. operates from 25 West 45th St., 2nd Floor, New York, NY 10036