Transitioning from SAHM to Working Mom with Stacey Freeman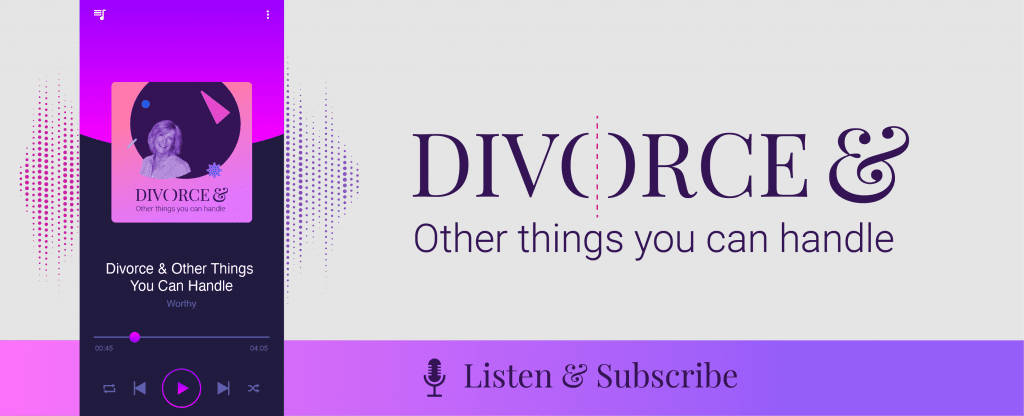 There are SO many changes that come with getting a divorce – two houses, splitting costs, speaking to lawyers on the regular. The list goes on and on. But if you were formally a stay-at-home parent (SAHM or SAHD), one of the biggest transitions you and your family face is starting or returning to work.

This week Stacey Freeman joins the podcast to discuss her own return to the workforce after her divorce. Stacey is a former lifestyle editor for the Worthy Blog, a writer, journalist, and founder of Write on Track LLC. Her upcoming book, I Bought My Husband's Mistress Lingerie, is coming out in November 2022.

In This Episode
How do you get motivated about returning to work when it's not what you're ready to do or really want to do?
It's important to choose something that you feel passionate about rather than choosing something that will make you money. For Stacey, who has a background in law but never practiced, her passion was writing and she started a blog with has now spun out to a full career where she writes for all types of fields, including law.
Divorce is so difficult and emotionally grueling. It won't work to couple that with a job that you don't enjoy.
Think of your career after divorce as a blank slate – you can be as creative as you want when finding your career path.
What is the impact of a stay-at-home parent's return to work on the children? Suddenly they aren't able to carpool, volunteer in the classroom, join field trips or class parties, or even help with homework.
The reality is that all of these challenges with scheduling and obligations when it comes to children exist and they don't go away when your kids are older and more independent. The challenges simply change.
Balance Your Time – You need to sit down and create a plan for yourself where you make sure to make time for your parenting obligations as well as time to enjoy and have fun with your kids.
How difficult is it for children to adapt from having a SAHM to a working mom?
For Stacey, she found there was a learning curve for both her and her children. Going back to work and working from home meant she was physically there but not on call 24/7 as she previously had been. She had to teach her children and herself to set boundaries so she could work without being constantly interrupted by her children.
How do you explain your return to work to the children in a way that's positive and productive?
It was important for Stacey to be open and honest with her children so she explained that she was going to start writing for work in order to make money and help support the family. She wanted to be clear that this was something she wanted to do rather than had to do for money.
How do you juggle all of the things that need to get done – for work, for your kids, for your house – in one day?
"Look Away" – Your house will not be perfect. There are not enough hours in a day for everything to be done the way you want it to be. You need to learn to live with some of the mess, close your kids bedroom doors, and accept things as they are.
Eve Rodski's "Invisiable Labor" – For Stacey, whose ex-husband lived half way around the world, things were a little different since almost all of the responsibilities were on her all the time. But when her husband did come to visit and took their kids on vacation, she learned to use her voice to tell him (and her kids) how to take care of things (like laundry and packing) so that all of the work didn't end up in her lap.
Be careful about the expectations you set at the beginning – make sure to distribute the tasks so that all of the invisible labor doesn't end up on your lap.
What are some other practical considerations to take into account when returning to work?
Remember that the conversations you have with your kids and your ex about the changes going on will need to happen many times. No one is going to fully transform after being told one time to be more considerate of your time.
Let the mess go/embrace the chaos
Learn how to ask for help – you don't need to run your house completely alone anymore. Use your voice and speak up.
About Stacey
Stacey Freeman is a writer and journalist and the founder of Write On Track LLC, a full-service consultancy dedicated to providing high-quality content and strategy to individuals and businesses. Her writing has appeared in The Washington Post, The Lily (published by The Washington Post), Forbes, Entrepreneur, MarketWatch, Good Housekeeping, Cosmopolitan, Woman's Day, Town & Country, InStyle, PBS' Next Avenue, AARP, SheKnows, Yahoo!, MSN, HuffPost, POPSUGAR, Your Teen, Grown & Flown, Scary Mommy, CafeMom, MariaShriver.com, and dozens of other well-known platforms worldwide. Her upcoming book, I Bought My Husband's Mistress Lingerie, will be available in November 2022. She lives in New Jersey with her three children.

//= get_template_directory_uri() ?> //= get_template_directory_uri() ?> //= get_template_directory_uri() ?> //= get_template_directory_uri() ?> //= get_template_directory_uri() ?> //= get_template_directory_uri() ?>
©2011-2023 Worthy, Inc. All rights reserved.
Worthy, Inc. operates from 45 W 45th St, 4th Floor New York, NY 10036