Coping Strategies For When Your Marriage Ends with Julie Starr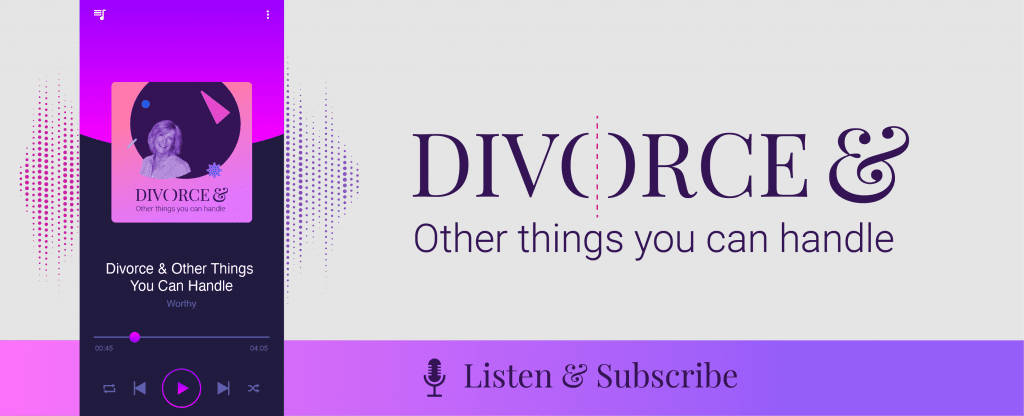 Whether you're the person who is making the decision or the person receiving the decision, we all need help to get through this extremely challenging time. The good news is that there are some very effective strategies that will start making a difference today.

Life coach and author Julie Starr joins Mandy to discuss how she helps people transition from being married, through the legal process, and out the other side to their next phase of life. Julie is the author of the book Your Husband Left, Now What and went through her own divorce in 2003.

In This Episode
Here are some of Julie's tools for coping with divorce:
Affirmations – something you don't believe yet but want to happen. These are best in present tense and as short as possible. Examples include: "I'm self-protecting", "I'm moving through this", "Good things are happening".
Songs – Find a song or a few songs that empower you and fortify you. Julie suggested I Will Survive by Gloria Gaynor.
Allow yourself to feel the grief and journey through it. It is vital to do this in order to get to the other side. And you are allowed to grieve whether you were left or if you led the divorce. You're grieving the loss of the marriage you had thought would last forever.
Make Lists – lists give us structure and when things are chaotic during divorce so lists help you hold your ground. Write down things that you would like to do or things you like about yourself – it's all about living a positive life or a better life.
Wheel of Life – this is an exercise that breaks life into sections like relationships and work. In the exercise, every 3 months you look at the sections to make sure there is balance.
And
How do you choose what advice to follow? Ask yourself if it eases you. If it doesn't, leave it out but thank the person who advised you because they meant well.
One sentence for women: "Be gentle to yourself." So many things go back to women being too hard on themselves so saying this affirmation can be helpful.
Finances are self-care for your future self. Use the resources available to you to make sure your finances are in order.
Remember: Everything is temporary. Pace yourself through this.
About Julie
Julie Starr is an award-winning social issues advocate for human rights and environmental protection.
As a trained Life Coach, Julie's latest visionary work is in the field of supporting women in challenge, specifically women who experience their husbands leaving. Julie provides solutions and empowerment for better lives lived, showing women how to live a life they love. Her warm, honest, straight shooter approach has helped many women get their feet back on the ground and make creative choices.

She's the mom of 3 incredible daughters and the grandmother of many.

//= get_template_directory_uri() ?> //= get_template_directory_uri() ?> //= get_template_directory_uri() ?> //= get_template_directory_uri() ?> //= get_template_directory_uri() ?> //= get_template_directory_uri() ?>
©2011-2023 Worthy, Inc. All rights reserved.
Worthy, Inc. operates from 45 W 45th St, 4th Floor New York, NY 10036