Handling Financial Issues During The Divorce Process with Lisa Zeiderman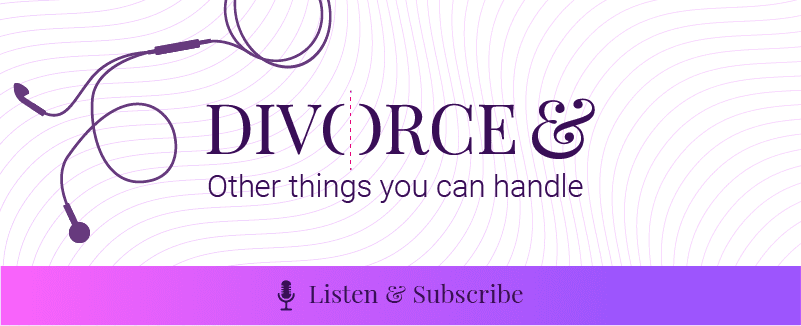 Welcome to season 4 of our podcast, Divorce & Other Things You Can Handle. For the first episode of our new season, we're talking about handling financial issues during the divorce process. This is the period after a divorce has been filed and before the court issues a decree. It can be a very short period of time or it could be months and months, even years depending on how contentious your situation is. And there are a ton of money issues that come up during this time which can trip you up without you even realizing it or could make you tear your hair out.
Here to help us make some sense of this is my guest Lisa Zeiderman. Lisa is the managing partner at Miller Zeiderman LLP in New York. Lisa was named to Crain's New York list of Notable Women Attorneys for 2022 and regularly handles complex financial and custody divorce matters.
In This Episode
Understanding Temporary Restraining Orders or Automatic Orders

In order for these to take effect, one party needs to file for divorce and serve the other party. These orders are put in place to prohibit divorcing parties from withdrawing or transferring money but you can still meet your normal expenses. In most states, there are certain areas where you need permission from the court to make purchases or withdrawals: withdrawing from a retirement account, buying a house, etc.

What is considered the normal course of business or necessities of life which you don't need the court's permission for?

This can be a gray area but think of the normal expenses that meet your lifestyle and your budget, what Lisa calls the "status quo". If in the normal course of married life, you took 2 vacations a year, and now one party is taking 10 vacations a year, that's considered outside the normal course of business.

What happens when the parties have separate households? How are these considered reasonable or unreasonable and are they considered marital expenses?

When a separated couple goes from one home to two homes, there is an implied increase in the cost. Lisa recommends using common sense when it comes to this spending.
Avoid taking on more big expenses during this time (such as enrolling your children in private school when they weren't enrolled before).

What's the best guidance for people who are doing this on their own, without the help of an attorney? Lisa's advice is that only couples who can work together should write this financial agreement on their own and advises that couples who choose that route have a lawyer review the document to avoid it either being rejected by the courts or being locked into terms they didn't understand.
Post Commencement Income – Any money you or your ex earn once the divorce has been filed for.
Lisa's advice for handling unusual expenses.
Tackling Financial Abuse – Here's Lisa's advice if you know or suspect you are being financially abused:

Seek help from financial abuse centers, such as Savvy Ladies (see resources below) and/or help from a lawyer.
Seek help from a therapist
Financial abuse is a type of control over a person
The abuser can manipulate the victim to capitulate to divorce terms that will negatively impact them,
A sure sign of financial abuse is 1) when bank and financial statements are no longer coming to the home and/or 2) you don't have the passwords to online banking and financial sites.
Resources
About Lisa
Lisa Zeiderman is Managing Partner at Miller Zeiderman LLP. A Matrimonial Attorney, CFL, and Certified Divorce Financial Analyst, she regularly handles complex financial and custody divorce matters for high-net-worth individuals. Named to the Crain's New York list of Notable Women Attorneys for 2022, a Hudson Valley Best Lawyer in 2022, and a 2021 Best Family Law Attorney for Client Satisfaction by the American Institute of Family Law Attorneys, among other awards, Lisa is also a founding member of the American Academy of Certified Financial Litigators and a member of the panel for Attorneys for Children. Lisa also serves as the Vice President of the Board of Savvy Ladies, Inc., and on the board of LIFT, Legal Information for Families Today.
//= get_template_directory_uri() ?> //= get_template_directory_uri() ?> //= get_template_directory_uri() ?> //= get_template_directory_uri() ?> //= get_template_directory_uri() ?> //= get_template_directory_uri() ?>
©2011-2023 Worthy, Inc. All rights reserved.
Worthy, Inc. operates from 25 West 45th St., 2nd Floor, New York, NY 10036