12 Scholarships for Single Moms Going Back to School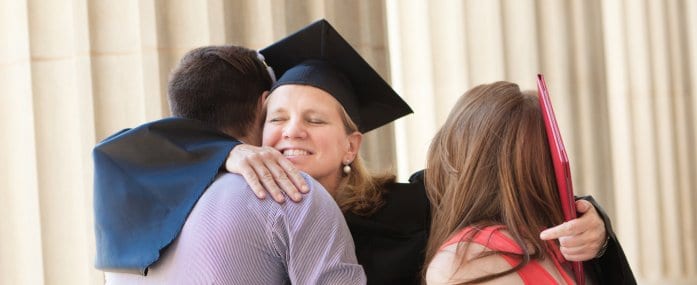 In January 2018, I decided that I didn't have enough to do as a single mom and went back to school to pursue a Masters degree. I wish I could say I did it simply because I had the urge to further my education. However, the truth is, even with a Bachelor's Degree in Cellular and Molecular Biology, my earning potential was not enough to support me and my daughter. Without a higher degree, I was only being considered for close to minimum wage jobs. If I ever wanted to have financial independence and finally move out of my mother's house, I needed to make money moves like Cardi B…or like Oprah Winfrey (if she's more your speed). So without hesitation, I signed up for a Masters program in healthcare administration…and the $20,000 in student loans I needed to complete the program. I am closing in on the finish line now but man, do I wish I could go back and do things a bit differently.
The first thing I would do differently? Research other ways to fund my education. I had no idea there are so many scholarships for single moms out there. Just do a simple Google search and you will find pages of information dedicated to helping single moms like me fund a portion of their education. Scholarships are granted typically for writing a meaningful essay on the assigned topic. They will usually have some requirements for eligibility but there are so many available that I am sure any single mama will be able to find one that suits her. For example, my friends at Worthy offer a scholarship for single moms over 30 looking to pursue a higher education. Scholarships like these can save us so much stress. I went from being close to $30,000 in debt to over $50,000 in debt after student loans. While I probably wouldn't have been able to fund my entire degree with scholarships, getting $500 or $1000 (for free!) would have lessened the burden of paying it back later.
Scholarships for Single Moms
More Tips For Single Moms Going Back to School
The second change I would make to this journey: being realistic with myself about how much free time I have. Why did I think taking on a full-time course load in the middle of the most emotional time in my life was smart? Recovering from a heartbreak and trying to walk your toddler through a heartbreak of her own requires a significant amount of time. I had to realize how much my daughter needed me to not only physically be there but how much she needed me present. I taught her how to vocalize her need for care and attention because I'm human. Sometimes, I get caught up in my stuff that I don't always pick up on hers. She will straight up tell me "Mom, I need attention." I will stop what I am doing, no questions asked, and I spend real time with her. Some might think that's outrageous but look at the number of broken adults out there who needed more love than they received…is it really so outrageous? I made the decision to go down to part-time course loads. It took me longer than it should have but I am so much more happy and at peace because of it.
The last thing I think would have made this journey more smooth? Understanding and accepting that who I am at 31 is not who I was at 20. I have always been a star student. I took my education very seriously from a very early age. I was in the local newspaper in elementary school for my bomb ass testing scores so we don't do anything less than A work over here…and that's the mindset I went into graduate school with. The problem with that is, I was a top-notch student when I didn't have a child or bills or a full-time job. I had time for extra credit and focusing on nothing but school. That's not my life anymore. My attention and time are divided between a million things every day. If I had accepted that earlier this year, I probably would not have been so hard on myself for turning in late assignments or not being able to bang out a paper in under an hour. It literally takes me longer to complete a sentence on paper. Having frequent conversations with a four-year-old turns you into a Baby Shark singing pro but it doesn't do much to boost your essay writing skills. I had to accept that I am a single mom trying to juggle and get it all done on my own..it's okay that it's not all perfect. It's okay that I'm not perfect.
//= get_template_directory_uri() ?> //= get_template_directory_uri() ?> //= get_template_directory_uri() ?> //= get_template_directory_uri() ?> //= get_template_directory_uri() ?> //= get_template_directory_uri() ?>
©2011-2023 Worthy, Inc. All rights reserved.
Worthy, Inc. operates from 25 West 45th St., 2nd Floor, New York, NY 10036