Worthy Spotlight Series: Stacey Freeman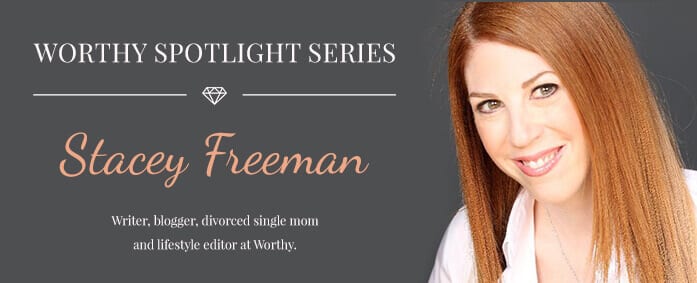 In this series, we put the spotlight on some of the most admirable women out there. Women with empowering stories to share. Inspiring, worthy women. In this second edition, meet Stacey Freeman, writer, blogger, founder and managing director of Write On Track, LLC and lifestyle editor at Worthy. Read and share with worthy women around you!
How did you find your personal best self? Describe your journey to re-energize and find your joys that keep you balanced in the business world today.
I met the man (he was actually still a teenager then) that I married when I was 15 years old, was engaged at 20, and married at 22. By the time he and I separated when I was 39, I really had no idea what my joys were. I had spent more than a decade as a stay-at-home mom and during those years was primarily focused on taking care of my family and not me. When my divorced was finalized, and I was able to disengage from that process, I spent time thinking about how I wanted to spend the next half of my life, both personally and professionally. I didn't get it right at first, but unlike in the past, I learned how to listen to my intuition and move on when something didn't feel right. I also learned how to recognize the signs telling me that I was where I am supposed to be and that I needed to run with it, not from it. Like most else, being self-aware takes practice but, eventually, I did get it right. Today, I set aside time for myself, and I no longer feel guilty doing so. There is enough time in the day for business and pleasure if I budget for it.
What was your motivation to launch your business endeavor? Who inspired you?
When I was in the first grade, my teacher told me I should become a writer. It took me more than three decades for me to listen, but I am very glad I did, and I have no regrets not taking the advice sooner. The truth is I wasn't ready until I was ready. And all of the experiences I had during my life before I launched my business are what led me here — to the career that I was supposed to have (and do have!) today. I truly believe that to be successful you need to do what you love and love what you do. Your career should not be "just a job" but be part of who you are. I am a writer. It took a long time, but I embrace that now.
How do you handle a bad day? When you didn't think you could see your vision thru, what kept you going?
Life is filled with highs and lows. And we cannot always control what comes into our lives. What we can control, however, is the way in which we process and then deal with our experiences. If I perceive my day as a bad one, whether it's the result of a personal matter or one that is business-related, I distract myself by changing directions, at least for a while. If I am working, I will, for example, redirect my attention to a different project. Or if I am facing a personal crisis that is draining me emotionally, I will spend extra time focusing on my physical being, knowing full well that body strength is closely related to mental strength. During these times, I will get moving, literally, by either going for a brisk walk outside or jogging on the treadmill. And I make sure to eat healthy (most of the time). Failure was never and still isn't an option for me. When I first started out, I had a vision of how I saw my career taking shape. I was specific in my aspirations but not too specific, and I left room for change. I remain flexible, even to this day, which allows me to stay open to new ideas and opportunities. Believe me when I tell you, there are plenty.
What words of advice would you offer women on their empowerment journey to relaunch themselves?
Don't give up! You will meet a lot of naysayers along the way, people who will tell you that you're foolish or crazy and that you should be doing something different with your life. If you are pursuing your passion as I was, don't listen. Give your dreams a chance. But be realistic in your expectations. Success is relative. Reach for the moon and the stars but don't expect to reach them overnight. Set benchmarks for yourself. Assess your strengths. I guarantee if you give it some serious thought, you will uncover hidden talents and skills you didn't believe or remember you possess. Don't neglect to evaluate your weaknesses either and focus on where you need improvement. Then work on improving! It sounds trite, but you really do need to believe in yourself. Sometimes it will be all you have to go on. But without that sense of conviction, you have nothing.
How did you help finance your vision and new initiatives that enabled you to build your newest success?
I knew I wanted to make a living as a writer. Getting started required more effort than monetary investment. But there was an opportunity cost involved; the time I spent writing and not yet earning income was time I could have devoted to another position where I would be gainfully employed. So even though I didn't have to outlay much money at the beginning, I wasn't taking full advantage of my earning potential. Fortunately, my spousal support was sufficient to buy me some time to pursue my dream. In the meantime, I kept my costs down and budgeted the funds I did have. I developed a plan, and I stuck to it. I also gave myself a reasonable timeframe to see if I could gain traction as a writer. If I didn't, I knew that I could still transition my experience into another entrepreneurial endeavor or a corporate position. Little by little, I did gain traction. And after spending a couple of years writing and blogging, I founded my business. With a lot of hard work and persistence, I am happy to say that my business continues to grow each day. Now, with a portion of the money I earn, I continue to reinvest in my dream. And me.
About Stacey Freeman
Stacey Freeman is a writer and blogger from the New York City area, a divorced single mom, a lifestyle editor at Worthy.com, and the founder and managing director of Write On Track, LLC, a full-service consultancy dedicated to providing high-quality content to individuals and businesses. A respected voice for divorce issues affecting both women and men, Stacey has been published in The Washington Post, Good Housekeeping, Cosmopolitan, Woman's Day, Town & Country, The Huffington Post, xoJane, Scary Mommy, The Stir, MariaShriver.com, The Good Men Project, and various well-known platforms worldwide. Stacey is frequently called upon for her expertise and insights on the divorce experience and has repeatedly been quoted in The Huffington Post's divorce vertical. Stacey holds her B.A. in English, summa cum laude and Phi Beta Kappa, from the University at Albany and her J.D. from Boston University School of Law. Email Stacey today at [email protected] or call 800-203-1946 for a free consultation and proposal. For more information, visit www.WriteOnTrackLLC.com.
//= get_template_directory_uri() ?> //= get_template_directory_uri() ?> //= get_template_directory_uri() ?> //= get_template_directory_uri() ?> //= get_template_directory_uri() ?> //= get_template_directory_uri() ?>
©2011-2023 Worthy, Inc. All rights reserved.
Worthy, Inc. operates from 45 W 45th St, 4th Floor New York, NY 10036