Worthy's February Hot List: A Worthy Tour, Our Events and What to Watch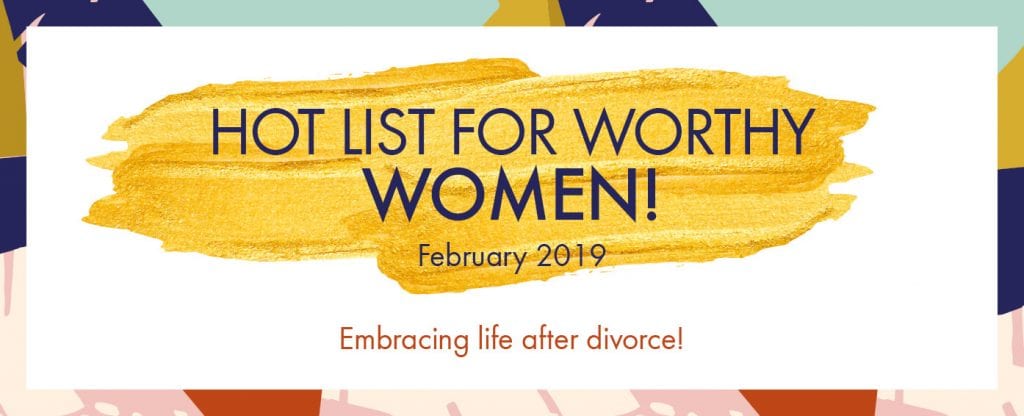 Do you have any plans for February? We've got a lot we're buzzing about, from the big and small screens to some very worthy events. Let's get to it!
On the Silver Screen
While it may be Oscar month (that's February 24th if you were wondering), sometimes we just need a silly movie to make us laugh and feel good. February is chock full of that, with our two favorites being a bit of a break from the standard rom-com.
Isn't It Romantic?
You may recognize Rebel Wilson, the Aussie star of this film, from her hilarious roles in "Pitch Perfect" and "Bridesmaids". She returns in "Isn't It Romantic?" as Natalie, an architect living in the big apple who is quite the cynic when it comes to love. After she gets knocked unconscious in a subway mugging, Natalie wakes up in an alternate universe where she is the focus of a real-life romantic comedy.
"Isn't It Romantic?" hits theaters in time for V-Day, February 14th.
What Men Want
Ever wonder what men are thinking as you sit in a meeting together? In Taraji P. Henson's new movie, one lucky sports agent gets to do just that. When Ali Davis gets fed up with her male counterparts at work, she seeks the help of a psychic who gives her a whacky concoction that gives her the ability to hear men's thoughts! Rather than using her new powers to ensnare romantic partners, Ali turns the tables on her male coworkers and puts all her effort into signing a new basketball superstar.
"What Men Want" gets to theaters on February 8th.
What to Watch From Home
While we don't know of another polar-vortex anytime soon, there will still be plenty of cold nights (and maybe snow days) when you might want to stay in. Netflix has plenty of old and new favorites to catch this month.
Friends From College
If you are looking for an upbeat, witty and often on-point show to breeze through in a day or night, "Friends From College" is it. The first 10 episode season debuted in 2017 with a quirky cast, including Keegan-Michael Key ("Key and Peele" and "Modern Family), Cobie Smulders ("How I Met Your Mother") and Fred Savage ("The Wonder Years"), all playing a group of six college friends who have remained close over the years as their lives have progressed. The first season saw the two married couples in the show hit some rough patches and we get to see how the couples and their friends do their best to overcome the new reality, for better or for worse.
This show is both funny and poignant about the realities of life. While not always cheery, it is always entertaining. You can watch "Friends From College" on Netflix.
Russian Doll
New to Netflix this month is "Russian Doll", co-created by the hilarious and very talented Amy Poehler. The series stars Natasha Lyonne ("Orange is the New Black") as Nadia, a young woman in New York who goes to a party one night where she ends up dying. The next morning, however, Nadia wakes up and relives the same day, only to die in a different way over the course of the evening. Stuck in a strange loop of some kind, Nadia tries to find her way out with the help of others who are in a similar and twisted situation.
India.Arie, Her WORTHY Album and Tour
If you are looking for something beyond the movies and TV to inspire and uplift you, we can fully recommend checking out India.Arie's new album WORTHY and her upcoming cross-country tour. WORTHY debuts on February 15th and it will be her first full-length album in five years so fans are eagerly awaiting to hear her newest tracks.
India has taken the word "worthy" in a direction we can only applaud, as an empowering expression of self-love, both for herself and for her audience, and deserving of regard and respect. India embodies so many powerful messages, as a humanitarian, as a woman and as an artist. We cannot wait to hear what she has to say in her 13 new songs.
The tour kicks off in Jacksonville, Florida on April 30th. You can check out the dates here.
Our Upcoming Events
We've got a lot of events coming up this month that we're excited about! If you are in any LA, New York City or the San Francisco area, make sure to check them out.
Love Yourself with Its Over Easy on February 9th in LA
Join Laura Wasser and trainer Jennifer Giamo in an afternoon of fun and pampering celebrating new chapters and feeling good at the Giuseppe Franco Salon. See the event on Facebook.
Dating in the New World with Karen Bigman on February 20th in NYC
The Divorcierge invites women and men to join her for a conversation about what it takes to be successful finding and moving into new relationships. Get tickets through Facebook.
Thriving Through Divorce with Karen Sparks on February 28th in Menlo Park, CA
Karen Sparks invites you to take part in a discussion on finance, life journeys and family relationships with the help of a panel of experts. Check out the event here.
//= get_template_directory_uri() ?> //= get_template_directory_uri() ?> //= get_template_directory_uri() ?> //= get_template_directory_uri() ?> //= get_template_directory_uri() ?> //= get_template_directory_uri() ?>
©2011-2023 Worthy, Inc. All rights reserved.
Worthy, Inc. operates from 25 West 45th St., 2nd Floor, New York, NY 10036