Worthy's Hot List for June: Lynn Koplitz, Book Club, and Having #ItAll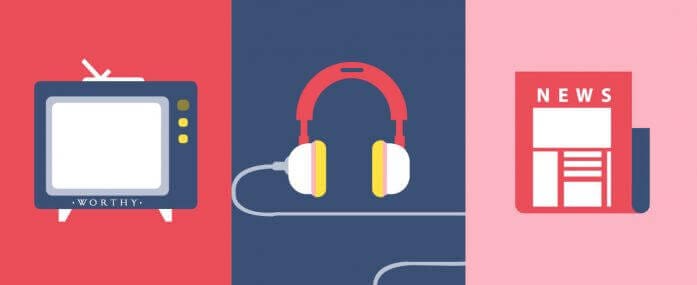 Welcome to the Worthy Hot List for June! A place to see what worthy women are watching, listening to, talking about and all things hot. Be you a divorced lady, a single mama or a gal who wants the low down on all thats pop culture, this is your list.
What to Watch
It's official. Summer is here! Whether the hot temperatures mean afternoons at the pool or weekends at the beach (or both), you're going to want to know what's up. We are particularly excited for a few things new to Netflix this month and a few oldies but goodies that are on there too.
First up is "Rumor Has It" which is new to Netflix in June. The movie, which debuted in 2005, stars Jennifer Aniston, Mark Ruffalo, Kevin Costner and Shirley MacLaine. When Sarah (Aniston) returns home to California for her sister's wedding with her fiance (Ruffalo), she starts digging through her family's history to see if her real father may actually be Beau Burroughs, the inspiration for… Benjamin Braddock's role in "The Graduate". Sarah sets out to meet the man who supposedly won the hearts of both her mother and grandmother and to find out the truth about her parents. Coo coo ca-choo, Mrs. Robinson.
This lighthearted romcom is great for a movie night with your kids, friends or even on your own.
Netflix happens to have an abundance of fantastic female stand-up comics with hour-long specials that will make your mascara run and ribs sore. One of our personal favorites is Lynn Koplitz's "Hormonal Beast" where she covers aging, men and being called "crazy". It is the perfect thing to watch with some girl friends and some snacks (we recommend saving the drinks until later to avoid laughter-induced spilling- it's that kind of hilarious).
Need to take a break from the heat? Head over to your nearest theater to catch to either (or both) of these summer movies. First up is "Book Club", a feel good movie about four women in their 70's who each embark on their own path of romantic and sexual exploration after reading "50 Shades of Grey". Even if the plot sounds a little dry, the cast is enough to draw you in – the movie stars Diane Keaton, Jane Fonda, Candice Bergen and Mary Steenburgen. Oh and lots of wine.
And in case you missed it on Mother's Day, you must go see "Life of the Party" starring a few of our favorites, including Melissa McCarthy and Maya Rudolph. McCarthy plays Deanna, the mom of a college student who finds herself divorced with an empty house but so much life left to live. Hilarity ensues when Deanna joins her daughter Maddie (Molly Gordon) as a newly enrolled college student, going after her own fresh start.
And of course, there was this extra special moment on Saturday Night Live last month when McCarthy came on as Michael Che's "World's Proudest Step-Mom". It was both funny and heartwarming and we're sure you'll enjoy it.
On Our Radar
While a nice amount of our time is spent talking about TV and movies, we've noticed that ads, from commercials to radio to YouTube, are getting more and more buzz. It seems like these days lots of brands are taking the extra time to come up with a little extra something for their marketing campaigns to get them noticed. After all, in a world where you are bombarded with images, sounds and content, you have to do something to make yourself stand out!
Recently, Lean Cuisine took to Twitter to ask women what "having it all" meant to them. The women who participated took a survey which focused on what they wanted out of life from categories such as family, career and finances. Not too long after, these same women were invited to a mock store along with their female friends and family and asked to "shop" for life goals off of shelves and displays like they would in a grocery store.
The thinking behind this was that in the presence of other women, we often choose goals for ourselves that are both more true to ourselves and more ambitious. Whether it is the encouragement we get from our fellow females or just simply feeling their support through physical presence, women help women be their best.
The results from this social experiment were overwhelming. According to Lean Cuisine, 89% of women set more ambitious goals for themselves and 77% chose greater aspirations in many aspects of life.
Paying Tribute
In light of recent events, we'd like to take a moment to acknowledge the world's loss of Kate Spade. Kate was a go-getter in the world of fashioning, beginning her career by designing a line of handbags out of her New York apartment with her husband Andy. She developed a signature style for her products with modern, sleek designs, pops of color and utilitarian shapes which have remained popular for almost three decades. Details of Kate's death aside, it is important for all of us, women, men, divorced, married, happy, sad, to be aware of how widely depression affects us and the danger of not seeking help when you need it. We are all worthy of happiness in life and should help ourselves and others achieve it.
If you or someone you know is or may be at risk for suicide, we urge you to contact the professionals at the National Suicide Prevention Lifeline who are trained and ready to get you the help you need. Please contact them immediately at 1-800-273-8255.
Have something hot you think we should be talking about? Get in touch with us at [email protected] to let us know!
//= get_template_directory_uri() ?> //= get_template_directory_uri() ?> //= get_template_directory_uri() ?> //= get_template_directory_uri() ?> //= get_template_directory_uri() ?> //= get_template_directory_uri() ?>
©2011-2023 Worthy, Inc. All rights reserved.
Worthy, Inc. operates from 25 West 45th St., 2nd Floor, New York, NY 10036