Worthy's Hot List For March 2020: Channeling The Spring Spirit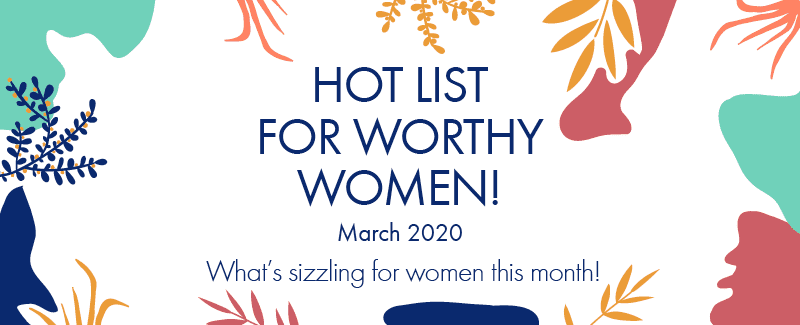 Springtime is right around the corner, and with the weather warming up this month is a perfect time to get outdoors. It brings wildflower blooms all over the US, festivities of St. Patricks Day and more.
Get Out And Smell The Wildflowers
Hop in the car with your friends and family to go enjoy the beautiful wonders of mother nature's bloom. The springtime solstice arrives March 19th-20th this year, so take a book, a picnic, or a camera for a beautiful photoshoot and enjoy the flowers. just remember to respect the wild and leave no traces. Here are a few recommendations across the country:

West Coast
The West Coast is full of super blooms. The desert isn't the first place you think to go for beautiful flowers, but Joshua Tree Desert and Anza-Borrego Desert are full of lively surprises. The desolate desert floors turn into carpets of green foliage, purple phacelias, orange poppies, even yellow and scarlet cacti blossoms.
South West
Hill Country, Texas is notorious for its vibrant bluebonnet wildflower bloom. Austin even has The Lady Bird Johnson Wildflower Center where you can start your wildflower adventure. Local towns have put together a self-guided loop tour around the Highland Lakes area where you can find groups of bluebonnets mixed with Indian paintbrush and coreopsis.

New England
The White Mountains of New Hampshire are some of the most rugged mountains in New England but they are also known for their fields of the spectacular wild Lupine. The Lupine is a beautiful plant that comes from the legume family. In the spring it brings unique multi-color flower blossoms from bright yellow to dark purple. In addition to the Lupine, these mountains are full of alpine flowers.
Saint Patricks Day
This month also brings St. Patricks Day, the fun Irish holiday that everyone enjoys. There are many myths surrounding the holiday's obsession with green. Ireland is called the "Emerald Isle," named for its lush green landscape, green is also the color of spring, the shamrock, and one of Ireland's national flag colors. Regardless of where it came from, the holiday brings waves of green cookies, clothes, decorations and more. Here are some lucky Irish drinks to start the festivities:

The St. Patricks Green Apple-Tini
Just add 2oz. of Vodka, 1 oz. sour apple schnapps and 1oz. sour apple mix. Shake and share.
Green Shamrock Shake
These milkshakes are a whirl of peppermint-vanilla bliss. Just blend together vanilla ice cream, peppermint extract, milk and a few drops of green food coloring. Top with whipped cream, maraschino cherry, and some lucky clover sprinkles. A perfect drink for the entire family.
Irish Coffee
This is a bittersweet drink to warm you up and feed your sweet tooth. It starts with your favorite brew of hot coffee, then add a tbs.brown sugar, Irish whiskey, and cream (we recommend Bailey's Irish cream).

Spring Time Reading List
Whether you are bundled up inside or enjoying the sun peek out for spring, nothing can pass the time like a good book can. March is a perfect time to grab your favorite book and head down to the local coffee shop, garden, or park and read your favorites.

Tuesdays with Morrie
March 28th marks the start of the inspiring and heartfelt story of an old man, a young man, and life's greatest lesson in Tuesdays With Morrie. This memoir follows Mitch Albom on his visits to his old sociology professor, Morrie Swartz, who is on his death bed. The Tuesdays Mitch spends with Morrie are filled with the professor's wisdom on trust, belief, forgiveness, life, death and so many things in between. If you haven't read it, get yourself a copy, and if you have, you know its one of those books whose meaning grows and changes with each reread.

The Night Watchman
March 3rd 2020 is the Amazon release date for the new book, The Night Watchman. It is a beautiful story based on the extraordinary life of National Award-winning author Louise Erdrich's grandfather. He worked as a night watchman and carried the fight against Native dispossession from rural North Dakota all the way to Washington, D.C. This powerful novel explores themes of love and death with lightness and gravity.

The Midnight Lie
For those who enjoy fantasy books, March 3rd also brings The Midnight Lie. Nirrim lives where crime abounds, harsh tribunal rules, and society's pleasures are reserved for the High Kith. Life in the Ward is grim and punishing. Nirrim keeps her head down and a dangerous secret close to her chest. But then she encounters Sid, a rakish traveler from far away who whispers rumors that the High Caste possesses magic. Sid tempts Nirrim to seek that magic for herself. But to do that, Nirrim must surrender her old life. She must place her trust in this sly stranger who asks, above all, not to be trusted.

//= get_template_directory_uri() ?> //= get_template_directory_uri() ?> //= get_template_directory_uri() ?> //= get_template_directory_uri() ?> //= get_template_directory_uri() ?> //= get_template_directory_uri() ?>
©2011-2023 Worthy, Inc. All rights reserved.
Worthy, Inc. operates from 45 W 45th St, 4th Floor New York, NY 10036