Rock On: The Songs That Will Help You Get Through Divorce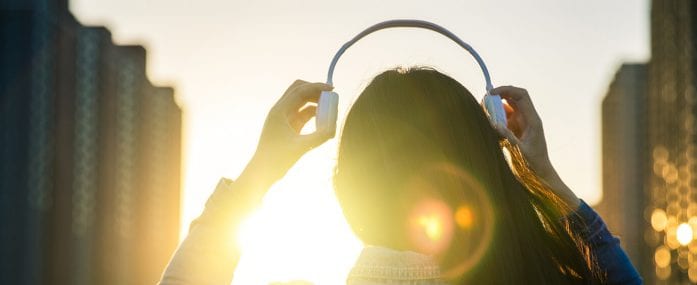 Music speaks to me, and it always has. It really doesn't matter what kind of music because I can usually find something in the lyrics or the beat that evokes a mood or understands my emotions. An upbeat tune can have me singing at the top of my lungs and dancing in the shower or behind the steering wheel, while a somber song may inspire a trip down memory lane or even tears.
Beyond the pure enjoyment I derive from listening to music, I have also found it to be therapeutic when I'm feeling down. My divorce was one such time when I leaned on its power to help me overcome the wide range of feelings I experienced.
Music was my companion through the journey of my divorce, and my taste in music mirrored the stages of grief that I processed through. It helped me to tune into my emotions, acknowledge what I was going through, and become inspired, and eventually empowered! If you are going through a breakup and need to let it all out somewhere, here are some suggestions from my own "divorce songs" playlist.
1. The Classic Break-Up Song
At first in my divorce, I was devastated, heartbroken, and melancholy. Thankfully, the archives of music contain an infinite number of songs about heartbreak, so I was never without a mournful song to speak directly to my heart. It's as though Adele, Bruno Mars, Rihanna, and Gotye knew exactly what I was feeling, and crafted lyrics just for me!
2. Divorce Songs for Anger and Pain
Feelings of disbelief and sorrow made way for disgust and anger. Beyonce, Alanis Morissette, Kelly Clarkson, and The Ting Tings understood my pain, and gave me an outlet for my frustrations. My angst could be worked out through each beat. I belted out the words time and again as I cathartically tortured the replay button.
3. Uplifting Ballads
As the melodies soothed my wounds, I began to feel uplifted and ready to reclaim my post-divorce life! Once again, my breakup goddess, Adele, delivered just the right song to me when I needed it. Indeed, "I've given you up, I've forgiven it all", and I hope he treats his new lover better!
4. Songs with Memories Attached
Music is like a time machine. I can still hear certain songs and be transported back to my first junior high crush or a memorable vacation with girlfriends. Somehow, I can still remember all the words and the way I felt all those years ago! I'll admit that I do try to steer clear of cringeworthy songs, such as the ones that played during a first kiss or first wedding dance with my ex. Those songs will always be tainted!
5. Mournful Tunes
I am able to hear songs that have come out since my divorce such as Lady Gaga's Million Reasons or Lovely by Billie Eilish and Khalid, and appreciate their sadness and beauty. I can recall what it was like to feel as I did at different stages of my divorce; but, because I have healed and moved on, they touch me without hurting me.
6. Divorce Celebration Songs to Pump You Up
I also love the sense of camaraderie and celebration I can now feel from other new tunes like Little Mix's Shout Out to My Ex and Kesha's Praying. Yes, ma'am, I am proud of who I am now, and I don't need him!
So, what do we all need? I recommend an epic playlist of songs to crank up in the car, to sweat to in the gym, and to fall asleep to. We all need some tunes that help us grieve, fire us up when we need to work through the anger, and to remind us of the major accomplishments we've made while enduring divorce!
Who doesn't feel a little more alive and pumped up when belting out Break Free with Ariana Grande, I Don't Care with Cheryl, or telling their ex where they can go with Cee-Lo?
As usual, Worthy is covering all break-up bases for us, including soon-to-be-launched playlists on Spotify! Stay tuned for details and the opportunity to discover some new healing musical gems, as well as some of your tried and true favorites! In the meantime, pop in those ear buds and pump up the volume. Feel the healing power of music come over you, and rock on through that divorce!
//= get_template_directory_uri() ?> //= get_template_directory_uri() ?> //= get_template_directory_uri() ?> //= get_template_directory_uri() ?> //= get_template_directory_uri() ?> //= get_template_directory_uri() ?>
©2011-2023 Worthy, Inc. All rights reserved.
Worthy, Inc. operates from 45 W 45th St, 4th Floor New York, NY 10036