Worthy's Hot List for June 2019: Getting Ready for Summer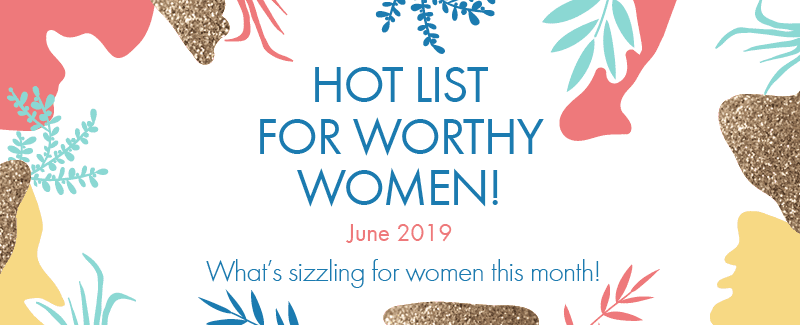 Whether you have big plans for the summer or just trying to keep cool and stay local, we've got some hot things you will certainly be interested in to keep you watching, reading, and safe in the sun. Let's jump in!
"Big Little Lies" Returns
For those of you who didn't watch the first season of this Emmy-winning show, stop what you are doing and go watch it. It's that good.
For those of you who did, get ready for the premiere of the second season this Sunday night, June 9th! Without giving anything away to those of you who haven't seen the first season, the new episodes pick up where the story left off last year and bring in some new characters, including the incredible Meryl Streep. Watch as the moms of Monterey navigate the choppy waters of a police investigation and, of course, their own tight-knit community.
Big Little Lies returns to HBO on Sunday, June 9th.
New Season of "Younger"
Another show we are eagerly awaiting to return this month is TV Land's "Younger". Longtime fans are chomping at the bit to see what happens with the characters in the new season with all of the cliffhangers we had in season 5.
If you are new to the show, "Younger" follows single mom Liza as she reenters the work world claiming to be 26 when she's really 40. After five seasons, though, there is so much more to Liza and her friends. This show comes highly recommended for anyone looking for a good laugh (and cry).
"Younger" season 2 returns to TV Land on Wednesday, June 12th.
Don't Forget the SPF This Summer
Since your likely planning on hitting the beach or pool this sunny season, you're probably in the market for a new sunscreen and Self has a great list of what to look for in a new SPF. But as the article correctly points out, sunscreen isn't just for the beach or pool – it's for every day! So this list is extra useful in helping you find the best sunblock to wear rain or shine and protect that beautiful skin.
Summer Reading Lists You'll Love
Nagging your kids to get to their summer readings lists is never fun but we've got a few books lists for Y-O-U that you'll be itching to get to! Good Housekeeping has 25 mysteries that you'll be ready to rip through by the pool or on the beach (or on your commute to work). Then there's Oprah's 25 best books of the year with some of the most talked about books of 2019 so far. Finally, Popsugar brings you their mega list of 34 books for your summer beach bag.
//= get_template_directory_uri() ?> //= get_template_directory_uri() ?> //= get_template_directory_uri() ?> //= get_template_directory_uri() ?> //= get_template_directory_uri() ?> //= get_template_directory_uri() ?>
©2011-2023 Worthy, Inc. All rights reserved.
Worthy, Inc. operates from 25 West 45th St., 2nd Floor, New York, NY 10036