Worthy's Hot List for October 2019: Our Favorite Costumes, Films, and Feel Good Tunes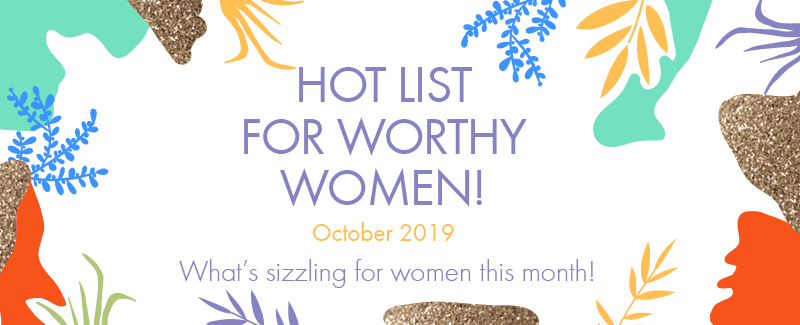 It's fall! That's right ladies, get your cardigans and scarves out and make sure to have a pumpkin spice something in hand because it's October and everyone's favorite season. Of course, not all of us buy into the magic of fall that seems to be plastered all over social media but there are plenty of wonderful things to enjoy this month.
Halloween Costumes That Are REALLY DIY
If you aren't the person who starts planning their Halloween costume on November 1st for the following year, don't fret. There are lots of easy costumes you can DIY with things you have at home or can easily get. We are big fans of the adorable and fun sea anemone costume from Good Housekeeping. And for those who favor punny costumes, the "chip on your shoulder" idea from Country Living.

In Theaters This October
Film and theater fans rejoice: The legendary Judy Garland returns to the silver screen this fall! Renee Zellweger (Bridget Jones's Diary) plays Garland in Judy during her final stage performances in 1969 in London's Talk of the Town Theater. The biopic explores the dark side of Garland's last days as a star, separated from her children and addicted to drugs and alcohol. Zellweger, an award-winning actress, gave an insightful interview on taking on this mammoth role.
Judy premiered on September 27th.

Incoming Shows
The Unicorn
A year after Wade loses his wife, he decides to start dating again at the urging of his friends and two teenage daughters and is surprised to find out that he is the unicorn: the mythical man who is a loving and devoted husband, father, and now single.

This comedy is turning the single-parent sitcom on its head by having the main character be a widower/single dad. And the comedy comes less from how he handles his daughters (funny as it is) and more from how he navigates the world of modern data, something many of you are familiar with.

Lizzo
Looking for some feel-good music and have somehow missed out on the breakout music star of 2019? Enter Lizzo. This singer-songwriter is all about self-love and body positivity, with songs filled with empowering lyrics, such as the opening lines to her hit "Juice": "Mirror, mirror on the wall/Don't say it 'cause I know I'm cute".

So whenever you need a little pick me up, tune into Lizzo and you'll be dancing and feeling absolutely wonderful about your bad self.
//= get_template_directory_uri() ?> //= get_template_directory_uri() ?> //= get_template_directory_uri() ?> //= get_template_directory_uri() ?> //= get_template_directory_uri() ?> //= get_template_directory_uri() ?>
©2011-2023 Worthy, Inc. All rights reserved.
Worthy, Inc. operates from 25 West 45th St., 2nd Floor, New York, NY 10036