Worthy's Hot List for November 2019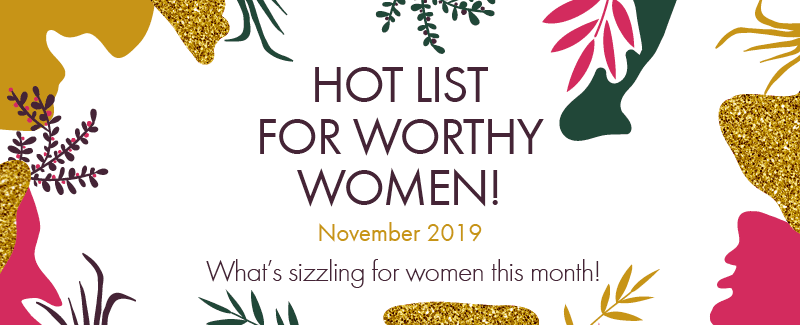 The weather is getting colder and that means more time inside in front of the screen! We kid, but if you are looking for a new show for those chilly autumn nights or a movie to take a break from your Thanksgiving prep, we've got you covered! And to top it off, we've got some great suggestions on ways to give back to your community as the holiday season approaches.

Modern Love
For the past 15 years, the New York Times has been publishing a weekly column, "Modern Love", about relationships, feelings, betrayals, and revelations. The column has become so hugely popular that it sparked a podcast and now a series on Amazon Prime. 

Modern Love premiered in mid-October and has been an instant hit. The series includes 8 stand-alone episodes that follow various love stories inspired by essays featured in the newspaper column. It also features a star-studded cast including Tina Fey, John Slattery, Anne Hathway, Dev Patel, and Catherine Keener.
We warn you, it's a tear-jerker, but it's a great reminder that love comes in all sorts of shapes, sizes, and types and is out there for everyone.

Knives Out
Coming to theaters Thanksgiving day, Knives Out is the perfect movie for a day off for families and friends to enjoy together (rated PG-13, so not for the younger kiddos). Starring Jamie Lee Curtis, Toni Collette, Chris Evans, and Daniel Craig (to name a few), Knives Out is a classic murder mystery, complete with wacky characters, funny moments, and, of course, a suspenseful plotline.
Knives Out premieres on November 28th so make sure to get tickets in advance if a trip to the movies is part of your pre or post-Thanksgiving tradition!

The Morning Show
In case you missed it, last Friday (November 1st), Apple debuted its new streaming service, Apple TV+. While the shows all look great, the one that most caught our interest in The Morning Show, starring Jennifer Anniston and Reese Witherspoon (two of our favorites).
The Morning Show is meant to "pull back the curtain on the power dynamic between men and women in the high-stakes world of morning news shows", according to Witherspoon, and has been said to be the perfect drama for this moment of #metoo and seeing multiple TV personalities being accused of misconduct. There has been a lot of hype about the show over the summer and we are really looking forward to putting on some sweatpants and binging this newcomer!

Make sure to check out The Morning Show on Apple TV+
The Crown, Season 3
We LOVE everything royal, from the gossip to the jewels, so it makes sense that The Crown would be on our favorites list as well. Season 3 returns on November 17th will a new, older cast and a new, groovier decade, taking the royal family into the late 60s and early 70s. Olivia Coleman plays the middle-aged queen and Helena Bonham Carter plays Princess Margaret. And while we will certainly get to the jewelry from this coming season a little later in the month, we are also anxious to see the drama unfold as Elizabeth and Philip's children enter their teens and the country enters the radical times of the 70s.

The Crown's third season will be on Netflix on November 17th.

Giving Back on Thanksgiving
Taking a break from the movies and TV we can look forward to this month, we are also entering prime holiday time and many people out there are looking for ways to give back to their communities and those in need. We've gathered together a few resources you can turn to for ways to help out during this holiday season and if you have any recommendations, we'd love to hear from you!
Meals on Thanksgiving – Operation Turkey delivers Thanksgiving meals to those in need throughout the country, with the goal of bringing warm meals to 75,000 this coming holiday! Operation Turkey is operating in many states so be sure to check if there is a location near you!
Organize a local food drive – Feeding America is one of the many organizations working to fight hunger in America and run food banks all over the country. If you are looking to organize a food drive in your community, contact Feeding America who will help you direct your efforts to one of their food banks to make sure they have what they need to continue their good work.
//= get_template_directory_uri() ?> //= get_template_directory_uri() ?> //= get_template_directory_uri() ?> //= get_template_directory_uri() ?> //= get_template_directory_uri() ?> //= get_template_directory_uri() ?>
©2011-2023 Worthy, Inc. All rights reserved.
Worthy, Inc. operates from 45 W 45th St, 4th Floor New York, NY 10036