Worthy's Hot List for May 2019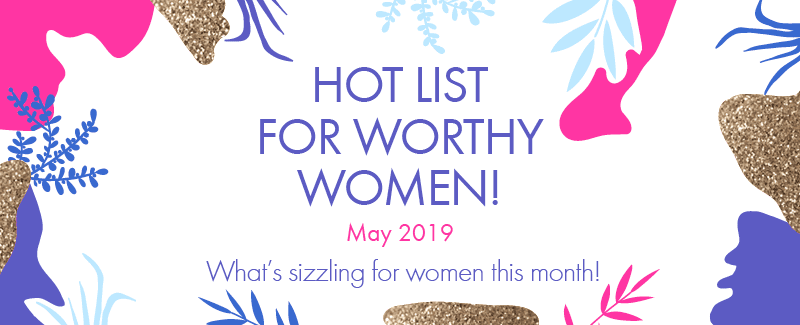 April showers bring May flowers and this year it looks like May is also bringing in some great comedies to watch at home or for a night at the movies. And of course, for all the moms out there, this month is all about you! Let's hear what's hot for May!
May Movies: "Long Shot"
In this new movie, Charlize Theron plays Charlotte Field, a successful politician running for president who bumps into Fred, the little boy she used to babysit for who has now grown up to be a semi-successful journalist who recently lost his job. Charlotte decides to hire Fred as her speechwriter and the two develop a hilarious relationship as Fred follows Charlotte around on her campaign. As one of Fred's friends puts it, "It's 'Pretty Woman', but she's Richard Gere and you're Julia Roberts. You got destiny on your side."
"Long Shot" premieres May 3rd.
Netflix's "Wine Country" + "Dead to Me"
It seems like the whole world has been waiting for Amy Poehler's directorial debut with "Wine Country", coming to Netflix this month. The cast is made up of some of "Saturday Night Live's" funniest women, including Rachel Dratch, Tina Fey, Maya Rudolph, and Ana Gasteyer, telling the story of a group of longtime friends celebrating a 50th birthday in Napa.
Be sure to check out "Wine Country" when it comes out on May 10th.
Something else new to Netflix this month is "Dead to Me", a dark comedy starring Christina Applegate and Linda Cardellini. Applegate plays Jen, a newly widowed mother who is looking to make sense of the recent and sudden death of her husband. She meets the quirky Judy (Cardellini) at a local grief counseling group and the two become fast friends, with Judy ultimately moving into Jen's guest house. But Judy has a shocking past that is slowly revealed once she's nestled into Jen's life.
The show hits Nextflix May 3rd.
4 Generations Under One Roof
With Mother's Day just around the corner (May 12th), we thought we'd have a little throw back to a recent viral meme that is oh so heartwarming. Earlier this year, memes and videos started popping up all over Chinese social media showing 4 generations of mothers and daughters, fathers and sons, calling out to each other. The meme, known as "4 generations under one roof" highlights how, in Chinese culture, it's common for multiple generations of a family to live together under one roof. Most of the memes show a young girl (great-granddaughter), calling out to her mother (granddaughter) who calls to her mother (daughter/grandmother) who finally calls to her own mother (mother/great-grandmother).
If you are lucky enough to have more than one generation of family members at home, think about making your own version of this adorable video!
//= get_template_directory_uri() ?> //= get_template_directory_uri() ?> //= get_template_directory_uri() ?> //= get_template_directory_uri() ?> //= get_template_directory_uri() ?> //= get_template_directory_uri() ?>
©2011-2023 Worthy, Inc. All rights reserved.
Worthy, Inc. operates from 25 West 45th St., 2nd Floor, New York, NY 10036