5 Life Lessons We Can Learn From 'Dirty John'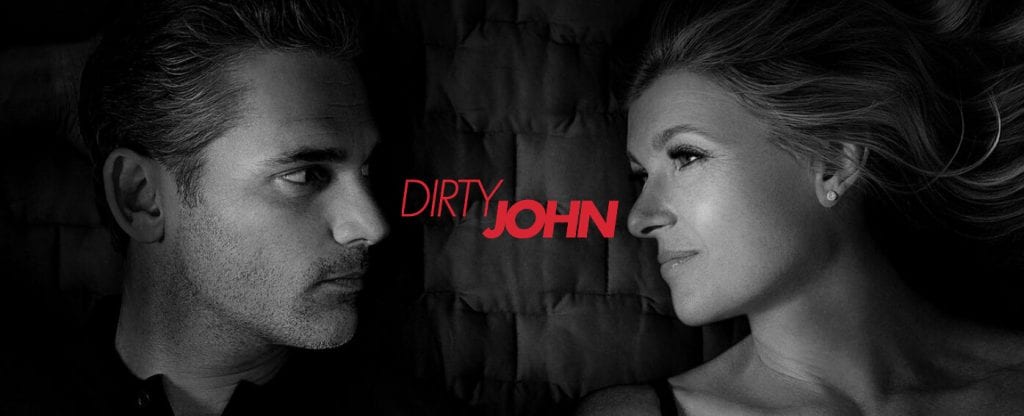 It was October 2017 when I stumbled on the six-part series, "Dirty John," in the Los Angeles Times. The podcast, which ran at the same time as the print series written by Christopher Goffard, detailed the relationship between Debra Newell, 59, a successful Orange County interior designer, and John Meehan, 55, a con-artist holding himself out as a doctor. The pair met online, shared a first date at Houston's, and married not long after. A four-time divorcée, Newell had just about given up on finding love when she met Meehan. But romance quickly turned deadly when Newell and her adult children, Jacquelyn, Terra, and Trey, learned of Meehan's criminal past, history of drug addiction, and ill intentions. The series was adapted for TV as an eight-part miniseries and premiered early in 2018. I recently had the opportunity to watch.
Starring Connie Britton as Newell, the scripted version of "Dirty John" made it less tempting to pass judgment on Newell because I liked her. She comes across smart, successful, beautiful, put together, and together in general. As a fellow single mother, Newell is someone I could easily envision going out to lunch with and trading stories about divorce, dating, single parenting, and Chanel bags. She's a good person, believes in others, and wants what so many women in her position want — love and companionship. Which is what made it even scarier for me as I watched Newell make choices that, as a viewer, I knew weren't wise but wasn't altogether sure I wouldn't have made the same ones had I been in her shoes, even after seven years living the single life following my own divorce. The question of how Newell could fall for Meehan, played by Eric Bana, became a scary one, not only for her but also for me, and women like me. Here's what we can learn from her experience.
1. Listen to your gut.
Debra Newell knew something wasn't right even on her first date, but she chose to ignore her instincts. After a night filled with great conversation, she asked Meehan back to her apartment. Meehan took this as an invitation to her bedroom, where he laid down on her bed before asked. Meehan abruptly left when Newell wanted to move the date back to her living room. After apologizing for his behavior, Newell agreed to continue dating Meehan, writing off the incident instead of leaving him in her past. Meehan had already given Newell a glimpse of who he was, but she didn't believe it.
2. Listen to your kids.
From the beginning, Newell's daughter Jacquelyn, named Veronica (Julia Garner) in the TV version, had her suspicions, which she voiced over and over again to her mother. It didn't take long for Newell's younger daughter, Terra (Juno Temple), son Trey (Jake Abel), and nephew Toby (Shad Vickers in real life, played by Kevin Zegers) to join in with warnings about what they had heard from Meehan or suspicious behaviors they had witnessed themselves. At first, Newell didn't want to listen to any of it. Love, as the expression goes, was blind. Not true for Newell's kids or kids usually, even young ones. Sometimes the people around us see things we don't, and it may be wise to listen, especially if everyone or almost everyone is saying the same thing. There may be something to it.
3. Do your research.
It can be a slippery slope when it comes to violating the privacy of others and where to draw the line when researching a potential date or someone you're dating. Also, learning too much too soon can kill a lot of the mystery that contributes in a positive way toward building a strong relationship gradually and naturally. On the flip side, doing some investigating, especially if you have any suspicions someone is lying to you or something isn't quite right, can spare you a lot of trouble down the road. Newell didn't get law enforcement involved until after she was married to Meehan, and it was apparent he wasn't who he held himself out to be. Research is for your own protection and nothing to feel guilty about doing.
4. You don't owe anyone anything.
We all like to think of ourselves as good people who care about others and would help anyone who needed us no matter what the cost. Unfortunately, that's also the mindset that keeps us in abusive relationships, just like the one Newell had with Meehan. Meehan, a longtime drug addict, reeled Newell back in after she had made up her mind to leave, convincing her to help him overcome his drug problem. In a poignant scene in the TV series, a doctor reminds Newell that he's seen spouses like her before who have suffered as a result of their partner's behavior, and she should know she doesn't have to stay. No one ever has to stay in a relationship that doesn't serve them, especially where there's abuse. Leaving doesn't make you a bad person.
5. It can happen to anyone.
It's easy to say only fools rush in but most of us, including myself, can point to a time when we thought with our heart instead of our head. Newell wasn't stupid. She was a well known and highly regarded interior designer in business for 30 years. She raised three kids. She had life experience. Still, she fell for the wiles of Meehan, welcoming him into her family and providing him with money and a place to live without hesitation. Why? Because Meehan, with years of criminal activity behind him, was that good. No one can ever be one hundred percent safe. All we can do is be as mindful as we can, learning from our past mistakes and those of others, and most importantly, forgiving ourselves when we do
Header image courtesy of NBC Universal.
//= get_template_directory_uri() ?> //= get_template_directory_uri() ?> //= get_template_directory_uri() ?> //= get_template_directory_uri() ?> //= get_template_directory_uri() ?> //= get_template_directory_uri() ?>
©2011-2023 Worthy, Inc. All rights reserved.
Worthy, Inc. operates from 25 West 45th St., 2nd Floor, New York, NY 10036