Worthy's April 2019 Hot List: "Little", G.O.T, and National Infertility Awareness Week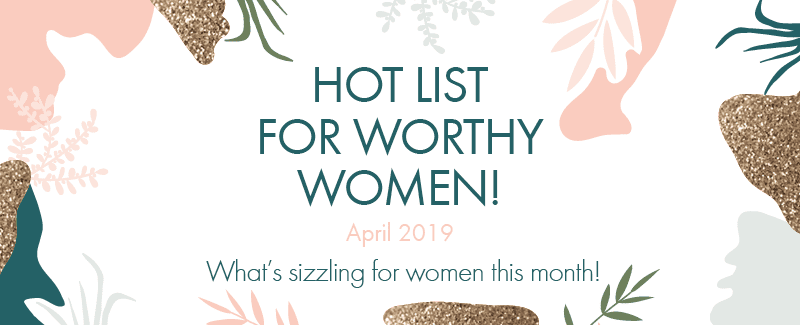 Get those pastels out ladies because it's springtime and we're ready to break out of these woolly sweaters and celebrate the warm(er) weather! Chances are you have some free time coming up this month and we've got you covered when it comes to entertainment and what's hot so let's go!
April Movies: "Little"
If you are looking for some good old fashioned belly laughs, look no further than this month's "Little," starring Issa Rae ("Insecure"), Marsai Martin ("Black-ish"), and Regina Hall ("Girls Trip"). Hall plays Jordan, a successful tech mogul, a boss lady with a hair trigger temper who orders her assistant, April (Issa Rae), to do everything à la Miranda Priestly in "The Devil Wears Prada". However, when Jordan upsets a young girl in her office, the injured party wishes that Jordan "was little." Jordan wakes up the next morning to find herself back in her 13-year old body (played by Marsai Martin) but with her same tough attitude. Hilarity, of course, ensues when Jordan is forced out of her office and back into middle school with April as her guardian.
The movie premieres Friday, April 12th. The movie is rated PG-13 so best for parents with kids a little older or for a fun night out with friends!
Fun Fact: Marsai Martin, who is now 14, came up with the idea for this movie and pitched it to producer Will Packer and writer/director Tina Gordon when she was 10 years old! Talk about a comedy prodigy.
April TV: Final Return of GOT
If you are one of the millions of people around the world have been waiting with bated breath for the return of "Game of Thrones" for the final season, we only have a few more days to go! In case you missed it, the season premiers on April 14th at 10 pm on HBO. You can check in with this handy count down clock to see how much time is left!
Since it's been almost two years since we left our friends Jon, Daenerys, Sansa, and Arya (to name only a few), you may be looking for a recap. We've been especially fond of BuzzFeed's series of recap articles for season 1, 2, 3, 4, and 5. Keep your eyes out in the coming days for more.
April Events: National Infertility Awareness Week
The week of April 21st through 29th marks National Infertility Awareness Week (NIAW) brought to us by RESOLVE, the National Infertility Association. RESOLVE's mission with NIAW is to "unite millions of Americans who want to remove the stigmas and barriers that stand in the way of building families". This year, the theme of the week is #InfertilityUncovered, focusing on "the significant lack of access to family building options and emotional support for millions of women and men struggling to build a family." To learn more about how you can get involved with RESOLVE and NIAW, visit InfertilityAwareness.org.
As part of an effort to put a spotlight on this issue, we will be featuring a few articles on our blog which discuss the strain infertility can place on a marriage and, in some cases, lead to divorce. Make sure to stay up to date by following us on Instagram and Facebook.
//= get_template_directory_uri() ?> //= get_template_directory_uri() ?> //= get_template_directory_uri() ?> //= get_template_directory_uri() ?> //= get_template_directory_uri() ?> //= get_template_directory_uri() ?>
©2011-2023 Worthy, Inc. All rights reserved.
Worthy, Inc. operates from 25 West 45th St., 2nd Floor, New York, NY 10036