One Divorce, Two Houses, How Many Holiday Gifts?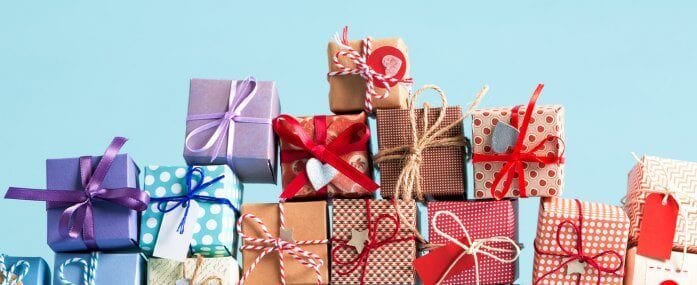 If you were anything like me, it was complicated enough when you were married and holiday shopping for your kids who may have already had more than you could manage. You probably spent a lot of time figuring out how to integrate all of their new gifts with the old so as not to end up looking like a candidate for the TV show "Hoarders." But what happens if you are divorced, and there are two houses and potentially two sets of gifts? With double the toys, clothing, and electronics, the chaos factor can grow exponentially, not to mention the likelihood of someone—you, your ex, or your kids—getting bent out of shape because their favorite holiday gift isn't where they want it to be, i.e., with them. What then? Here are a few tips for managing gift-giving following a divorce this holiday season.
Plan in advance.
If you share a cordial relationship with your ex, compare holiday lists with each other in advance and make a plan. Be specific. If you are planning to buy a particular gift, don't just "call it." Decide whether you will be the only one purchasing it and where the child will keep it. Depending on your custody schedule, the size of the gift, and its mobility, you may want to consider duplicating gifts so the child can use them while at both of your houses. But do decide that in advance so as not to upstage one another. Gift-giving should feel enjoyable for everyone, parents included.
Give an experience.
One way to preserve originality at holiday time while limiting excess is to give an experience to a child. That can include anything from a day trip to a vacation to show tickets to an activity planned with just you and your child. And as we all know, memories can last a lot longer than the hottest toy of the season ever could.
Coordinate with extended family.
Not only do divorced parents compete for attention at holiday time, so too do relatives on both sides of the family. Grandparents, aunts, uncles, and cousins may also want to get into the action, inadvertently causing even more overindulgence. In situations where there are a lot of relatives, think about asking a few (or all) of them to contribute to one gift for your child or arrange a Secret Santa gift exchange that includes children as well.
"But what happens if you are divorced, and there are two houses and potentially two sets of gifts?"
Give to those less fortunate.
The irony of divorce is that to make up for what they perceive to be lacking in their kids' lives because they divorced, parents end up creating a situation where children receive more than they ever did before. An effective way to cut down on the excess and make a difference in the life of another is to let the child pick a gift or a few gifts to donate to those who may be less fortunate than them. Local hospitals are always in need of toys and games for patients, especially around the holidays. Depending on the age of your children, allowing them to come with you when you donate can be a memorable experience in itself.
Take the high road.
As much as you would like to think you can count on your ex-spouse to cooperate with you during the holidays, this is not always the case. Should the "other parent" fail to stick to the plan or refuse to plan at all, consider taking the high road, remembering the meaning behind the holiday. As difficult as it may be, the parent who preserves the peace for the sake of the child's happiness is also the parent who gives the most precious gift of all.
//= get_template_directory_uri() ?> //= get_template_directory_uri() ?> //= get_template_directory_uri() ?> //= get_template_directory_uri() ?> //= get_template_directory_uri() ?> //= get_template_directory_uri() ?>
©2011-2023 Worthy, Inc. All rights reserved.
Worthy, Inc. operates from 45 W 45th St, 4th Floor New York, NY 10036